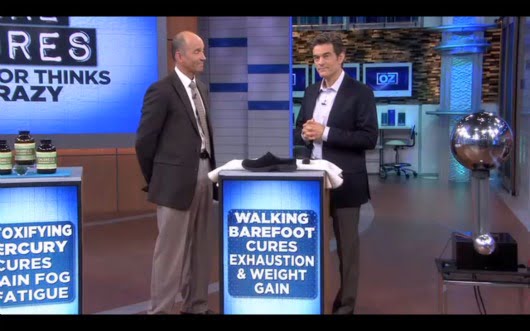 I'm in a funk today and wondering if this might help a little…
Watch these short, interesting videos that explain Earthing, or 'Grounding', including what it means and what some of the health benefits are.
Dr. Joseph Mercola, osteopath and author of his popular wellness site, was interviewed on the Dr. Oz show. The topic is "All Natural Cures Your Doctor Thinks Are Crazy".
When the first video stops abruptly, just click on the next link.  I tried to embed them into this post but it wouldn't let me.
Dr. Oz concludes the interview saying that he probably won't buy Earthing products yet, he wants to look into it more, and Dr. Mercola tells him, "Well the good news is that you don't have to use these Earthing products, you can get the same benefits from walking barefoot on the ground!"
This makes me want to run out and find the small patch of ground where the snow isn't right now, even if it is freezing out there — it's February in Michigan after all.  Yesterday we had the funeral I told you about on Monday, which was absolutely beautiful by the way, and I just got the call that an uncle passed away this morning.  So maybe getting outside on the ground will help the funk I'm in today.  Or maybe I'll just go crawl into bed on my Earthing sheet and pull the covers up over my head instead…
If you've tried Earthing products, let us know what you think.