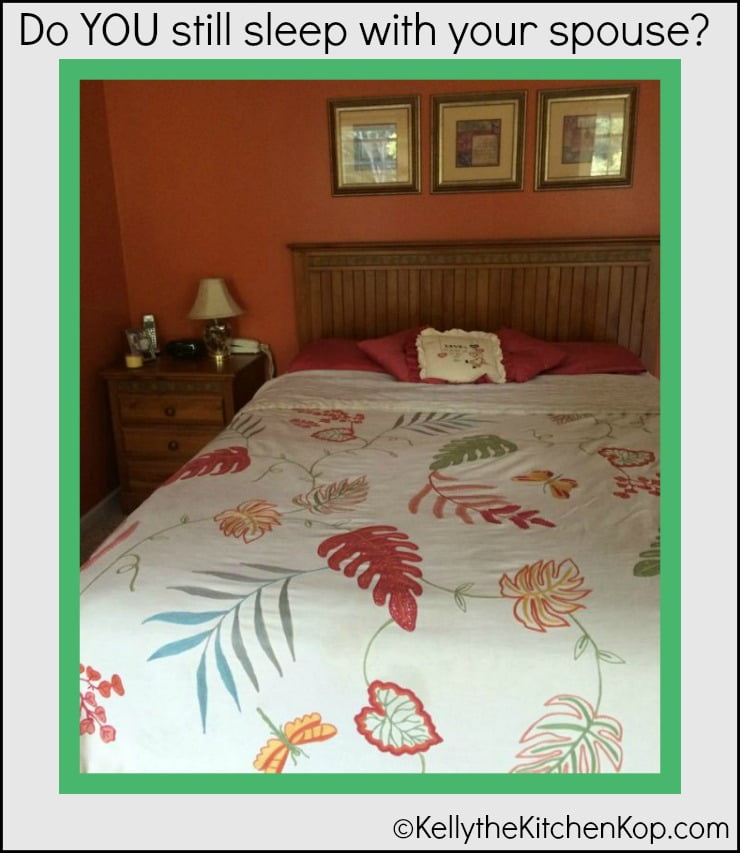 I'm wondering…  How many of you actually still sleep with your spouse?  Or are you in separate beds?
I've learned that sleeping apart is much more common than I used to think!
We always said we'd never sleep in separate beds.  We felt like being together all night was what couples should just DO, until death do they part.
But between Kent's snoring (which I could usually sleep through, but not always), and my snoring (which began with peri-menopause, ugh) and then my lovely hot flashes, well, it started out with just sleeping across the hall occasionally… but then it became more often, and now it's been over two years and it's pretty much always.
Plain and simple, we both get better sleep!
Kent gets up really early every day and needs his sleep so he can function well.  I usually don't get up as early as he does but definitely need my sleep too with so much going on around here each day.
I also like it because in the night if I remember something I forgot to do, it's not bugging him when I flick my phone on to make a note.
Or if I want to read before bed, the light isn't bothering him.
When listening to my latest FAV song before nodding off, it's not messing with his sleep.
The best part is if I have a hot flash in the night, I'll click on this inexpensive and SWEET remote, and then when I'm freezing again, in one click it's back off and not only did it not wake Kent up, I barely wake up myself!
If you don't still sleep with your spouse, what about…you know…?
He'll tell people when they ask about that:  "I know where to find her."  😉
We still have good connect time otherwise too because we're always hugging and chatting around the house with the kids, or going for walks with long talks, and of course we love our date nights.  It is a bit sad, though, because I like having him next to me when I roll over in the night, so now and then we'll have sleepovers, but even when we do I'll usually end up coming back to my bed part-way through the night because I like it better now.  It still seems weird if I think about it too much, but this works for us, right now anyway.  Maybe at some point we'll be back in the same bed at night once my flashes are done and if the snoring lets up…  But I kind of doubt it, ha!
Do YOU still sleep with your spouse?  If not, does it ever make you a little sad?  Or do you mostly like it too?
More you might like: