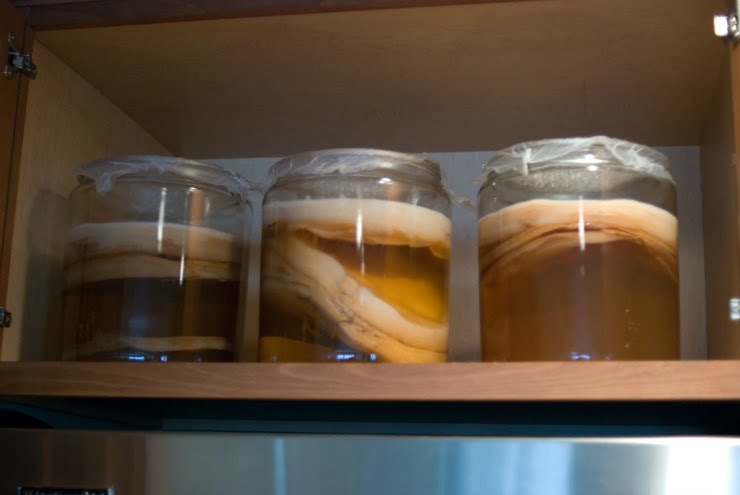 Click here for a free Kombucha Recipe & DIY Guide!
First of all, I'm well aware that most of you have NO idea what Kombucha Tea is, how to pronounce it, how to make it, or why in the world you would want to. I'll cover all that and trust me, you want to know this. But also, for those of you who may have been making it for years, I found out recently that there are MANY "bad" (or incomplete) recipes getting passed around. They can result in either something that is actually toxic, or at the least, something that has no benefit to your body at all.
Today in PART 1: What is it? What are the Health Benefits?
PART 2: 15 tips for making it correctly.

IMPORTANT NOTE:  I've recommended buying scobies in the past from Betsy, mentioned below and in other posts, but can no longer recommend this company.  While I enjoyed talking to her and getting to know her a little way back when I wrote these posts, I've since heard too many stories of people ordering and not receiving what they ordered.   🙁
From now on, I'd recommend only buying scobies (your kombucha 'starter') from this company I know and trust – who also have GREAT customer service, by the way.
Get your free Kombucha Recipe & DIY Guide!
I'll answer questions about Kombucha Tea from the beginning:
How do you pronounce it?

It is pronounced, "Com-boo-shuh".

What is it?

It is a fermented, traditional Middle Eastern beverage (it has been around for several thousand years) that is easy and inexpensive to make, and is VERY beneficial to our bodies. Each time you make it, another starter mushroom forms that you can use or give away to a friend. It takes 7-10 days to ferment, and then you can drink as much or as little each day as you'd like. Sometimes the Kombucha mushroom is called by its nickname: "Scoby".

Who made you the expert?

I'm no expert, believe me! And as a matter of fact, the first time I tried it a couple years ago at a local

Weston A. Price

chapter meeting, I thought it tasted only "OK", so I hadn't tried making it myself until recently when

Julie

got me interested again. I love it now (and thankfully so does the rest of the family!), but I've only made three batches so far, nowhere even CLOSE to being an expert! However, because of the way my mind won't shut off until I find the real

truth

on whatever the issue is, I've recently talked at length with the person who IS an expert: Betsy Pryor from Laurel Farms®. After finding out from her that I did my first batch all wrong (more on that next time), she sent me a new Kombucha "mushroom" so I could start over. (Betsy tells me they're commonly called that, but not really mushrooms at all.) With each new Kombucha culture/starter mushroom you also receive a whole packet full of great information from Laurel Farms answering many more questions than I'm able to include here. I needed to read it more than once to process all the information! (By the way, Betsy also has a best-selling

Kombucha book

out.)

Is it safe to drink? From the Laurel Farms brochure: "Dr. Samuel Page of the FDA said, you're more likely to find contamination in a cup of coffee than in a cup of properly prepared Kombucha." After many tests on the Laurel Farms Kombucha, the FDA found that all dangerous bacteria that were introduced (as part of the test) to the fermenting tea was destroyed, including botulism.

What does it taste like?

The best way I can describe it, is that it is a refreshing cross between apple cider and tea. Our batch before last was a bit stronger and tasted more like a slightly fermented cider (so I added a little filtered water to mine, but

Kent

& the kids liked it straight); then our latest batch was very sweet and extra delicious, it tasted more like apple juice with a little fizz. Next time in part 2 I'll explain more about how it is normal for the taste to vary. Our kids love it and we call it, "Kombucha Pop", so of course they gulp it down.

How is it so beneficial to our bodies?

Because Betsy sells them, she legally can't tell you about the various health claims associated with drinking Kombucha, whether you're reading on her

 website or reading the information that comes with their Kombucha starter mushrooms… but I can! First, Betsy is quick to tell you that no matter what you've heard, it won't cure anything. But it can certainly help your body become healthier so you are able to heal from whatever ails you. The Kombucha is a very unique beverage – by drinking it, somehow it knows where your body needs healing. The powerful piece to the puzzle is something called, "glucuronic acid" – and this is known to help our body de-toxify by pulling out environmental and metabolic toxins.

It has also been known to:
Fight yeast problems

Relieve stress

Improve skin and hair quality

De-toxify the liver (and improves liver function in recovering alcoholics)

Increase cellular immunity

Normalize digestive function

Give increased energy

Improve muscle tone

Relieve constipation

Produce favorable results in those with kidney or gallstones

Promote successful weight loss

Balance hormone levels

Increase fertility

Fight depression

Help children focus in school

Decrease allergy symptoms
Many of the benefits listed here are common to all traditionally fermented foods, due to the healthy bacteria that are produced in this process, but others are unique to the Kombucha.
Ken Babal, C.N.: "In southern California, Kombucha is on the lips of a lot of people, both literally and figuratively. Tabloids want to know which celebrities are drinking it."
Next time in part 2, I'll let you know about the ways I messed up my first batch of Kombucha, and how to make sure you're making it correctly. 
Get your free Kombucha Recipe & DIY Guide!
UPDATE:
I don't make Kombucha tea anymore, this is why: Compare Kombucha tea to Kefir Soda Pop.
photo and another photo by Twon