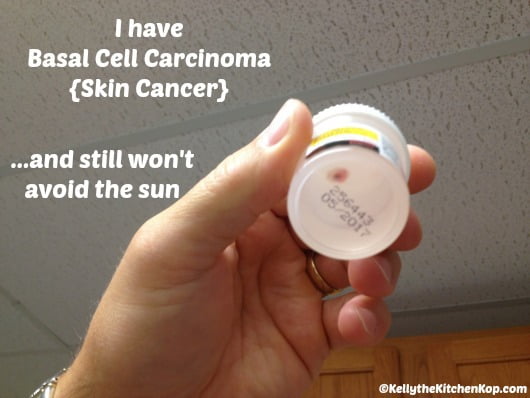 After reading this, be sure to read these 2 updates:
I thought I permanently disfigured my face with black salve — skin cancer update
&
My black salve skin cancer update and how I ticked off the surgeon.
First this note/disclaimer:  "The information found here has not been approved by the FDA and is not intended to diagnose, treat, cure, or prevent any disease."  I'm only sharing my own story, your situation may be VERY different, and I'm not a medical professional or anywhere close.  Use this information only to do more research on your own!
I Have Basal Cell Carcinoma and it isn't too scary, so don't freak out.  
A diagnosis ending in "oma", or with the word "cancer" in it, certainly isn't very comforting, but apparently basal cell carcinoma is one of the least dangerous types of cancer there is and also the most common.  Even the nurse at the doc's office said that it could likely be left alone for years with no problem.
So here's what happened.
I had what I not-so-affectionately called a "zit from hell" on my chin for a couple of years or so.  With my nursing background, minimal as it is, a "sore that won't heal" should've been a red flag.  I just thought it wouldn't go away because I'd get impatient with the big ugly goober on my chin and kept picking at it to get the latest scab off.  Other than that I didn't think much of it.
Apparently this is the type of thing you should have checked:  "Any pimple doesn't heal after 3-4 wks or something hurts, itches or bleeds."
But then one of YOU got me wondering…  (See why I love you all?!)
A reader friend, Diane, commented at this post on how to get rid of warts:
"I was treating what I thought was a wart on my forearm but it would not go away completely.  My hairdresser said it might be a skin cancer.  I finally went to my dermatologist.  I am in my 60s.  He said adults do not usually get warts and that it was a squamous cell cancer.  It was, indeed.  He removed it.  It sure looked like a wart to me!"
So I went to our family doc.
Remember, he's the one I love because while he certainly doesn't agree with all of my 'weirdness' (like not giving our kids every vaccine on their list, not coming in for check ups every single year, etc.), he just chuckles in a friendly way and says, "OK!  I just have to tell you what I think, but it's up to you what you do with it!"  That's all us against-the-streamers want, right?!  He's easy to talk to and it always feels like I'm chatting with a friend.  Granted, we're not there much, we'll go years without seeing him, but it's good to know he's there if needed.  (Here's a post with more about Dr. D and our vaccination saga, you'll love him when you read this, too.  Or see this newer post:  Why I love our Doc even though we Strongly Disagree.)
So he cut the sucker off for me.  It hurt, but in a good way since I was so sick of that thing!  He sent it to the lab, and there were still cells on the edges, so he had the dermatology surgeon's office call.   I guess this guy uses some new technique that takes less skin and looks and heals better, so I have a consult set up with him soon.
But you know me…
If not having something major done is a safe option, and the nurse clearly said I have basal cell carcinoma, so it could likely be left for years with no problems, then I'll go with that.  Especially since we'd have to pay $1000 toward our deductible for this outpatient surgery.  AND, now that the spot has healed and you can barely see it, it's not driving me crazy.  I'll still talk to him, but won't schedule anything for now.
Don't worry, though, I won't do nothing.
My friend, Jill, who is more up on holistic/natural remedies than I am, has heard that this essential oil has been used with good results on skin cancer, so I'll do some more research (how much to use, how often, etc.) and go from there.  If you have any scoop or resources on that, please let me know.
I'll keep eating my healthy fats (fats from pastured animals are a good source of vitamin D) and other yummy but nutritious foods, and taking my favorite supplement for overall health, which is also good for vitamin D!
Plus I'll keep an eye on it, of course, and if it does start to come back, I'll go in and get it taken care of.
UPDATES FROM THE COMMENTS!
Readers are sharing good stuff in the comments, here are more things I'll research:
1.  Susan (see comment #6) suggested vitamin C paste, so I asked her how she did it:  "I just used 1 t. ascorbic acid powder and added filtered water drop by drop to make a paste, then caked that on the spot and let it dry. The dried vitamin C just flakes off when dried. I did that 3-4 x a day, for 3-4 days, until the area was too rough and painful. I would then give the area 3-4 days to heal, and do the process all over again. As I said, it took several weeks, because this BCC was a type that burrows in deep beneath the surface of the skin. I didn't realize that there were different types of BCCs until I started reading in depth about them. I decided to just persevere and keep using the C paste until I thought the BCC was completely eradicated. When I went for the biopsy, the area was still rather raw looking, but the lesion itself was gone.  Be sure to read the Doctor Yourself link; it gives a bit more detail about how to follow the protocol."
2.  A couple people have suggested black skin salve:  "Have you tried black salve? I have used it on very many suspicious spots and if it is cancer, moles, or warts, it works wonders!"  And one more:  "Another thumbs up for black salve – my dad used it to get rid of a cancer on his face. After applying it the little mole pulled itself out of his face and created a HUGE monstrous looking wound, but then healed and the skin underneath looked like a baby's! Awesome stuff."
3.  A friend, Joanie, shared a convincing story about this cream, which I ordered.  I'll keep you posted.  (Update:  that one didn't do anything for me.)
4. Dr. Tom Cowan explains another treatment in this article.  Even Dr. Cowan says that non-melanoma skin cancers (the ones that are normally not life-threatening) are likely caused by the sun — in my case probably from sunburns when I was young.
So I have Basal Cell Carcinoma — will I avoid the sun now?
Nope.
Diane said it well when I asked how hers turned out:
"Excision can be simple.  My doctor talked me through it since I am a total wimp.  He popped a bandage on and I have a white scar there the size of my little finger nail.  I was lucky in that my squamous cell on my arm wasn't more serious. I have seen stuff on the web that looks VERY involved and I know it can spread, but if you catch it early there is no problem.  I think my Vitamin D helped me out here.  My dermatologist was all about covering up from the sun, but I watched the Dr. Michael Holick video (see below) and read other stuff and found out that melanomas (the dangerous kind of skin cancer) are more likely to appear on skin that has been covered up, and that sailors don't get melanoma.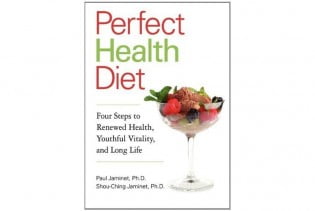 Your doctor will no doubt tell you to avoid the sun, to use sunscreen, etc., but be a good girl and just don't argue with them.  As Paul Jaminet says, 'docs are good at diagnosis' and that's what you need from them (just to know what it IS).  I had a basal cell removed from my nose twenty years before that.  I am fair like you, and as a child in California I was in the pool or sun all the time and my nose would burn.
Also, as an interesting side note, when I was about your age (in my 40s) I had a "pimple" on my face which a dermatologist removed.  I thought it was a whitehead and it was just CALCIUM.  In those days we were told to take large doses of calcium.  I took calcium citrate because my urologist said the other kind of calcium was "just chalk" and would give me kidney stones.  I thought I'd share because I had never heard of anyone else having a "pimple" of calcium."
Here is the Dr. Michael Holick video Diane mentioned.  The sun information begins right around minute 17, and he says what most of us have known for a while:  Sun is our friend since it's still the BEST way to get vitamin D, as long as you don't burn, of course.  Remember that sunscreen blocks most vitamin D, so GET SUN on your skin for 20-30 minutes first and then cover up or apply safe sunscreen (not the dangerous kind from the store loaded with who-knows-what chemicals).  That's what I'll continue to do when we're by water where it's easier to burn.  I'd rather deal with a not-dangerous basal cell carcinoma than be susceptible to a much more serious disease from having vitamin D that's too low.  And as Dr. Cowan says, the dangerous skin cancers aren't from the sun anyway.
Use common sense!
Do not read this post and assume you can do nothing about that spot on your skin.  There are many different types of skin cancer and some are quite dangerous and fast-growing.  Some do require treatment right away.  "Any pimple that doesn't heal after 3-4 weeks or if something hurts, itches or bleeds" – that's when you should have it checked, according to the nurse.
So I'm just sayin', don't blindly do what I'm doing, I'm not a doc or anywhere close, I'm just sharing my story.  Instead talk to your doc, do some research, and use common sense!
DON'T MISS THESE UPDATES: