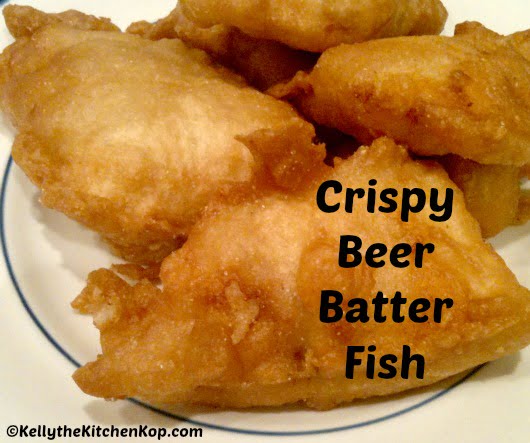 Homemade beer batter is the BEST, don't you think?
Remember in the Deep Fried Heaven post I told you how I've always used "Drakes Mix" as a coating for chicken, fish, shrimp, onion rings, etc.?  The ingredient label isn't too terrible, but it's just one more box that I wanted to get rid of in my pantry.  Well last night we were making a fish and chips dinner and I finally nailed my homemade beer batter!
Homemade Beer Batter
Ingredients:
2 cups flour of your choice, I used unbleached white last night just to be sure I could pull it off and have it taste right, but next time I'm trying it with sprouted flour.  UPDATE:  Lately I use my favorite:  Einkorn flour.
Organic seasoned salt to taste – I used almost a Tablespoon.  If you don't have that, just sprinkle in some garlic powder, onion powder, sea salt, pepper, and paprika — about 1/2 teaspoon of each or more to your taste.
One can of beer or 1 1/2 c. water, but water is pretty blah, you'll need extra seasoning if you use water.
Instructions:
Mix well until you get just the right consistency, you may need more or less liquid.  If it's too thick your food will have a thick "bready" coating, if it's too thin the batter won't stick well when frying.  All these amounts are a total guess because I just poured everything in.  I never gauge the amounts right and always make more, and then have some leftover.
Remember that the oil you use to fry in MATTERS!  I use beef tallow and love it – it doesn't make me sick like the nasty vegetable oils do, and doesn't leave that disgusting film in my mouth.  (Here's where to buy beef tallow online – put "tallow" in the search bar and scroll down to find the beef tallow – or where to buy healthy meat online OR how to render beef tallow yourself.)
The temperature you use to fry in also matters!  You'll want to be careful not to go over the smoke point no matter what oil you're using.  If you hit the smoke point then all the benefits of your healthy oil will be lost and the free-radicals will take over!  At this kitchen gadgets post you can read about my fun new kitchen appliances that prevent the oil from going over the smoke point. It was just too tricky to keep it the right temp when cooking in a big pan on the stove.  I ended up throwing out some of my precious tallow after the last time we made fried food.  Read about the fryer that I use, but if I had to do it over again, I'd get THIS one:  a Glass-Bowl Deep Fryer to avoid the Teflon. (Pictured on the right.)  Darn I see they're out of stock, so then I found this bigger fryer with a stainless steel interior!  It also has a nice temperature control and a handy basket — whatever you do, don't get one with Teflon!  (Read about when I ditched my Teflon electric frying pan too.)
Have you tried this healthy potato chip recipe and the liver recipe that I got by my family with NO ONE knowing?