Health Benefits of Chaga Mushroom Tea
Today my friend and faithful blog assistant, Jill, tells us about chaga tea.  I'm one of those that loves a hot drink in my hand any time of the year, whether it's my hot coffee (<–that link tells how to redeem your morning coffee!), steaming bone broth, some healthy/herbal teas, or a cup of hot Dandy Blend, so it's time to try something new! 
Turns out though, that chaga tea is not just one more in a list of alternatives for coffee, it's also got many health benefits.  I just ordered mine to try.  🙂

Note:  I'm reposting this info today because recently a good friend has been raving about how chaga tea has made such a difference in her family — here's how…
Here are some of the health benefits of Chaga mushroom tea:
It has helped her finally sleep well again.  If you've ever had insomnia, you know how huge this is.
It has drastically decreased her son's chronic severe pain after a car accident many years ago. (Pain was a 12 on a scale of 1-10 — it's definitely a miracle!)
They are both no longer too tired to function each day because it reduced their fatigue so much, this was making their lives so difficult!
It has also helped relieve her friend's arthritic pain.
And then I just got another text from her: "I talked to my step-mom — she didn't have high hopes for the tea, but said that already after 1 cup she feels better and for the first night since her knee surgery she didn't wake up from pain during night!"
Note that some have no benefits at all, so just like anything, it'll depend on the person, but in her family it's been miraculous!
Did you know about all of these health benefits of chaga mushroom tea?  I'm shocked as I learn more about the power of mushrooms!  
I love how God gave us the tools to heal ourselves.  Jill goes over more of this below, but certain species are very good for building up the immune system, for knocking out fatigue, many use them for anti-cancer properties, and I just got these capsules to hopefully help a friend who is suffering with depression!  (Read more from Jill about healing anxiety and depression naturally here.)
Here's Jill with more on the health benefits of chaga mushroom tea…
Chaga is a medicinal mushroom that grows mostly on birch trees in colder climates and has been used therapeutically in Russia and Eastern Europe for centuries. While technically a mushroom, chaga looks and feels more like wood! You can see images of chaga growing on birch trees here:
Chaga has powerful anti-inflammatory, antioxidant, anti-viral, anti-cancer, immune-enhancing, and other more specific therapeutic properties for many health conditions. It is also considered an important adaptogen. Adaptogens are natural substances that help the body adapt to internal and external stressors. They help normalize stress response, balance stress hormones, reduce fatigue, and increase mental sharpness and resistance to disease. Other examples of adaptogens include Siberian ginseng (AKA eleuthero), rhodiola, and cordyceps. Read medical research on chaga mushrooms here and more cancer-specific research on chaga from Memorial Joan Kettering Cancer Center here.
The flavor of chaga tea is pleasantly "earthy", rich yet mild, and slightly nutty. Most enjoy drinking it alone but it also compliments just about anything you would want to make with it, whether that be tea, coffee, Dandy Blend, or even soups and sauces. While it looks like coffee, it doesn't share coffee's bitter and acidic qualities and it's more earthy tasting than tea. The rich, mellow flavor and health supportive properties make it a wonderful coffee replacement.
If you don't want to buy Chaga tea (the easiest way, 

obviously), it's also 

is delicious and incredibly easy to make in a slow-cooker as a "continuous brew" beverage.

Instructions: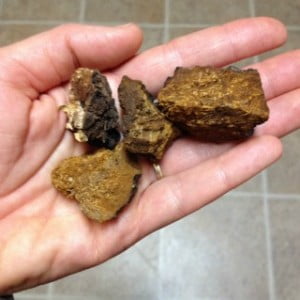 You will find other more "involved" ways of making chaga tea but the way I do it is the easiest.
Place a few chunks of chaga (1/2 ounce or slightly more–see photo at right for a rough estimate) in a 1 1/2 quart slow cooker.
Fill slow cooker with filtered water and set it on low.  You'll know it's ready when the water has taken on a dark brown color similar to coffee, about 4 hours if you started with hot water or overnight if you started with cold water.
Replenish the water as you ladle out chaga tea so the slow cooker remains full and you can continue using it throughout the week. When the flavor and color becomes weak (light and transparent), the mushrooms are spent. At that point, fish them out with a slotted spoon and replace with fresh mushrooms. I find myself replacing spent mushrooms about once a week, but that all depends on how much I drink and use each day. You'll be surprised at how much mileage you can get out of a small handful of chaga chunks!
I keep my little slow cooker of chaga tea going all winter long for general immune support and a convenient, ready-to-drink hot beverage. I also use chaga tea as a cooking liquid for sauces, soups, stews, and roasts, sometimes to stretch broth when I'm a little low for a recipe or if I just need a small amount of liquid to thin a sauce and don't have any broth on hand. I ladle it into a mug to drink plain, or use the chaga tea in place of water to brew other teas, coffee, or in Dandy Blend (my favorite, because of the rich flavor chaga contributes).
Chaga Hot Chocolate 
Chaga tea makes a delicious substitute for hot water when making hot chocolate. Our daughter combines strong chaga tea with whole milk (about equal parts) and then adds coconut sugar, cocoa powder (or cacao), and a little vanilla and a dash of salt. Heat it gently on the stove until the coconut sugar is dissolved and it reaches your designed temperature for drinking (this won't take long because the chaga tea is already hot). You could also replace the milk with cream and simply use less.
There's also a Chaga Mocha you could buy here.
A Few Cool Things:
Chaga shares a chemical constituent with vanilla (vanillin) so if you pay close attention, you will notice a subtle vanilla-like undertone to the flavor.
The water extract from chaga mushrooms contains different properties than the alcohol extract, so spent chaga mushrooms that were used for tea can still be used to make an alcohol tincture. The alcohol extract has more cancer fighting qualities so it's worth it to use both. I keep my shrunken, dried out, spent chaga mushrooms from making tea in a jar and when it's full I grind them in my coffee bean grinder, cover them with an 80 to 100 proof alcohol (vodka, brandy, or gin) and set it in a cupboard for a couple months (shaking the jar occasionally) to infuse into a tincture (not unlike making homemade vanilla extract). I then strain out the powder and place the tincture in amber dropper bottles. Some people make a double strength extract by steeping fresh ground chaga mushrooms in that first batch of extract for another couple (or more) months before straining and placing in tincture bottles.  (An alcohol tincture is a medicinal herbal supplement with some different properties than the same herb in tea form.)
In 1968 Aleksandr Solzhenitsyn wrote about using chaga mushrooms to fight cancer in his book, Cancer Ward, in which he also famously wrote about kombucha.
"He could not imagine any greater joy than to go away into the woods for months on end, to break off this chaga, crumble it, boil it up on a campfire, drink it and get well like an animal. To walk through the forest for months, to know no other care than to get better! Just as a dog goes to search for some mysterious grass that will save him…"  – Alexander Solzhenitsyn, Cancer Ward
Even though chaga is a mushroom, it is hard and woody so the mushrooms themselves don't work well in recipes. The same can be said of reishi mushrooms, which I learned the hard way when I put a bunch of small broken up pieces in soup!  Both are too tough to "eat" but they can be simmered in tea or soup/stocks whole and removed to impart flavor and immune-supportive benefits. On the other hand, shiitake is a great tasting and immune supportive medicinal mushroom that is not woody so it is perfect for cooking in both fresh and dried forms.
Paul Stamet's book, Mycelium Running, includes a LOT of information on medicinal mushrooms, plus graphs showing which mushrooms combat which viruses, which combat which cancers, how to grow mushrooms, and a much more.  Get his book for more on the health benefits of chaga mushroom tea (and other mushrooms):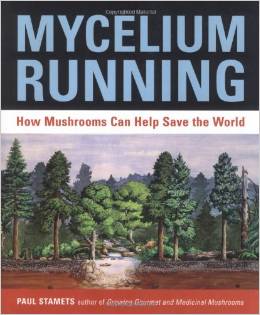 Nutrition and health writer, David Wolfe, is a huge proponent of superfoods and medicinal mushrooms, and considers chaga to be the star of them all. You can read more in his book, Chaga: King of the Medicinal Mushrooms.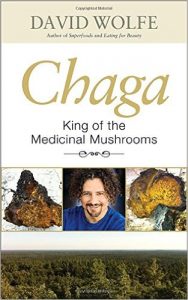 Thanks Jill!
More you might like: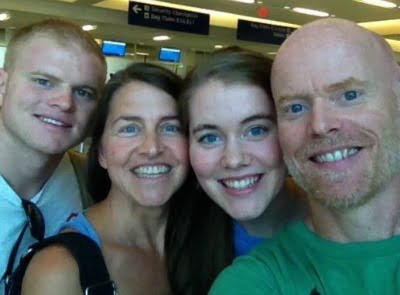 About Jill:
My husband and I live in Waco, TX, along with our two awesome college age kids. I have a small business, selling handmade personal and home care products at our farmer's market and local retail sites.  I am also Kelly's blog assistant.  🙂  I am passionate about real food nutrition, natural health, local food, and I love to cook. Fortunately we have access to lots of local food via our fantastic farmer's market, nearby farms, and even a grocery store that sources much of its food locally. 
Read more guest posts from Jill:

And that whole situation led to David writing this book…