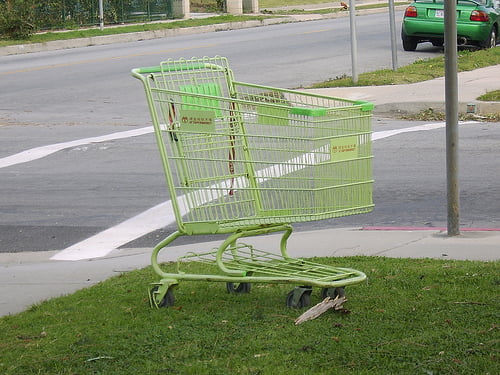 Today I'll let you take a peek inside my shopping cart and show you what I've bought online in the last few months.  I usually do a bit of research to find the best deals or the best quality, so maybe this will save you some time.  Don't worry, if it was underwear that I purchased, I won't include a link for that here, because you probably can figure out yourself where to buy that.  (Although I am considering buying the Coobie Bra that I read about recently, they're cuter than I expected.)
What I've bought online recently:
Dandy Blendfor that late-afternoon hot bevie craving when I've already had enough coffee that day.  I really like this stuff, as long as it's not immediately following a cup of real coffee.  Read more about coffee alternatives and what others like. 

Coconut oil because Kent eats it by the spoonful for its health benefits, and I also use it in my popcorn recipe.  (I went in with a few others so we could get free shipping, so be sure to ask your friends if they need some, too – where to buy coconut oil.)

Iodine supplements, because pretty much all of us are deficient and it supports adrenal health.  I know, I should do a post on this someday. 

Essential Oils, which I'm just learning more about.  Read the comments with info on all the uses for them in this post: Not hokey after all.  (Where to buy essential oils.)
I love these organic, raw cultured vegetables because they can be stored in the freezer to pull out for a super fast side dish all year long, and they're full of beneficial probiotics for your immune system, plus they're delicious. (Where to buy cultured vegetables.  Or you can get probiotic supplements here.)
Fluoride-free Toothpaste.  Read more about why we avoid fluoride in this post:  Look what I did to our son or this post for specific fluoride info. 

An Earthing half-sheet for our bed — I can't wait for this to come!  (where to buy Earthing products, remember to wait for the page to load all the way.)  I just finished the Earthing book and I'm amazed at the stories of those who have had their chronic pain or insomnia disappear after sleeping on these!  I'll let you know more about all of this soon.
Colloidal Silverfor a natural antibiotic.  Read more about how we use Colloidal Silver. 

I detest cleaning, but was surprised at how much I liked these products.  And they can just be thrown into the wash after you're done!

I ordered this for myself for Christmas:  a radiation-redirecting cell phone cover.  As I said before, who knows if they really work, but from everything I've heard and read, they're a least a pretty good bet. 

ConcenTrace Mineral Dropsto replace the minerals that our Reverse Osmosis system strips from our water as it filters out all the junk like chlorine, fluoride, and other toxins.  Read more about which water filtering systems are best. 
That's my list.
What great deals have you found online recently? Not just money-saving deals, but good-quality deals, too. Please email them to me:  [email protected], or comment below, and I'll share them in a future post!  🙂