How to get rid of head lice naturally!
Do you fear your kids coming home with lice?  Do you wonder how to get rid of head lice naturally without having to use those dangerous chemicals?  Fear no more, I've got you covered.
I fought head lice and won!
I've always feared the day that lice would make its first appearance in our home.  The horror stories of putting everything you've touched into garbage bags for three weeks and covering your child's head with chemicals and cleaning your whole house bottom to top, UGH.  I just didn't want to fight that battle and for sure didn't know if we could get rid of head lice naturally and avoid all those scary lice solutions, but guess what?  We did it.  And we survived too!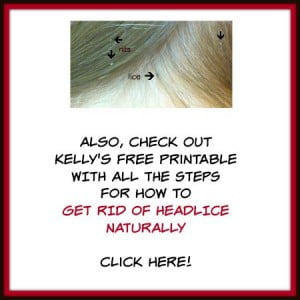 Anyone scratching their head yet? 
I am, too. Get used to it, it happens whenever you think about lice, but don't worry, that doesn't mean you have it.  Not always anyway.
I'm a weirdo…
Some may wonder why I'm so open on my blog and why I'd tell the world that we recently had lice at our house (and a while back I told you all about my ringworm, too!), well there are a couple of reasons.  First of all, most people know that head lice can come home on anyone, there's no rhyme or reason to it, and it certainly doesn't mean your home is dirty or whatever.  Also, while I may not personally know most of you, call me crazy, but I do think of you as my friends, and I want to show you how to get rid of head lice naturally in case the same thing happens at your house.
How Get rid of head lice naturally — here's what happened:
Our daughter had been scratching her head, so of course I looked her over because one of my biggest (non-life-threatening) fears has always been dealing with lice, since I've heard what an unbelievable nightmare it is.
But I didn't see anything.  So at first I thought it was bug bites from one late-night playing outside on a warm fall weekend.  Then I thought it was the different shampoo she'd been using.  However, when it kept up I took her to my friend, Patti, who cuts our hair.  That's when she found them!  AHHHHHHH!!!!!  Here's the short video I took that day.  Warning:  it's really sick to watch:
It's terrible to see actual bugs in your child's hair! 
Patti was great and calmed me down.  "It's OK, the same thing happened to us when my daughter was little.  I didn't see anything for a few days and then there they were, and I'm a hair stylist!  You can handle this…"  She also showed me that nits are actually stuck on the strands of hair, whereas dandruff or conditioner that wasn't rinsed out well or whatever just falls off – that's how you know if it's lice nits or not.
I quickly regained some perspective, and knew that there were much worse things to deal with in life than lice.
So off we went to the drug store.  I bought those nasty expensive chemical lice kits, not for the chemicals, but because that's the only way you could buy the dumb combs.  At that point I had no intention of using the poison on my daughter's head and didn't know if we could get rid of head lice naturally, but I was certainly going to try!
I called Kent and told him that I knew how to treat her hair, because I have an earlier post on lice full of great info in the comments about what worked for my readers to get rid of head lice naturally (never tried myself), but I was freaked out about how much cleaning we'd be doing all weekend!  By the time I got home he'd been searching online too and found an article that said it's not really necessary to clean everything so thoroughly, because he thought it would help me to chill out.  I said, "Kent, whether or not that site is right, I can't NOT do everything to the house and our bedding that I've always heard we need to do just based on one website."  I figured better safe than sorry so we didn't have to go through all of this again in a couple weeks!
Here are the exact steps we took to get rid of head lice naturally:
Based on information from my previous post on lice, advice from friends who have gone through this, and more online reading, we took the following steps…
As soon as we got home, I had our daughter get into the shower, as hot as she could stand it.
Meanwhile, I asked Kent to strip all the beds, grab any towels, coats, or sweatshirts that might be lying around, and get them all into the laundry.  HOT water.  HOT dryer.
Some things we put into a HOT dryer without washing, like pillows without pillowcases, decorative pillows on the couch, stuffed animals, or blankets that had just been washed the day before.  Everyone says that 15 minutes in a hot dryer will kill the nits, so I did 45 minutes to be sure!
We got ALL our hairbrushes and combs and put them into the HOT dishwasher.
I asked our son to start vacuuming the carpet everywhere.
While they were doing that, I started mixing up my lice potion:  first I melted about 1/3 cup coconut oil gently (not too hot, I wanted all the beneficial stuff still intact), and then added about 1/3 cup olive oil and about 12 drops of tea tree oil.  (Which I'd already had on hand, thankfully.)  Friends have said they just used olive oil and had good luck, but I'd read many good things about coconut oil and tea tree oil, too, so I wanted to be sure!
Once she was out of the shower, I got her onto the kitchen stool and went to work with the combing.  I had a couple different combs sitting in some HOT (almost boiling) water in a cup, using one comb at a time, and then dropping it into the hot water and using the other comb for a while.  Each time there would be bugs and nits floating in the water, ewwwww!  So I changed the water a few times, obviously.  I kept going, carefully working through each section of hair, until I couldn't find any more little nasties.  This took well over an hour, and she was such a trooper, and was throughout the whole ordeal!  Apparently, from all I've read, the key is the comb, this is the most important part of treatment.  (These metal combs are what we used, but with extra diligence the plastic ones can work, too.  I suggest getting combs to keep on-hand just in case!)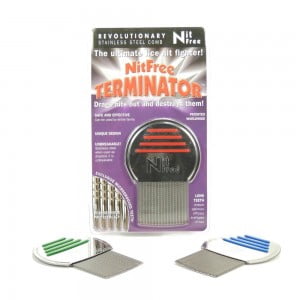 Then I saturated her hair in the lice potion and covered it with a plastic shower cap, she slept this way for a few nights.
By now I was scratching and decided to treat myself, too, just to be sure.  I checked Kent and the boys and they were all good.  Although I might have found a nit in one of the boys' hair, probably not but we were all paranoid, so he asked me to shave him almost bald just to be sure.  I was tempted to do that with all of us!
I called her teacher and asked her to email the class, hoping parents would all check heads and make sure no one came in with it on Monday, so we didn't start the cycle all over again.
I also called her friend's Moms that she'd been with recently, just because it was the right thing to do.  Of course they were all cool about it.
Over the weekend (thankfully all of this went down on a Friday after school), I washed bedding one more time, and threw a bunch more stuff into the dryer here and there – the dryer ran most of the weekend.  I also kept putting brushes and combs into the dishwasher over and over because I was combing through her hair a LOT to make sure I didn't see any nits.
Every time we washed and dried her hair (and mine), we used high heat on the blow dryer, and actually I'll never use cool or warm setting again!  My friends who dealt with lice recently swear by this as a good preventative since the lice/eggs hate the heat.
One thing I probably should've done, but didn't think of it again until now, is vacuum out the van where she sits…
Each morning there were fewer and fewer nits in her hair, and by Monday morning I didn't see any.  I called the school and they said that the school nurse has to check to be sure, so we met her in the office.  (I love her and have told you before how cool she is about vaccinations – that post tells about our vaccination drama with the school and doctor's office a while back.)  Heck if she didn't find TWO more nits.  I was feeling discouraged and asked her what she suggested, did she think we could get rid of head lice naturally?  She didn't pressure me even a little, but just said sweetly, "If it was me, I'd just do one of those chemical treatments."
My heart sank. 
I really didn't want to put that crap on her head, I've heard for years how dangerous it is to use those harmful chemical pesticides on your child and that the list of short and long-term scary side effects from that stuff is long.  But she couldn't keep missing school either and I couldn't keep the dryer running forever, right?
By the way, check out our piles of laundry: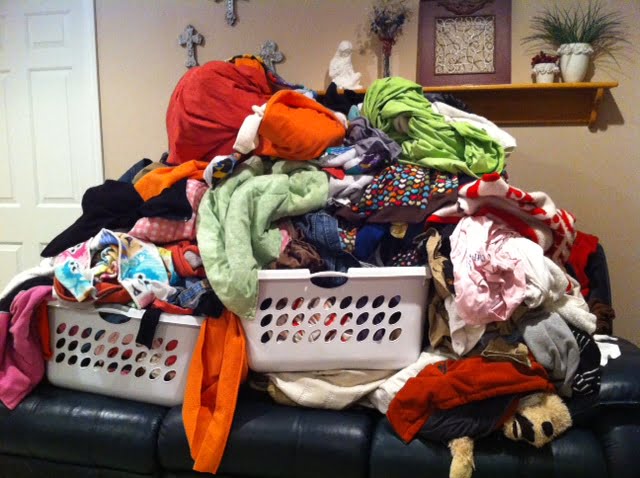 I went to the store and got the "name brand" poison, which was even more expensive, thinking that if I was only giving her one treatment, I may as well take the best shot at it, and this came with better combs, too.  I called some close friends to see if they knew how to get rid of head lice naturally, because they're also freaks about chemicals like I am, and they were great.  They gave me some more good ideas ("Did you try the natural products at the health food store yet?  And be sure to ask them for advice, those people know a lot about treating stuff naturally!"), and they also reassured me by saying, "If you have to, you have to, don't beat yourself up over it.  Just give her loads of healthy fats, good probiotics, and big doses of cod liver oil to build up her immune system to fight off any of the toxins."
So the chemicals stared at me all day long.
Maybe I couldn't get rid of head lice naturally…  I didn't know what to do.  I so desperately didn't want to put that stuff on her head (especially after looking over those product inserts!), but also couldn't stand the thought of going through all this a few more days or weeks, either – I'd read about those who have it keep coming back over and over again!  I prayed and searched online and prayed more.
One piece of information I found in my online research really stood out:  these days lice have become resistant to the chemicals in those kits, so it may not even work.  So I might risk my child's health to kill the nits, and there's a very good chance it won't fix anything?!  Then I knew what to do.  I went to the health food store to ask them how to get rid of head lice naturally, and dropped some more cash there.  (Notice the price tags on the products I bought?  Ouch.)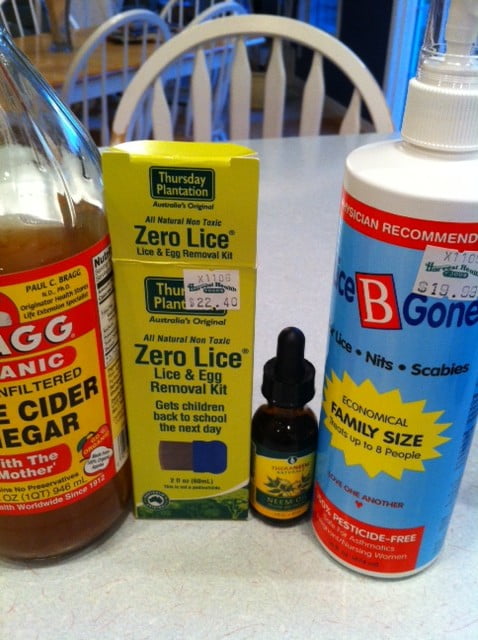 I decided to use the natural stuff in that little yellow box on her head that night.  Then the next day I rinsed her head with raw apple cider vinegar (that stuff works on anything!) and had her wash her hair with hot water and this Neem oil shampoo and conditioner below (my naturopath friend said Neem was also a good lice killer oil):
Once she showered and we blow-dried Tuesday morning, her hair looked great.  Linda, the school nurse, looked at it and asked me what I did.  I was so excited to tell her…
We did it, we really did it, we figured out how to get rid of head lice naturally!
I couldn't wait to show her the junk I did NOT use:
About the expense:
Here's the thing, I'm not convinced that the $22 bottle of stuff I used to get rid of head lice naturally really did any more than the lice potion I made up myself.  It was the last "oomph" that I needed just to feel better and feel like I was doing all I could, but I really do think that between the potion and the combing and the ACV and HEAT everywhere, I was pretty much already on top of it all anyway.  So if you can be a bit more patient than I was, you could most likely take care of this with a lot less expense than we had.  (Note:  people have asked me about using Listerine, but I didn't try that, if anyone knows how that works, please comment below.)
Prevention!
Hopefully the following plan will prevent this from happening again, but you never know.
I'll be checking her hair more frequently, especially now that I know what I'm looking for.  (People say boys get it as much as girls, but I don't care what they say, it just makes sense that short hair is less susceptible, and it sure was in our house.)
When that super expensive Neem shampoo and conditioner above is gone, I'll add a few drops of Neem oil to our regular shampoo.
We'll continue with the high heat blow-drying after every shower.
We'll continue with the high heat in the clothes dryer as long as I'm feeling paranoid, forever probably.
Every now and then I'll throw our brushes and combs into the hot dishwasher.
See the comment below about spraying some hairspray on their heads to repel the lice.
About the stigma…
I was thankful that our daughter wasn't at all embarrassed about this.  She asked me, "Mom, when it's time to share 'good things' in class, can I share that I'm glad my lice is gone?"  As much as I'd have loved to share how we got rid of head lice naturally (!!), her teacher didn't think that was a good idea.  I thought it was sweet that she wasn't concerned about her friends knowing, probably because I was all matter of fact about it.  Not that I was laid back about the bugs in her hair, this had me freaked out and we combed a lot to make sure we got them all, but overall I didn't make a big deal of it and she heard me nonchalantly telling others about it.  I've also found out that lice actually prefer clean hair to dirty hair anyway.  I have no idea where she got it, maybe church or the store or school, but the school hadn't had a report of it yet this year.  However, they did say this:  "Most people don't tell."
Have you had to deal with this in your home?  Have you tried to get rid of head lice naturally?
Did you find any remedies that worked for you?  Did you wonder too if you could actually get rid of head lice without the chemicals?  The comments are always where the best information is, I love hearing from all of you because that gives me more information for next time, but believe me, I'm praying that there IS no next time!
DON'T MISS THIS:  Get my FREE Printable with the complete list of all the steps for how to get rid of lice naturally.  Click here to get it.
More you might like: