Finding exercise time is a challenge for most of us.
Obviously, we're all probably on the same page and agree that moving is important, especially if your job requires a lot of sitting, like mine does!  (Although do you believe like I do that a healthy diet is still #1?  If you're drinking soda and eating fast food, well then exercise can't fix that.)
I've got a few tips for you today, on the first day of 2015, but I certainly don't always implement these like I should.  Whether it's that we're "too busy to exercise", or maybe you don't feel good, OR if our hormones are messing with us (as I explained in this menopause post, that stage in life can take away your ambition to exercise!), there's always something that can get in our way.
So we need to be creative…
Here are my ideas for finding exercise time, but mostly I want to hear what YOUR favorite creative tips are, please share in the comments!
1.  Use your time wisely:  Go for a walk and make phone calls on your cell phone, catch up with your girlfriends!  (Or invite them along if they're close by.)
2.  Get a treadmill desk and multi-task — there are many different types and price-ranges at that link (be sure and check the ratings):  you can work on your laptop — you'll just have to walk more slowly, or read a juicy novel!  (If you don't have the funds to buy one, have someone make you a treadmill desk like my brother did for me.)
3.  This one isn't time related, but it's important:  Find what you love.  In the summer, rollerblading is my FAV.  And walking with friends is another biggie.  What's yours?
You're up!
As we begin the new year, share YOUR creative ideas for finding exercise time and making it happen.  Let's help each other!
Also, please share this post with the buttons below and help get the message out to more people.  🙂
Related posts on new starts and exercising: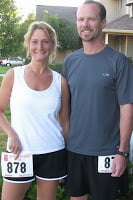 Anyone have a Bowflex home gym?  We do but we go in streaks using it, which is normal I think.  We figure it's cheaper to buy one of these and use it sporadically vs. a gym membership that costs you money during the times you're not using it.