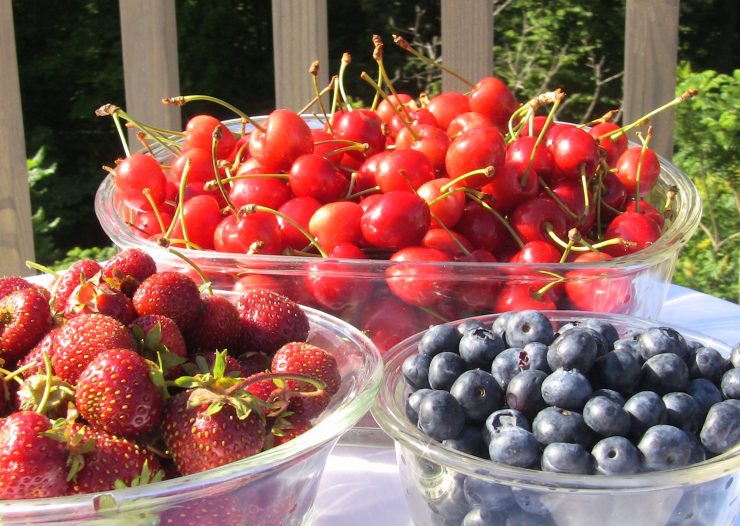 Do You Eat Fruits and Vegetables In Season Only?
Today I'm turning things around a bit to ask for your insight on the issue of whether or not to eat only fruits and vegetables in season. (Don't you love this picture of our summer berries?)
I recently received this email from my friend, Jeanne:
I have just started reading Animal, Vegetable, Miracle
by Barbara Kingsolver.  Although I have been on the path of whole foods for a long time I still consider myself a "rookie" on many levels. I try to set goals for myself and concentrate on one change at a time for my family.
My new goal is to eat produce in season. In the past I have had the disposable income to by organic produce no matter what the season and I never thought about where it was grown or how far it traveled to get to my market. Luckily I have canned and froze some produce this past season.
My question for you is, do you have a list of in-season fruits and veggies for the mid-west area? I would love a detailed list of what is in season each month.  I think realistically I should start thinking about this in the early spring, and this winter focus on not buying out of season veggies.
Jeanne
Another reader sent this to me a while back (sorry, I forgot to note who it was):
I am having the debate in my head right now about local and fresh versus just eating produce. My kids are big veggie and fruit eaters and I'd hate to stop buying things they love and will happily eat as snacks (Cukes, red peppers, red cabbage, spinach in salads, etc.). But I want to try and eat more nutritiously dense foods and avoid the foods shipped from far away. Maybe the answer is just eating USA grown foods in the winter when I can find it.
When grappling with the question of whether or not to eat produce in season only, I've narrowed it down to the 4 options available to us:
1.  Do what Jeanne did (and what I have generally done in the past):  buy organic produce shipped from who-knows-where.
Advantages: We're at least getting some fruits and veggies into our diets.  This happens to be the "politically correct" way of eating.  How often have you heard that we need to eat more vegetables and be sure to have a variety of colors on our plates?  (I'm not saying I disagree, but it's just frustrating that "they" don't say anything about the importance of the fat-soluble vitamins found in animal fats.)
Disadvantages: Not only is this bad for the environment, it is also not a traditional way of eating.  Obviously our ancestors weren't able to have produce shipped in when it wasn't available to them locally.  Generally the produce is low in nutrients after having traveled from so far away anyway.  What makes this the most difficult choice for myself recently is that I don't know my farmer or how my food was grown.  I like buying from farmers who I know are knowledgeable about the importance of nutrient-rich soil and not just after the "organic" label.
2.  Don't eat any out-of-season produce.
Advantages: This feels like a more traditional way to eat and we'd be avoiding the environmental concerns with shipping organic foods.
Disadvantages: For those who live in regions with short growing seasons like we do, and who don't use the methods you'll read about below, this means little or no produce all winter. As much as I know that getting in the protein and healthy fats are most important, not eating any fruits and veggies (or very little) all winter can't be good either.  Especially since I'm trying to eat a more low-carb diet all the time, which would leave me with only meats. That would get very expensive and would also get very boring and difficult to maintain for long.
3.  Can or freeze your produce when it IS in-season.
Advantages: You can enjoy food from your own back yard or from your favorite farmer in the middle of the winter, and you know how it was grown and that you canned or froze it yourself (a great feeling to be sure).
Disadvantages: A.  With either freezing or canning some nutrients are lost. (But it's better than not eating any produce at all over the winter, or buying blah-tasting, low-nutrient food from China.)  B.  The time involved to get enough food put up for the winter can be overwhelming for some.  (Like myself!)
4.  Use traditional methods of lacto-fermentation to preserve foods for winter.
Advantages: This is the most traditional and nutrient-dense choice of all.  As Scott from Zukay said when he spoke at the conference last weekend, "Traditional cultures didn't lacto-ferment their foods because they knew it provided beneficial bacteria to improve their health.  They did it because they didn't want to starve over the winter."  Another quote from Scott (who I thoroughly enjoyed meeting in person, by the way!):  "We all know veggies are good for us, but the fermentation process turns them into something INSANELY healthy."
Disadvantages: In my experience, these veggies are not easy to get by the kids, who are not used to the taste of fermented foods.  However, I firmly plan to keep trying.  Also, in some cases this is not an easy process to learn how to do.  Thankfully there are many good sites to help with this (see below for some good links), and I'll be going over them all again myself soon, OR you can buy fermented vegetables here.
So what do you think?
Which option do you choose and why?  Help!
More on my plans for canning/freezing in-season produce
There are some foods that I won't can or freeze because I can get almost-as-good (nutritionally) and sometimes less expensive when I buy it.  Other foods I definitely plan to start canning or freezing.  I imagine this list will be changing all the time as I figure out how to do more.
My friend, Lyn, priced homemade spaghetti sauce once and found that the organic came out to be cheaper.  The kind I buy comes in glass jars (no BPA worries) and we all love it, so I'll continue to buy this.
We shop at a local farm store who get their frozen fruits and vegetables from a company called Coloma Foods. I called to find out if any of their produce is genetically modified, and the answer was no.  Also, he said most of their produce comes from the U.S. (Some from close by us:  corn from Wisconsin, blueberries from Michigan.)  They are not organic, but they claim it is "minimally sprayed, usually just enough to get it going".  Granted, this is not ideal.  I don't know my farmer, and not all of their produce is local.  But especially for the blueberries (since they're from Michigan), we'll continue to buy these frozen, and we go through a lot over the winter.  (Blueberries & cream, blueberry pancakes, etc.)  Update:  Here's a new, updated version of the "Clean 15" and "Dirty Dozen" so you know which produce you really should buy organic, and which ones are OK to buy conventional.
I'd like to try getting more raw applesauce frozen this year than I have in previous years.  There is nothing like pulling out a jar from the freezer in the middle of February for a treat…
We need to start planning now and definitely will plant more tomatoes next year to can ourselves and avoid the BPA that is in the lining of even the organic canned tomato products.  (Which I just found out and it drives me crazy.)  If I have jars of tomatoes to throw in chili, soups, etc., and don't have to open a can of tomato sauce with BPA, I'll be thrilled.  When we're at Kent's Mom's and she just goes downstairs to her stash of veggies to make dinner, I'm always jealous.
I'm thankful that I already have some zucchini frozen for this winter when I want to make frittatas or zucchini chocolate chip cookies.
We (Kent & I, not the kids) loved the sauerkraut I made last summer, and plan to do that again next year and freeze it in small amounts.  (Fermented vegetables are good in small amounts with each meal to help with digestion.)
I'd love more ideas for which produce you choose to put up for winter.  I'm just not sure what else we'll use enough of in the off-season to make it worth the trouble.
What else have you chosen to continue to buy, knowing that the nutrient value and expense is the same (or close) as canning or freezing?
What's In Season In Your Region?
More you might like: