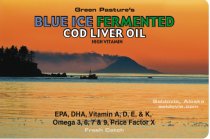 ***Please note that there have been some recent concerns about the below product. Please read more at this post, or click here to find out what were taking nowadays. Do some reading and research, and decide for yourself what is best for your family. Thank you.
First of all, don't worry, if you're like me and just don't think you can get the liquid cod liver oil down, it does also come in capsules!
Also, people often ask how we get our kids to take it – here's the answer: the older kids take the capsules like us, and the younger kids (who can't swallow a big pill) take the liquid. When we give it to them, we take the advice from my friend, Anne: "It's all in the presentation." If you get it out of the fridge and shout, "Time for blue bottle medicine!" in a happy excited voice, they'll come running…I was skeptical until I tried it, but it works! Don't forget to cheer after they take it. 🙂
When they don't want it…
Granted, some kids may go through "streaks" where they'll not want it for a while (mine do anyway), so I use my own tried and true methods for getting through those times:
Don't push it

.

Just say in a relaxed voice, "You don't want any tonight? OK." Soon they'll take it again with no problem. (However, if you push it on them or hold them down, they'll NEVER take it again.)

My other tactic? I'll bribe them with something!

Sometimes I'll give them a couple chocolate chips (generous, I know) and that's all it takes.
The point is, just begin to make it a daily habit!
More posts that you might be interested in: