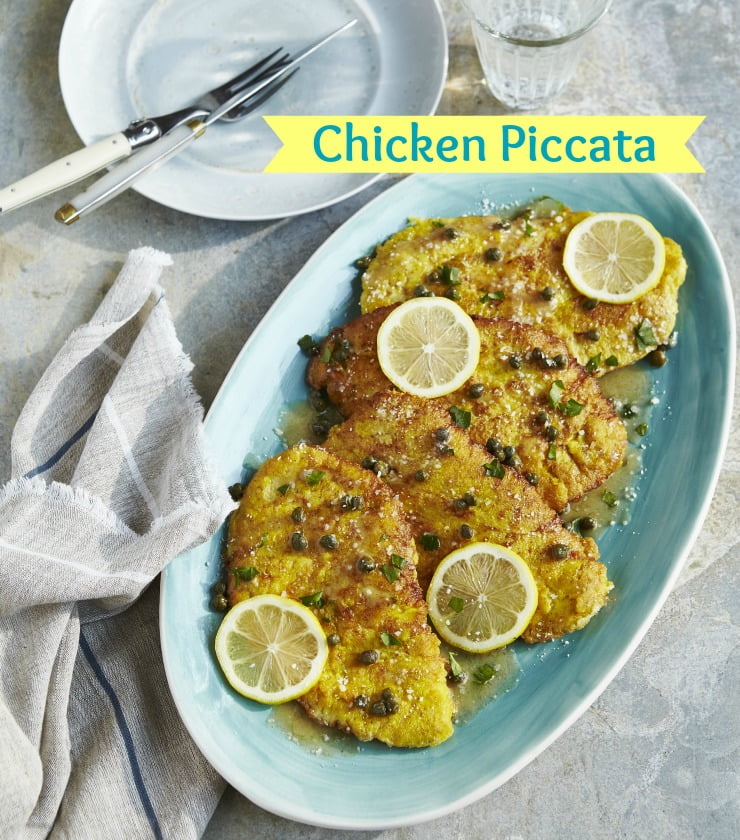 It's always fun when someone you know publishes a book, so when fellow-Catholic Mom and friend, Katie from the popular Wellness Mama blog, came out with her new Wellness Mama Cookbook, I couldn't wait to dig in and try some of her recipes.  I just love flipping through a new cookbook for ideas, don't you?  The majority of these can be made in under 30 minutes and many need only one pan.  (Yay, less dishes!)  Not only that, but every single one of her 200+ grain-free recipes replace processed sugar and flour with nutrient-dense foods and vegetables kids love, so if you're watching your grain and sugar consumption for health or other reasons, you'll love this.  Thankfully, we have no food allergies or health reasons that call for reducing grains around here, but recipes like this help me add more variety and more vegetables into our diet, otherwise it's too easy to always fall back on grain-heavy meals if I'm not careful.  (Which is fine for once in a while or for some who are really active.  Especially if you're eating healthy grains like one of our favorites, einkorn pasta for example, and serving it with plenty of pastured fats, pastured meats, and vegetables grown in nutrient-dense soil.  However, I sit on my butt on this computer too much to eat like that all of the time!  Did you see my post about when I did the Whole30 diet for a month?  My results and how it really went on the Whole30 Diet.)
I tried to get a picture to show you my copy of Katie's cookbook so you could see ALL the pages I have turned down with the recipes I want to try, but it wasn't showing up very well in the photo.  Almost every recipe in there looked really good to me, so I can't wait to try more.  🙂
IMPORTANT NOTE:
If you want to get Katie's recipes TOGETHER with the best meal plan program there is (it has an app and every convenience you need to make it a simple, helpful experience for you!), click here and look for the Wellness Mama add-on.
The first recipe I made was a winner with the whole family right out the door.  Here's how Katie described her chicken piccata recipe:
Lightly breaded chicken skillet-fried and seasoned with white wine, citrus, and parsley for a fast but sophisticated meal. Piccata is a method of preparing food that originated in Italy but often features veal there. We prefer this chicken version and it is a regular part of our meal rotation."
Notice my Chicken Piccata pictures didn't turn out quite as pretty as Katie's picture above, what a shock, right?!
I used my favorite stainless steel electric skillet for this recipe, it seems like whenever I'm in the kitchen lately I'm using that OR my pressure cooker, my two favorite kitchen gadgets at the moment.  🙂  Have you seen this post?  10 Best Ways to Use a Pressure Cooker for Healthy FAST Meals.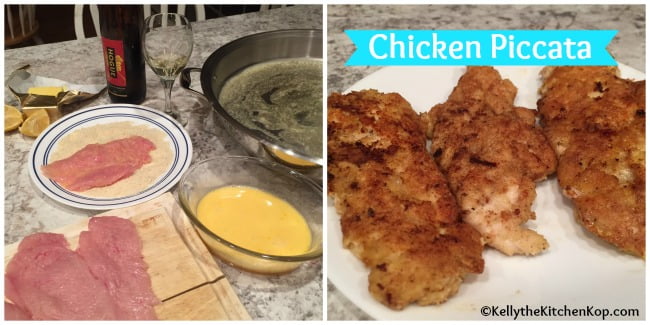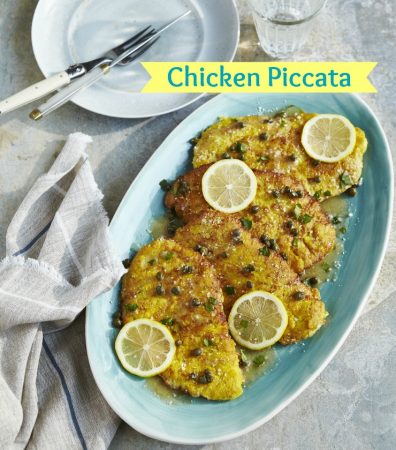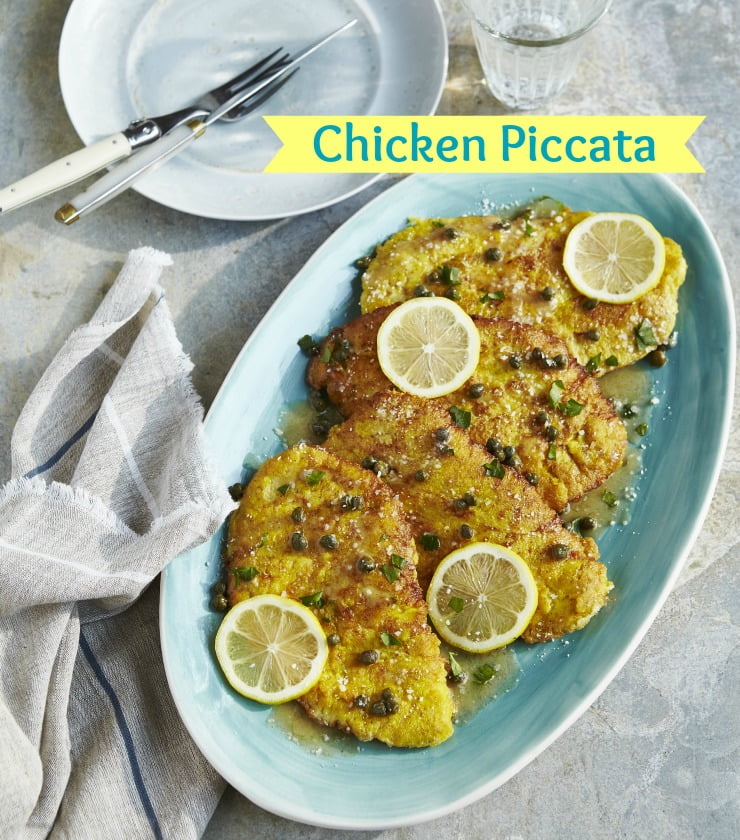 Print
Chicken Piccata from The Wellness Mama Cookbook
Yield 4 servings
Ingredients
3 skinless, boneless chicken breasts (about 2 pounds), find healthy meat options here if you don't have a good local source
¾ cup almond flour
½ teaspoon sea salt
½ teaspoon freshly ground black pepper
½ teaspoon ground turmeric, or more to taste, optional
½ teaspoon garlic powder, or more to taste
2 large eggs, eggs from pastured hens are best
8 tablespoons unsalted butter, pastured butter is best for more nutrients
½ cup dry white wine, optional — I chose to drink my favorite white wine while I cooked it instead  
1 lemon — I only buy organic lemons, since citrus are usually highly sprayed
4 tablespoons capers, optional — I omitted these since I don't like capers
¼ cup chopped fresh parsley — Or dried parsley if you don't have fresh on-hand, but fresh is better
1 ounce grated Parmesan cheese — I used extra because we all love Parmesan!
Instructions
Preheat the oven to 300°F.  Butterfly the chicken: Cut the breasts in half lengthwise and flatten by pounding with a meat hammer or the bottom of a cast-iron skillet until about ¼ to ½ inch thick.  Mix the flour, salt, pepper, turmeric, and garlic powder on a plate.  In a small bowl, beat the eggs with the water until frothy.  Dip the chicken in the egg mixture and let drip well, then into the flour mixture and back into the egg mixture.
In a large skillet over medium-high heat, melt 2 tablespoons of the butter. Cook the chicken for 3 to 4 minutes per side, until browned and no longer pink on the inside. (It may take two rounds to cook all the chicken. Use another 2 tablespoons of the butter for the second round.) Place the chicken on a baking sheet and put in the oven to keep warm. Add the wine, if using, to the skillet to deglaze; otherwise, use water. Halve the lemon and squeeze the juice into the skillet. Thinly slice the other half. Drain and rinse the capers, if using, and add to the skillet. Reduce the mixture by about half and then add in the remaining 4 tablespoons butter, stirring until melted. Remove the chicken from the oven and place on a serving platter.
Drizzle some of the sauce over each piece and top with the parsley, and the Parmesan cheese.  Garnish with the lemon slices and serve.
Did you make a real food recipe?
I want to see it! Tag @KitchenKop on Instagram and hashtag it #KitchenKopRecipes OR share anything you know I'll love by tagging @KitchenKop and hashtag #KitchenKop -- see you over there!
: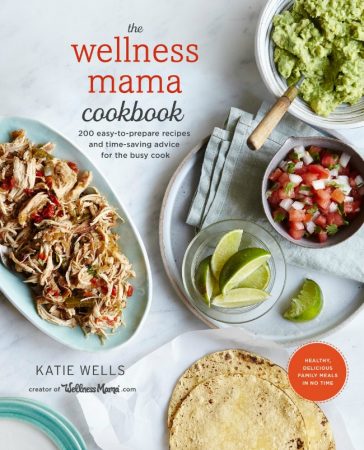 Reprinted from The Wellness Mama Cookbook © 2014, 2016 by Wellness Mama (Harmony Books, Penguin Random House LLC). Photo by Helene Dujardin.
Thanks for sharing Katie!
More you might like:
Here's what we talked about:
–My own journey to real food
–What I learned when helping our kids learn to like real food
–Some simple switches that instantly increase the nutrition of common foods
–10 common ingredients to avoid and 10 to consume more regularly
–Kelly's favorite "fast foods" that you can make at home using real food ingredients
–Why she chose the name "Kitchen Kop"
–More tips and tricks for Moms in the kitchen. 🙂