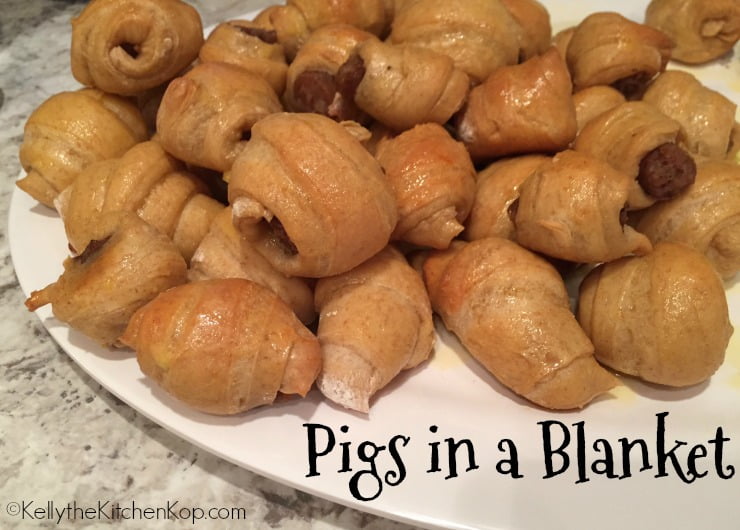 I looooved Pigs in a Blanket when I was a kid…
Sometimes our youngest will get ideas in his head for what sounds good to him and there's no getting around it, when he's got a hankering for a certain food we need to make it happen!  Usually his ideas are pretty good, so we roll with it.  🙂  This time it was Pigs in a Blanket that he wanted and since I loved those as a kid, I was excited to try a real food version of course.  We were having friends over for dinner and I figured these would go well with Kent's chili (I need to post that recipe next), plus I figured I'd make some plain rolls too.
Normally you see this recipe along with the canned bread from the store, but that ingredient list is SCARY.  This is simple and so much better for you!
Pigs in a Blanket
So I started with this homemade crescent roll dough.  Make it just as the directions there say, except if you're not starting the night before, it's okay to tweak it as described in the post and just make it the same day.  The rising takes a while, especially if it's winter and you don't have a nice sunny spot for them, so you may want to start in the morning if you're serving them for dinner.  You can always warm them back up a little later if they get done early, but it's better than being frustrated with how long they take to rise!
While the dough is on its first rising, start on the meat…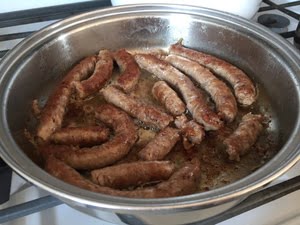 We were also having hot dog pigs in a blanket — hopefully you can find some organic grass-fed hotdogs like these, but I get the ones available right at the store.  So I cut those up too.  No need to cook them first as they're already pre-cooked and will be heated up when they bake.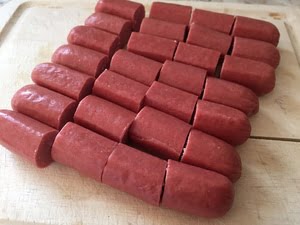 Next I started rolling the dough out onto a floured countertop.  As it says in the post, I separated it into 4 sections and rolled one section at a time into a big circle.  Using a pizza cutter, I cut it into 32 pieces: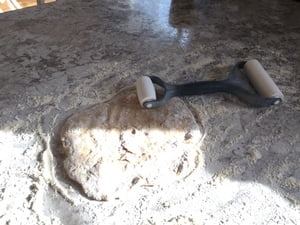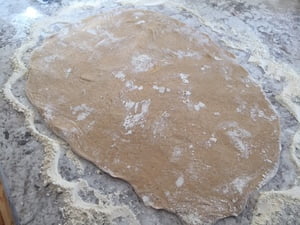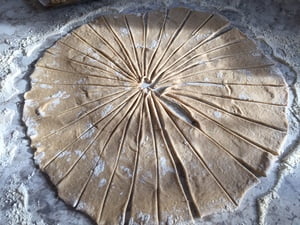 Next I rolled up one piece of meat at a time starting at the widest part of the triangle and rolling inward, making a cute pinwheel, then placed it on a parchment-covered cookie sheet.  You could also just use a buttered baking pan.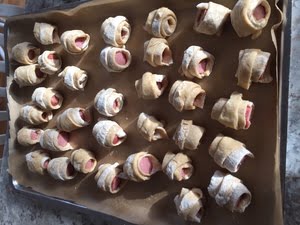 It made about 3 cookie sheets full, and there was enough dough to make an extra pan of just small crescent rolls.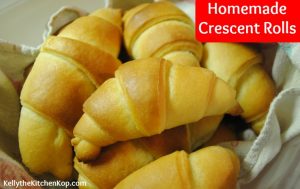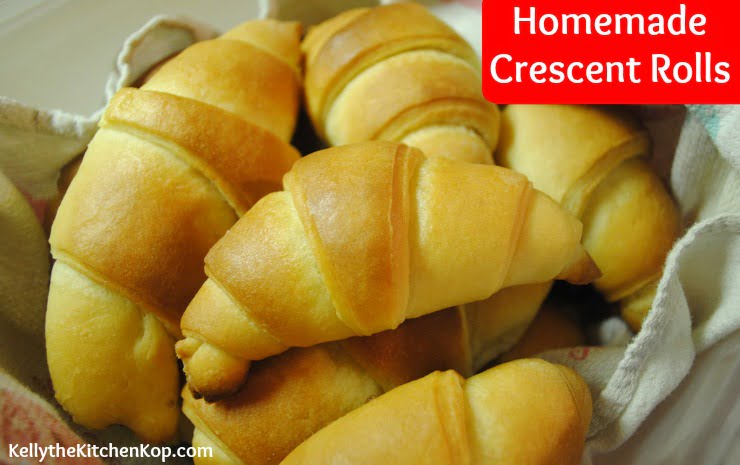 Let rise in a warm place in your kitchen (my new oven has a warming drawer that works great for this in the wintertime!), and when they've almost doubled in size, bake at 350* until golden brown, about 15 minutes.  (Start watching them around 12 minutes though, just to make sure they don't burn on the bottom.)
Brush with a beaten egg or just some melted butter if you'd like.  I served them with a few different mustards we had here, some spicy, some brown, etc., but people mostly ate them plain.
These pigs in a blanket went over so well, and I was surprised that the hot dogs went faster than the sausages so next time I'll make more of those.  I'll be making them again for more company soon.  🙂
More you might like: