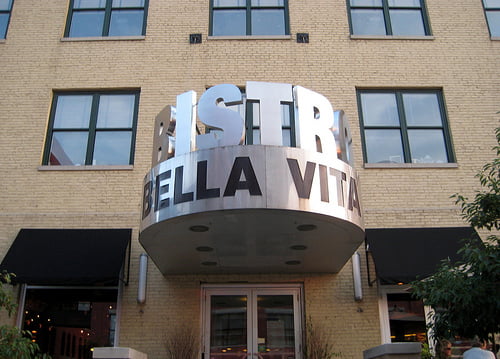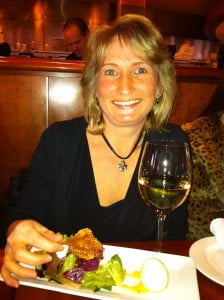 If you read about our dreamy dinner out with friends (and duck fat appetizers) not long ago at Bistro Bella Vita, you can probably imagine how much I loved my girls-night-out last week for the local Weston Price chapter fundraiser.  (Bistro sources much of their food locally and appreciates that we're getting the word out with them about how the best foods, nutritionally and for the environment, not to mention TASTE-wise, are local foods grown by those you know.  Our Nourishing Ways of West Michigan group is very thankful for their support!)
Here's a copy of the special menu, created just for us Weston Price groupies…  Isn't Chef Pat the best?!
Now keep in mind two things as I show you these pictures:
1.  You're all well aware that I'm no Nourished Kitchen with my photography skills, and even worse, the lighting at Bistro made things tricky, so cut me even more slack than you normally do, OK?  (I tried to enhance them a little, but I really don't know what I'm doing.)
2.  Also remember that I used to be the person (along with Kent) who thought people like our friends, Joe & Meg, were crazy because they cared about things like the "presentation" of their food.  Ha!  What weirdos.  Don't they know that taste is all that matters?
Yeah, that was before I loved wine, too.
I've been enlightened in many ways in recent years, that's for sure.  Now I'm enjoying "big girl" delights.  For example, check out this presentation: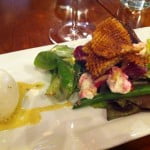 How could that not be seen as a work of art? And the TASTE of those waffle shaped spuds fried in REAL fat… wow.  And on a salad, how fun is that?!  The goat cheese, the greens, and that adorable boiled egg, such fresh flavors, I loved it.
Anne said her appetizer was reeeeally good, too, and it included organ meats!  Where else can you find that except in a restaurant where the Chef gets it?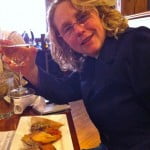 The presentation for this was amazing, too.  Who would have thought that liver could look so mouth-watering?  (I'm kicking myself now that I didn't order this.)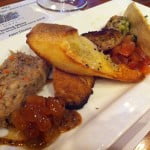 Here's my main dish chicken, which was excellent – it was so tender, and the topping was light and perfect.  The sauce had a delicious twang of Dijon mustard, and it came with more potatoes fried in real fat, YUM:
Everyone who ordered the Beef Burgundy raved about it:
Natalie said I could take her leftovers home along with mine, and I was so looking forward to my lunch the next day, but nooooooo, I had to leave them there on the table as we walked out AGAIN.  Why oh why am I always such an airhead?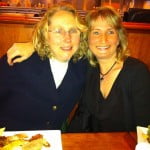 Now, for the Grand Finale…  Look at how gorgeous this cobbler and Crème Brule look!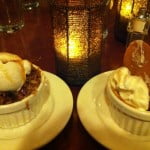 Here's another shot of just my Crème Brule because it was so delicious and I loved the little wafer cookie, the real whipped cream, and the berries that all go along SO perfectly with the sweet cream!  I had a cup of coffee with it and life was good.  🙂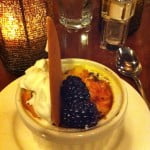 I asked a whole bunch of my girlfriends to come and the ones who could make it were a fun group.  Who's who in the below picture, left to right:
Front row:  Myself, Natalie, Lyn (see Lyn's guest interview with links to her recipes there, too), Kristen
Back row:  Katie from Kitchen Stewardship, Donielle from Naturally Knocked Up, Janice, Anne (see her guest interview, her post Eating healthy shouldn't cost an arm and a leg, and her post the 3-legged stool of good nutrition), our silly server who was great, and Sue (of the Baked Oatmeal recipe fame and Cashew Rice!)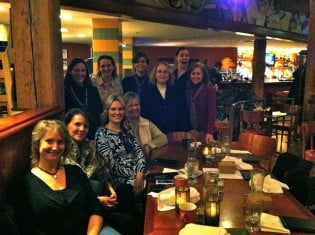 I almost forgot to tell you about my wine!  I had a glass of the late-harvest Riesling that I told you about last time, and for my second glass (I wasn't driving), I tried one of Natalie's favorites, a Sauvignon Blanc.  I had to have her order it for me since I can't pronounce it (I told you I was new at this wine thing), but it's good and very close to a Riesling.  My palate is still loving sweet white and red wines.  I'm told that it will continue to mature, and for now I'm just thankful to be long past wine coolers.  I can't believe that just a few years ago I really liked those.
Now go read Wendy's post (my local blogging friend) after she & her hubs also went last week:  Bistro Bella Vita: A Refreshing Surprise (More pics are there, too.)
Part of the West Michigan Link Up!