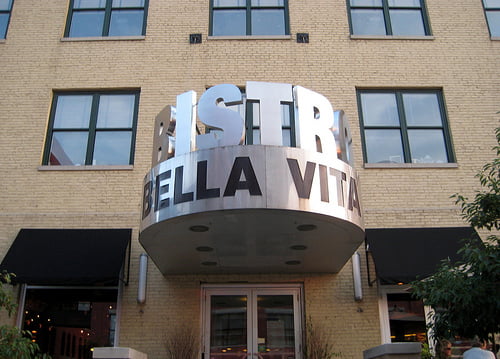 When you go out to dinner, do you often feel like the couple in the following video?  (This is hilarious; you fellow Real Foodie freaks will love it because it's so US!)
These days when we're planning a dinner out, I look over the menu and if I have any questions I'll call or email the chef beforehand.  Kent prefers that I handle it this way so his toes don't have to curl under the table quite so much while I'm asking questions.
So recently when we made plans to go with our friends, David and Michelle, to a Grand Rapids restaurant that we've loved for years, Bistro Bella Vita, I took a good look at the menu ahead of time.  The sweet potato fries caught my eye, so I called to ask what they're fried in.  When they told me it was soybean oil, I said, "OK, bummer.  Thanks anyway."  Later I thought, "They've always been great about sourcing from sustainable, often organic, local farmers, maybe I should just email the chef about the soybean oil and see what he says…"  (Check out my recent Facebook chat with Chipotle on the same topic.)
Here's what I wrote:
"I love that you source many of your foods locally and serve REAL food in your restaurant, this is one of the many reasons Bistro Bella Vita is our favorite place to go out.

Only one request… Soybean oil is really bad nutritionally (and literally makes me sick if I eat that or any other vegetable oil – they are all highly processed, fake fats), have you ever thought about frying in duck fat, lard or beef tallow? These are traditional fats, taste great, and won't give people heart disease as many used to think.

I'd be happy to get you more information on any of this, but I can tell you, if you used these fats, you'd draw a whole new crowd of Real Foodies.

Thanks for listening!

Kelly"
Chef Pat's response:
"Hello Kelly, I really enjoyed your feedback (I am a big fan of the traditional fats as well).  I have never tried them in our fryer, however we use duck fat and pork fat on a fairly regular basis for side dishes in the restaurant.  If you would like, just ask for duck fat fried items and ninety percent of the time we can make that happen.  I would love for you to forward me any additional info on this topic that I can use to educate our guests and use more of these products in the restaurants.  Thanks—Pat"
Isn't he cool?!  My reply:
"Hi Pat,

It was great to hear from you, and I was excited to find out that you do use duck fat and pork fat!  We're coming there with another couple Saturday night so I was wondering if you could let me know what some of your items on the menu are that are cooked in those traditional fats?  I can't wait to try them.

There are a few restaurants that advertise their duck fat French fries in Chicago and I tried to go to one once, but when we got there they no longer offered them.  🙁

For more information on healthy fats, check out this great video:
https://www.youtube.com/watch?v=AlGi1Qvsgaw&feature=related

There's a lot more info I could share on healthy fats, let me know.  🙂

Thanks again!"
One more from Chef Pat:
"We will have both fats on hand Saturday, we can sauté any side dish in either to order.  Some of our sub recipes such as our duck leg are cooked in duck fat, but the Cassoulet going with it has a small amount of extra virgin olive oil/canola oil blend used in it's sub recipe.  Although, we can figure almost anything out for you.  Please email me the time and name of your reservation and I will get with your server to help make your night perfect."
And perfect it was!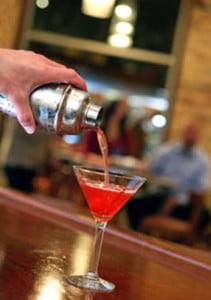 We enjoyed a long, relaxing dinner and it was the most fun we've had in a long time.  Yes it ended up being fairly pricy (they have West Michigan's largest martini bar ya know!), but not when you consider that it lasted over five hours, and it wasn't just dinner, it was entertainment, too.  The four of us have been friends for over fifteen years, so it's always a blast with them anyway, and we all loooooove our food, so each course that came out was like a new "show" that wowed us.  We'd all try each other's and ooh and ahh together, such fun!
Our appetizer surprises
We ordered some appetizers, but a couple dishes that we hadn't ordered showed up!  Pat was so sweet, he sent out a couple of the most amazingly delicious plates of food ever. I sent him an email thank you the next week and asked exactly what they were called so I could order them again.
"I'm so glad you liked the apps, I sent out confit of fingerling potatoes fried in duck fat with Parmesan cheese, crispy bacon, truffle oil and Dijon vinaigrette. The second plate was S&S Farm's duck fat fried chicken livers over chickpea salad with Michigan apple cider reduction and grilled onion relish.
Did I mention how much I love great chefs?!
(A picture right about here would've been nice, huh?  More about that later…)
Also David & Michelle ordered the best bruschetta (there's where my no-grain/low-carb completely went out the window for the evening), it had such a perfect blend of flavors and with hunks of Parmesan…Mmmm, I'm a freak about Parmesan.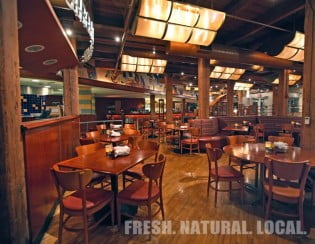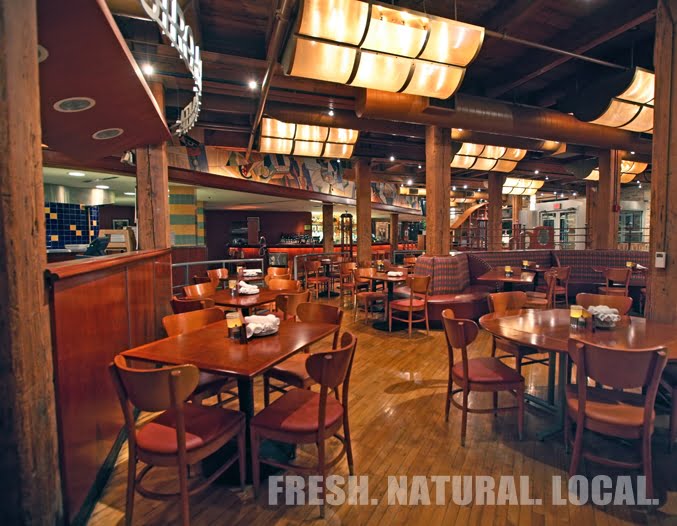 You can check out their menu for more details, but here's what we ordered:
David had the Braised Pork and Potato Gnochi with "roasted vegetables, braised greens and aromatic jus" – so tender and bursting with flavor!
Michelle had the Harvest Ravioli:  "Butternut squash ravioli with mushrooms, roasted vegetables, honey-truffle mushroom jus."  Such a perfect blend of sweet from the squash along with the mixture of flavors from the herbs.
Kent had the "Boeuf Bourguignonne" (Beef Burgundy):  "Slowly braised beef in red wine with baby potatoes and seasonal vegetables in natural herbed jus."  The beef was so tender and melted in your mouth!
I had Pork Tenderloin:  "Grilled to order over butternut squash, mushroom and braised green risotto with dried cherry demi glace."  Oh. my. gosh.  Again, the pork was tender and full of flavor, and I love butternut squash and risotto.  It was magic in my mouth I tell ya.
I also had a glass of late-harvest Riesling wine with dinner and loved it so much that we bought a bottle to bring home.  It's local, too, from Traverse City, just North of us a couple hours.  Yes, it's a sweet wine, my palate is still maturing!
Then…I was bad.  I had Crème Brûlée for dessert, my favorite.  At least if I was going to cheat, I chose something full of healthy fats, right?  Right……?????
Beyond how mouth-watering and wonderful our food tasted, I love going here because of their food philosophy:
"We prepare every dish from scratch to your order, with the freshest, highest quality ingredients available, because fresher ingredients make the freshest cuisine. In-season, we use chemical-free produce purchased daily from local farmers. It's healthier, fresher and tastes best."
They speak our language!  But the story gets even better…
I met with them this week, and next month Bistro Bella Vita is doing a fundraiser for our local Weston A. Price chapter (Nourishing Ways of West Michigan). They'll be offering menu items that are specifically Weston Price friendly, is that fun or what?!
Only one bummer…
It was too dark to get pictures with my iPhone (I reeeeally want an iPhone 4 with a flash!), and being the top-notch on-the-ball blogger that I am, I remembered to bring my camera with a flash instead.  NOT.  No worries, Michelle brought her camera.  So since I am a blogger at heart, I took all sorts of pictures of the delicious food I just told you about, right?  No again.  Helloooo, Kel?!  Is there anybody in there?!  Apparently I'm a foodie more than I'm a blogger.  We were oohing and ahhhing and scarfing down one course after another with nary a thought about blogging or pictures.  I'll try to get better, really I will.
(Michelle did take one of Kent & I and Chef Pat, but all three of us looked so bug-eyed and washed out that I couldn't bear to post it, even after I pestered her to develop her pictures digitally for me, I'm sorry Michelle!)
Have you had a dreamy dinner experience?  Tell us all about it in the comments, because we all know how much us Real Foodies love to go on and on about our food don't we?  🙂
Want to watch a video tour around Bistro Bella Vita?
Local readers, sign up for our Meetup group so you'll know the Bistro Bella Vita dates in March as soon as they are confirmed!