The following recipe idea came to me when I was having a craving for these:
(Read how to find healthy meat.)
Place ribs in a buttered pan with one can of Guinness beer poured over the top. Cover tightly with foil (not touching the ribs) and bake at 250* for 4 hours, grill for a short time, then brush on barbecue sauce.

These are the BEST ribs, especially if you find the right barbecue sauce. Try mine at that link or just find one with a not-too-bad ingredient label – no high fructose corn syrup!
We didn't have any ribs, and I think they're a lot of work to eat anyway, even if you are able to find some good ribs with enough meat on them. So I had the idea to try this instead…
GUINNESS BARBECUED BEEF SANDWICHES
I pulled out a couple beef rump roasts from the freezer (find healthy meat here – pork loin would be good, too), put them in my crock pot with one can of Guinness Beer (after we scammed one from Joe & Meg), and let them cook all day until the meat could easily be pulled apart with a fork. (This makes a lot of delicious broth.) We pulled the beef out with a slatted spoon (so you don't get your bun soggy) and put it on a homemade bun with plenty of barbecue sauce.
Kent & I both thought the sandwiches were great, and the kids ate everything, but not in a sandwich. They had their homemade bun just with butter, and then ate their beef on the side, dipped in the barbecue sauce or some organic ketchup. On the side we had salad with tomatoes & cucumbers, along with some sliced peaches, all from Saturday's farm market.
Want to make your sandwich even more delicious and add some healthy fats (which help your body digest your food better)? Slice your bun, butter the insides and place them face down in a frying pan or face up under a broiler to brown a little – now your sandwich will be positively dreamy…trust me.
YUMMY BEEF & NOODLES DINNER
The next night I made beef & noodles with the leftover beef. You can use Spelt noodles, whole wheat noodles, or brown rice noodles. (Where to buy good-for-you noodles.) Just heat up the beef and stir in the cooked noodles. There was still some juice with the beef, but not quite enough, so I also added some red wine, and salt & pepper. It was really good and all the kids ate it well. (You could also add onion, fresh garlic, & any other flavors you'd like.) We served it with sliced cucumbers and green beans sautéd with some garlic in a little olive oil. Both also from the farmer's market.
There you go, three easy main dish meals for you. Have you ever tried recipes like these but with some variations? Comment below and share away!
Meal Planning Help!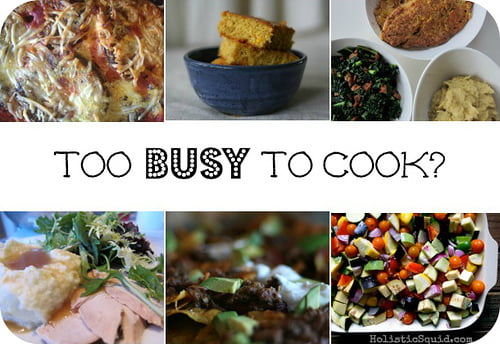 Sick of planning meals and answering the question, "What am I going to feed these people?" No matter what kind of eater you are (traditional, GF, paleo, vegetarian)… Check out these affordable interactive easy-to-use meal plans where the work is done for you.  NOW recipes also available from Nom Nom Paleo, The Paleo Mom, and Wellness Mama all in one spot!  You can read over my review here.