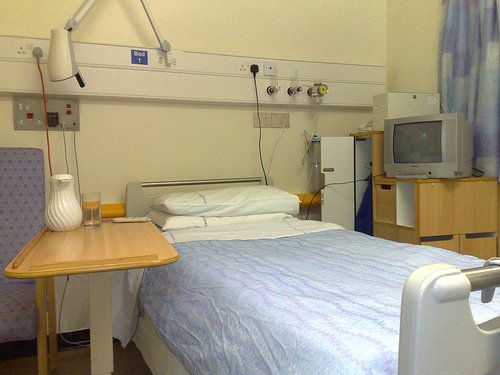 A reader, Michelle, emailed not long ago wondering what I knew about the appendix.  Do we really not need it?  Is an appendectomy truly 'no big deal'?
From Michelle:
With all of your posts on organ removal/alteration lately, I was wondering if you have any thoughts about the appendix.  My husband's appendix just ruptured and had to be removed, taking a bit of his small intestine with it and entailing a 9 day hospital stay and tons of medications.  (Not things I like to have in my family's bodies but when they are lifesaving we are very thankful they are there!)  The medical explanation of this phenomenon is that "there's no cause or explanation; this just happens."  I have a hard time believing this!  A body organ explodes and we just say, "Oh well, I guess we don't need that"?!!  Doesn't make sense; I have a feeling that it may be related to ignoring a damaged gut.  Part of this comes from the evolutionary viewpoint which is that people used to need appendices but have evolved past that.  I'm sure as a Christian you don't buy that one either!  A couple of years ago I recall Dr. Mercola doing a post that the appendix actually is responsible for producing probiotics; I will go back and research that more and definitely make sure hubby is getting adequate supplementation/ferments.  Anyhow, wondering if you have any thoughts on this.

By the way, my naturopath didn't have any info about the "why" behind appendicitis either, or the effects of not having that organ.  He was interested in the study I mentioned about the probiotics, so I will bring him the article for his info next time but he wasn't able to help out too much in that area.  Having said all that, I think it is still an interesting and under-studied area.  For example, did traditional people have their appendices rupture?  I'm betting not….anyhow, if you want to do a post about it or want any more info from me in terms of what the procedure/hospital stay/medical side of things entailed I'd be happy to oblige.  I live in BC Canada so it will be a different experience from the US side. 
Here are a couple blurbs I found from the Weston A. Price Foundation:
According to Darwin, the appendix was a useless biological remnant, the remains of a larger structure called the cecum, which was used by now-extinct ancestors for digestion. Researchers have now found that not only does the appendix appear in nature much more frequently than previously acknowledged, but that it actually serves a critical function. According to researchers at Duke University Medical Center, the tiny organ provides a safe haven where good bacteria can hang out until they are needed to repopulate the gut after, for example, a bout of diarrhea (Science Daily, August 21, 2009). The presence of a reservoir of good bacteria provides more proof that homo sapiens lives in symbiotic relationship with gut bacteria. What we'd like to know is what antibiotic use does to the appendix—does it promote appendicitis, or lead to exhaustion through overuse?  Source.
One more from the WAPF:
To the left is the cecum, a kind of holding tank, and to the right the bowel. Attached to the cecum is the appendix, once considered a non-functioning or "vestigial" organ but now recognized as serving an important immunological function. The appendix contains a high concentration of lymphoid follicles that produce antibodies to help keep the bacteria of the colon from infecting other areas of the body, such as the small intestine and the bloodstream, particularly in early life.  Source.
Interesting, don't you think?
But having learned all that, I still don't see how we would have a choice when our appendix has ruptured or is about to, as far as whether or not we should have it removed, do we?  Although, I suppose no one has ever delved into how to repair this organ, since the docs all agree that it's easiest just to remove it.
I can't wait to hear what you think about all of this in the comments!
A side note on the topic of 'evolution':
Believe me, my intent isn't to open up the huge can of worms that the topic of evolution could bring on.  I know there are strong opinions on both sides of this issue, to say the least.  I have not researched it at all, so forgive me for sharing my over-simplified thoughts here…
For Christians, many would say that we generally don't go along with the theory of evolution, because somehow it would imply that we don't believe God created the world.  But years ago, when I first began growing closer to God, I read something in my Life Application Bible, which I delved into deeply at the time (it's a Protestant bible, even though we're Catholic).  Here's what it basically said (I'm paraphrasing):  While there are major debates on both sides of this issue, and no one can really say for sure where 100% of the truth lies, the bottom line is that God could have created evolution as part of His whole creation plan.
I'm sure many would disagree, but having said all that, I'm hoping we can focus our discussion in the comments on the appendix for the most part and not begin a raging, heated debate on evolution.  Thanks!