Have you had chronic tonsillitis?  Have you been told it's time to get your tonsils and adenoids removed?  In an email below from a reader friend, Becky, she asks if there are other options for her son, and I told her I'd put it out there and ask all of you!
But first I need to say this…
It seems I've been receiving emails like the one below a lot lately, and I love it, because it shows that more and more, people are starting to think for themselves.  As I've said before, in no way am I suggesting that you disregard what your doctor tells you.  His advice may very well be the best plan for you to follow.  But what I do love to see is when someone doesn't blindly follow what their doctor (or anyone) says, and instead comes home to research it like crazy before making any decisions.  Obviously, you can't blindly follow everything you read in a Google search either, but with a healthy dose of common sense, you can find answers you may never have thought of before.
What are tonsils and adenoids?
"The tonsils are grape-sized pieces of tissue in the back of the throat on each side. The adenoids are small pads of tissue at the back of the nose above the throat. The adenoids can't be seen when you open your mouth because they are behind the soft palate. Both tonsils and adenoids produce antibodies to fight infections, but they are probably only important to a neonate. They are usually removed if they become so large that they interfere with breathing or swallowing, or if recurrent infections occur." (Source)
That "probably" word in the paragraph above represents an unknown, yet this is a common surgery…?
Read Becky's email:
"Hi Kelly, I've been combing the internet trying to find some answers, and I wondered if anyone had ever broached this subject before on your website?
My 6 (almost 7) year old, since starting school, has had innumerable ear infections, and right now is on his 4th antibiotic (!!!) in 3 months.  We were just sent to an ENT, who told me that he needs to have his tonsils and adenoids taken out, and tubes put in his ears. He also has a lymph node on his neck that has been swollen for the past year, and we're dealing with sleep apnea – even though he's not overweight at all. I am so sick of all of this, and just want him to feel good again. I would much rather find a more natural way of getting rid of all the infection, besides taking out body parts.
However, my husband, and everyone else in his family, is completely accepting of the tonsillectomy.  To them, they've all had their tonsils out so it's almost like a rite of passage to do this.  I hear things like "Oh, well, you're a Deemter, that's for sure," and "Of course you have to have your tonsils out, it runs in our family."
Right now, surgery is scheduled for July 14th.  I'm trying to find a way to get rid of the constant ear infection and swollen tonsils between now and then, so that I can say "See? He doesn't need it after all."   (My husband is adamant that we do this surgery.)
So I just wondered if this is something that has been discussed or if you know of anyone who has dealt with this?   I want to help my boy!
(Oh – and we eat mostly clean.  Gluten-free, no refined sugars, lots of veggies and fruit, and I've been soaking grains.  He takes cod liver oil every day, and a probiotic, along with eating yogurt from full fat, pastured milk and Kerrygold butter every day.)
If you could even point me in the right direction for more help, I would be so grateful.
Thanks so much,
Becky
I forgot to mention (and this is what really has me a bit freaked out) that the Dr. was really concerned because the lymph node in his neck has been swollen for over a year – he wants to biopsy the lymph node."
I have a quick comment about the swollen lymph node…
I've had this for a couple years now on the back of my neck, and it freaked me out a bit at first, too.  I was sent to a surgeon to see if it should be biopsied and he said, "I'll biopsy it if you want, but it feels completely benign to me."  I agreed with him, you can feel a little bump in there that moves if you press it back and forth between two fingers and just feels like nothing, so we left it.
I asked Becky if we could include that last part along with the tonsils and adenoids question, and told her, 'You'll get good info on that too, my readers are SO smart, I love them!"  Thank you everyone, for always being there to help so many with your advice!
So I'm curious what you can share with us about the lymph node and the tonsils and adenoids.  Have you researched this issue?  Are there times when it's best to have the tonsils and adenoids removed?  Are there ways to avoid this surgery?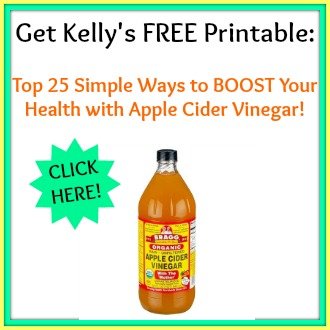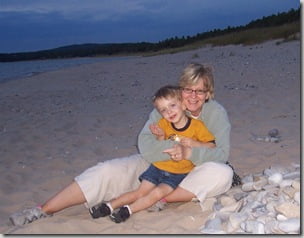 I asked Becky to tell us about herself:
I live in Jenison, here in West Michigan.  Micah is our only child.  He was our completely unexpected gift from God.  I was 39 & my husband was 46 when he was born.   Our favorite thing to do as a family is camping!  Micah went on his first camping trip (tent camping!) when he was 3 months old, and he has adored camping since then.  We start planning our Summer camping trips in January.  I've always been interested in nutrition and healthy eating, but it's only been in the past year that I've discovered traditional eating and cooking and its benefits.  As soon as I started reading about it, it made perfect sense to me, and I'm not-so-slowly converting our household to a traditional diet.