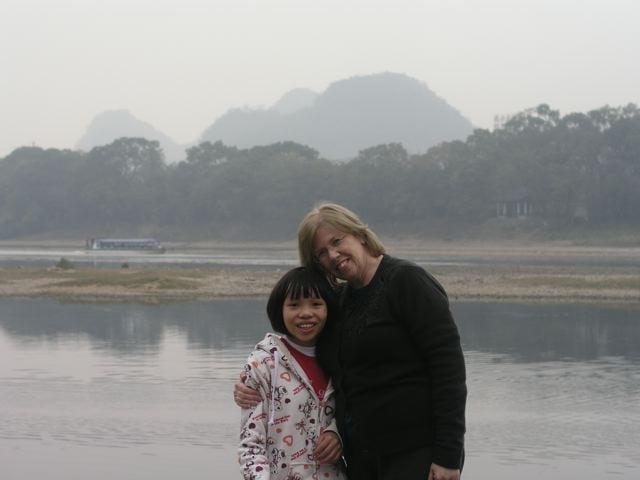 Wonder what to eat after gallbladder surgery when all the docs are saying is to eat "low-fat" this and "no-dairy" that?
First, let me tell you, sometimes I could just sit down and cry tears of joy when thinking of all the beautiful people I've met through this blog.  I'm so thankful for all of you, even you lurkers who rarely comment!  🙂  Mary Alice is one of those I'm grateful to have "met" via the internet, and that's her above with her new daughter, Helen, in Guilin, China, back in December.
(Just want to know how to KEEP your gallbladder?  <– Read there.)
She wrote with her amazing story and a question:
Kelly, I'm a mess! I had emergency gallbladder surgery Saturday after a night of the worst pain you can imagine. Now I am afraid to eat, having been warned about diarrhea from meats, fats, cream, milk, cheese, eggs, etc. In other words, all the foods I love to eat. What should I do? Are there guidelines for this anywhere on the net that are NOT part of the fats-are-always-bad-for-you crowd? I don't want to go back to eating the unhealthy diet I ate for years.

I'm actually afraid to eat!  I just want to be healthy.

I have 5 children still at home (we have 10 altogether) ranging from 9 to 18, via the blessing of adoption. Two have cerebral palsy, one has 22q11 syndrome, and they all are precious and very active in sports and 4-H. We homeschool, too! I also care for my husband who uses a wheelchair after a long-ago spinal tumor. Our lives are full and wonderful, and I need to be very healthy and full of energy to keep up with my family!  5 of our 6 adopted children are Chinese and we have 3  13 year olds!!!!! See why I need energy?  I really, really appreciate your help, I just don't know what to eat after gallbladder surgery!"
My reply:
Hi Mary Alice,
I'm so sorry you had such a rotten weekend!  Here's some scoop to help you so you can stay healthy – no need to do the low-fat crap!  🙂
Scroll down to the part that starts like this, "What about a diet for those who have had their gallbladder removed?" Here's part of it:
What about a diet for those who have had their gallbladder removed? The conventional advice is to go on an extreme, low-fat diet. But your body still needs good fats, and still produces bile to digest them. Even without your gallbladder, you should still eat healthy animal fats and avoid processed vegetable oils."
Also, I'll put this out there so my super smart reader friends can jump in and hopefully will give you more great advice.  🙂
Kelly
She had one follow up question:
After reading this article you linked to, I have another concern. The part about irritating the colon worries me. My father died of colon cancer. I had a colonoscopy 10 years ago that was clear, and one in December that revealed 2 small polyps which were removed. Since I have a higher chance of colon cancer due to the genetic component, I really have to take care of that colon. Maybe you could address that issue as well. I want a good, solid nutritional plan to keep my body well."
Well, what do you say, readers?  Have any of you went on to eat a normal, real food diet after gallbladder removal?  I can't wait to learn more from you!  How to do you answer the question about what to eat after gallbladder surgery?

Two things mentioned over and over in the super helpful comments below for help in digesting foods/fats that may be difficult for you to digest now:
Digestive enzymes here or here or here for 3 options.  (Check the reviews for which one looks best to you, price, etc.)
These herbal bitters may help with digestion too
If either of those don't work well for you, there are others you could try.  One brand doesn't always work for everyone, obviously.
Remember none of this is meant to be medical advice, and you should consult your doc before implementing anything you read here, especially if you're pregnant!
Check the comments below for more!