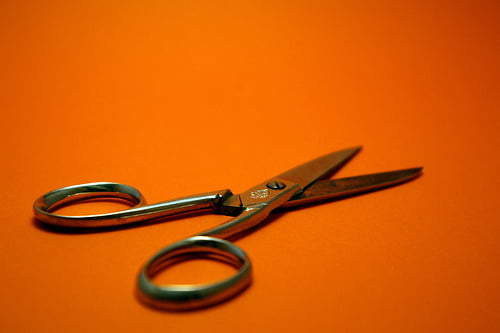 Is it Safe to Have a Vasectomy or to Get Your Tubes Tied
There's been sort of a theme going on around here this week.  (After this I'll move on, promise.)  It started with Tuesday's post, Dangers of the Birth Control Pill, then yesterday's was, Warning:  Hang on to your Uterus, and today I want to explore whether or not it's really safe to have a vasectomy or get your tubes tied.  Even as much as I question everything, until this week I hadn't questioned vasectomies or tubal ligations, they're just snips, right?
Thankfully Kent was against those all along, and by the time we were at the stage to think about such things, I was long past considering it, since we're Catholic Christians.  But for many, these procedures are just "what you do" when you know you're "done having kids".  It's the simple, safe, chemical-free way to go…or so we all thought.
In the comments at the post, "Dangers of the Birth Control Pill", a reader named Sharon replied to another commenter who questioned the safety of tubal ligations:
Having your tubes tied can cause serious hormonal disruptions in your body. It will increase fibroids, cause an enlarged uterus, heavy monthly bleeding, and the need for a hysterectomy. I did not know this before it was done. If I had known we would not have decided to do this."
Had you heard this before?
I'm shocked that this is the first I've heard about the possible connections between getting your tubes tied and fibroids, heavy monthly bleeding, and the need for a hysterectomy!  The more I thought about it, and about the increase in the number of women with heavy bleeding issues these days (don't we all know someone?), and the number of hysterectomies on the rise, it makes sense.  (Although I absolutely believe that heavy bleeding can also be connected to nutrition, see yesterday's hysterectomy post for more links about that.)  So I did some more digging…

Long term complications of tubal ligations:
A longitudinal study of over 8,000 women five years after their tubal ligations found 49% of them suffered heavy periods and 35% reported an increase of severe menstrual cramping.14 The risk of cervical cancer among a study of 489 post-tubal women was 3.5 times the normal rate.15

There is an increased incidence of women with tubal ligations undergoing subsequent hysterectomy due to severe menstrual problems — 18.7% among one group of 374 patients.20 In a study of long-term risk, women aged 20 to 29 years who had tubal ligations were found to be 3.4 times as likely to have a subsequent hysterectomy.21                  (Source — and here is another good source for more info.)
It's not just sterilization of women that's dangerous — here are the long term complications after vasectomies:
Although the final verdict on the health risks of vasectomy is not in, suspicions are rising that the long-term effects on a man's immunological system can pose serious health problems. Criticism is mounting within the medical community about the uncritical way in which vasectomy has been declared medically safe. Between 10% and 15% of adult men in the U.S. have been vasectomized3 and yet, as Dr. H. J. Roberts has written, "I know of no other operation performed on humans that induces responses to such a degree by the immune system."4        Source      (Go on to read more at that link about how vasectomies can lead to autoimmune diseases!)
More thoughts come to mind:
1.  This is the only procedure I know of where we have organs in our body that work just as God intended them to, and we purposefully have the surgeon go in and break it.  How natural is that?
2.  I can think of at least 3 guys we know who have had vasectomies with serious short term complications afterward, including severe swelling and pain that kept them down for several days.  Kent and I agree that NFP is best for many reasons, but for Kent, especially this reason!
3.  Even with my non-Catholic friends (or Catholic friends who aren't especially concerned with Church teaching), every single one of them who have had this done ended up telling me later that they regretted it.  Often it was a passing regret, but for many it becomes a lifelong source of sorrow.
4.  It used to be tempting to go have this done and then not have to worry about watching my fertility signs every month.  (Not to mention the difficult phase 2 when we have to abstain, which of course is the time when we most want to be together due to the hormones working just as they're supposed to!)  But learning all of this took care of that temptation.  (Okay, not always, lol.)
Have you already had a vasectomy or tubal ligation?
Same disclaimer as yesterday in the hysterectomy post…  This post is not a judgment on your decision.  Just be aware of this information and share it with others so they can be informed about all the risks before moving forward.  Do not use this information to beat yourself up over what you didn't know until now!
What do you think?  And if you've had these procedures done, did you know any of this beforehand?  Have you experienced any of these complications?