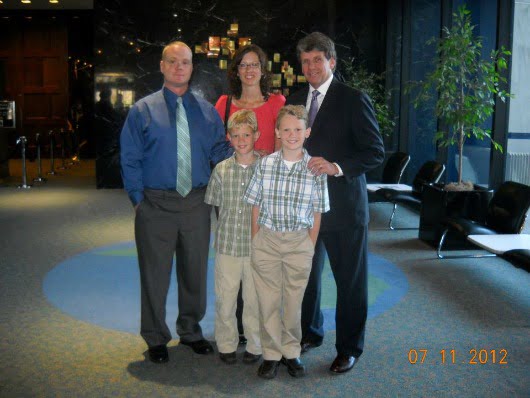 Ken, Erin, Jacob and Caleb Stieler with attorney, Michael FarrisWord got to me late Tuesday night from Jacob's Aunt Rachel that the Stielers would be in Grand Rapids for their court hearing the next day.  I threw it up on Facebook but wasn't hopeful that too many could join us in the courtroom at the last minute like that.  Thank you to those who did show up, my sweet reader friends, I appreciate you so much!  (I'm sorry I only had time for a quick hi — my friend, Meg, had left with the kids and I had to find them so I wasn't sticking her with keeping track of them by herself for too long.  Please comment below or email me and tell me again who you are!)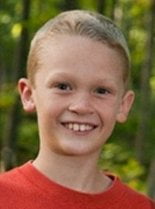 In case you're not familiar with this story, here are all of the previous posts to bring you up to date:
What happened in court yesterday:
Attorney Michael Farris, who normally represents parental rights issues for homeschooling families, flew into Grand Rapids to present the Stieler case at the Michigan Court of Appeals on Wednesday.  The three judges on the panel heard arguments on whether the state can force Jacob Stieler to receive additional cancer treatments, even though his parents have decided against another round of the harmful drugs, since his PET scans have repeatedly shown him to be cancer-free.
Farris asked the judges more than once to apply a 'healthy dose of common sense' to this case.  
At one point he said that if the Court decides against the Stielers, "Then they will be creating a dangerous law, one that says doctors are always right, and that parents can never question a doctor's advice."
What a scary world that would be.
"There is no question that the decision of whether to treat Jacob with more chemotherapy and radiation is one of the most difficult decisions that any adult can be required to make," Farris states. "Because of the lack of evidence that Jacob currently has any cancer in his body, however, that difficult decision rests solely with his parents, and not the state."  Michael Farris in MLive
Jacob's Aunt Liz speaks out:
Erin Steiler's sister, Liz Endsley of Hastings, said the battle has been emotionally difficult for her sister and brother-in-law.

"And this child lives in fear of someone taking him from his family," she said. "The state is not doing what's best for Jacob.

"This is about money and power," she said.

"For almost a year-and-a-half, our family has been going through this," Endsley said, frustrated at the slow legal process.   From MLive
Too bad we were there for a case that should've been dropped months ago, because besides that, it was great to finally meet Jacob and his family!  He even gave me a little hug!
Here's a short video where I spoke with Jacob, his Mom, Erin, and his Aunts, Rachel and Liz for a few minutes – what a great family!
More you might like: