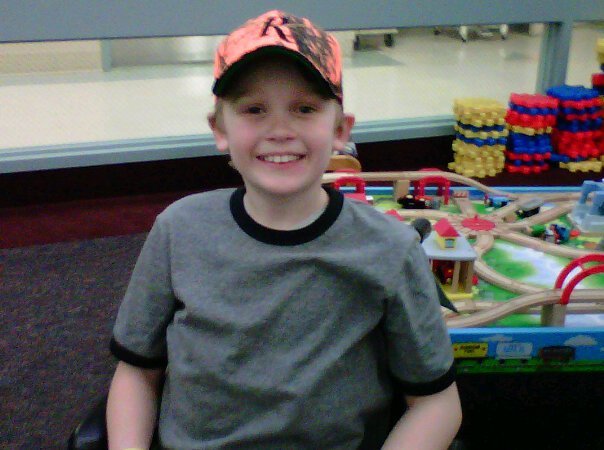 The court case against Jacob Stieler's parents, Ken & Erin, has the world outraged, but today…
We've got some promising news from the Stieler family!

Today we'll hear again from Jacob's Aunt Rachel, who emailed soon after Thursday's court hearing to share this update:
Hi Kelly,

So, I've been on the phone for a couple hours now.  I talked to Erin and she said the hearing went very well.  Michael Farris (their lawyer) flew in last night to be there for Erin and Ken today.  Erin said he did a great job–she wishes she could get a copy of the TV6 video and make copies for all of us. 🙂 

The hearing started at 1:30, but the judge and lawyers were in the chambers until 2:00.  They went over the motions that the DHS filed…three big ones:

1. Would Erin and Ken would be allowed to have character witnesses for the trial?

2. Would Dr. Markman (CS Mott) and Dr. Brown (HDCH) be allowed to testify?

3. Would the case be dismissed altogether?

The judge stated that he WOULD be making a decision today regarding dismissal of the case.  However, after going over the depositions that Michael Farris did with Dr. Kurt, Dr. Markman, etc., he said he needed more time to look over the facts and would make his decision sometime next week. (A good sign, I think!)

The other two motions were decided in Erin and Ken's favor.  They WOULD be allowed to use character witnesses, and Dr. Markman and Dr. Brown would NOT be able to testify.  They are pediatricians, not oncologists. They are child abuse doctors–and anything they would have to say would be irrelevant.

Yay! 🙂

Erin wasn't sure if she would have time to get online tonight, so she gave me this quote to send to you:

"Even though the judge did not make a decision today to dismiss the case, we are still hopeful because he's taking time to look over the facts.  Thank you to everyone who has been keeping us in their prayers and supporting us over the past several months."
4 SIMPLE WAYS YOU CAN HELP!
Your support for the Stielers has been beautiful, powerful, and heart-melting.  If you're still feeling the same passion that I am to do something, below are 4 easy ways that you can help:
1.  According to Rachel, if this case is dismissed, or even if Erin and Ken win, the DHS can file for an appeal.  The only person who has the power to deny the appeal is the Attorney General, Bill Schuette.  So, it's worth a try, please let's flood his office with kind letters of support for the Stielers and requests that he will see this case for what it is:  a bunch of garbage that tramples on the rights of every parent!

Bill Schuette
c/o Michigan Dept. of Attorney General
State Office Building, Suite 4C
350 Ottawa NW
Grand Rapids, MI  49503

2.  Please go sign their petition at Change.org, it only takes one minute.  Let's try to get them up over 2500 signatures!


3.  Continue to send snail mail AND email letters to Maura D. Corrigan, and try calling, too!  Remember, though, be kind.  We are in the right, we don't need to be angry or rude.  (Thank you!)  Also, even if you sent in a letter last week, don't let that stop you from sending in another one please!  (I just love picturing desks over-flowing with letters in their office…)

Maura D. Corrigan, DHS Director
P.O. Box 30037
Lansing, MI 48909
(517) 373-2035
Email via this contact form or try this one: [email protected]

4.  If you could go to the Hope for Jacob site and help the Stielers with legal costs it would be HUGE.  Even $5.  Thank you so much for your care and compassion for this family, and remember that this battle is all of ours.
***Please share a note of support for the Stielers in a comment below, and don't forget to keep watching my Kitchen Kop Facebook wall and the Hope for Jacob wall to stay updated on the latest with the Stielers.  THANK YOU!
Did you miss the whole story?