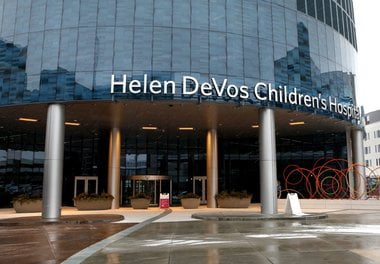 Right here in Michigan there's a horrific court case pending.  The family involved is from the Upper Peninsula, and their son, Jacob, was being treated near us in Grand Rapids, at the DeVos Children's Hospital.  Once he finished a hellish three months of treatment for a rare form of cancer, his tests came back all clear.  Light at the end of the tunnel for this couple living every parent's worst nightmare, or so they thought.  Since Jacob's tests came back good, they chose not to risk another round of dangerous treatments on their son's 9 year old body.  Apparently his oncologist disagreed with their decision.  It's "standard of care protocol" to continue with this $60,000/month treatment, and if you don't get in line for this, no matter what common sense tells you is best for your child, then you'll go to court for parental negligence.
(If you're reading this later, click here and scroll down to start at the beginning for all the posts on Jacob Stieler's case, including current updates or click here for all my parental rights posts in one place.)
Unbelievable isn't it? 
In this radio interview with Jacob's Mom, Erin, she talks about how a big red flag for the docs may have been that they aren't the type to run to the doctor for every cold, or to put their kids on antibiotics at the drop of a hat.  Instead they are changing their diets (avoid
ing all sugar, including fruits and grains, eating organic, etc.), and using homeopathic remedies.  Sound like anyone?  Myself and most of you, my readers, would say the same things!
Keep in mind that they're also staying under the care of two local doctors, and have said that they'll get him back on treatment right away if the cancer should return.  It's not like they're walking a tightrope here, they are being smart parents.  They've done their research and are making educated decisions.
We need to support this family because it could be us next!

Wonder how you can help?
Let's let 'em have it.  This is wrong and we need to shout it from the rooftops.  Wouldn't you hope others would do the same to help if it were your family?!  Please send a quick email to the following people and tell them that you think this is an issue that affects ALL parents, that the case is horrendous, and that it should be dropped immediately!
Contact Michigan Governor Rick Snyder: 

[email protected]

Contact Senator Carl Levin
Contact YOUR politicians – this site will help you find their contact page.
Just copy and paste my comments if you're in a hurry (removing the part about being a blogger of course), or write your own for an even bigger impact.  Here's what I wrote:
Dear_______,
Is this the United States of America?
Because when I read the story of Jacob Stieler and the case against his parents, I sure don't think so.  This case must be dropped NOW.  I am asking YOU to make that happen.  I am a blogger and you know how powerful us Moms on a mission are – I'm asking everyone I know to contact you and I'm counting on my readers to do just that.  Jacob's parents, Ken & Erin, are taking all of the facts in front of them and making the best decisions for their son.  This is all any parent can and should do.  It is not the doctor's job, nor the state of Michigan's job, to make the call about what is best for each family.  If these parents were being negligent in any way, then the case would deserve another look, but they are not.  They are being proactive in various ways to make sure their son stays healthy, and are under the care of two physicians near their hometown.  They have said if there was any sign that his cancer was coming back, of course they would seek treatment.  But it's GONE, and they see no reason to put him through more painful, horrific treatments when his tests are all clear.
Please stop this craziness.
Thank you!
Watch a video on the story: