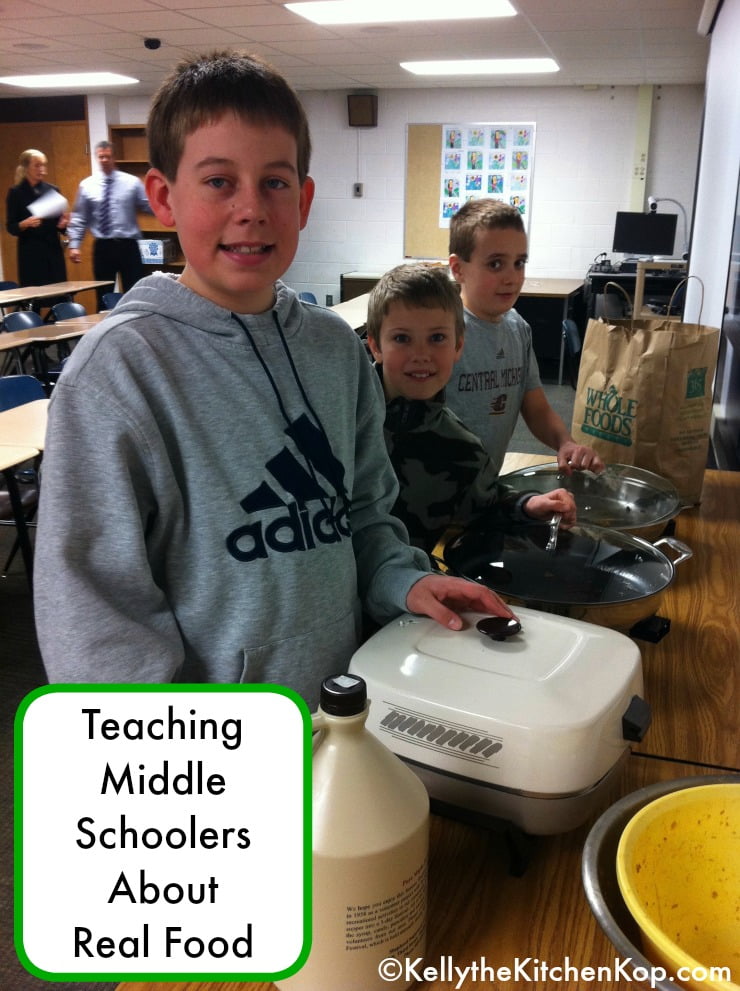 Teaching Middle Schoolers About Real Food is Possible!
A while back I told our 6th grade son's teachers about a neat experiment they might want to try with the kids.  Somehow that turned into me going into school a couple weeks ago to talk to 60 kids about nutrition!  What a blast it was, to have such an engaged audience who were truly interested in what I was sharing.  Yep, you heard me right.  These middle schoolers were so into this presentation that they got in trouble several times for being so talkative!  I told the teachers that it was really OK, I loved how obvious it was that they were so excited to interact on the topic of food!
I'll give you a condensed run down of what I covered…
Does anyone here like to cook?  What kinds of things do you like to cook? (This could've gone on for a while, they loved telling me what they like to cook, and if it was eggs I'd say, "That's awesome, those are SO good for you!"  If it was Kraft Macaroni & Cheese or something similar I'd say, "You're kidding!  Have you ever looked at that ingredient label, it's full of junk!" and they'd all crack up.)
Who likes to watch sports?  I don't at all, but my husband and teenager do, and there's always some "big" game on that I just don't care about.  Well, you may not feel that way about nutrition, but we all need to eat and no one likes to be sick.  How many have grandparents who can't walk well or who may need to give themselves shots or people you love who are sick or overweight…  I want to teach you that it doesn't have to be that way.
As you head into your teen years you will have a lot going on in your bodies, and I want to talk to you about how you can avoid or at least drastically reduce things like…

Acne
Moodiness/depression (Here I talked to them a little about how it's ok to feel down sometimes, but if it's a LOT, or they just don't feel motivated to do anything – you know when something isn't right.  Be sure to talk to an adult that you trust if you feel that way.)
Weight or health issues that more and more teens and even little kids are dealing with, like diabetes – a disease where your body can't regulate the right amount of sugar in your blood, or hyperactivity – trouble concentrating, or maybe trouble falling asleep.

Can anyone think of why more kids these days are dealing with weight issues or health issues like hyperactivity or diabetes?
MANY times, not all the time, it's from what we're eating.
I want you to understand that not ALL cancer or health issues are from food, sometimes it's due to environmental stuff like cigarettes or other things we just don't know yet, but MANY problems really CAN be avoided by improving diet. (If someone they love got cancer next week, I didn't want them to assume it was for SURE due to junk food!)  Remember people JUST DON'T KNOW, it's not their fault.  Once you learn, you can GENTLY help others learn too, like your parents or friends, but the best thing you can do is be an EXAMPLE.
Do you know ONE thing you could do that would make a HUGE difference? (They took some good guesses…)
Get rid of SODA POP!  How many of you have had soda in the last week?
Who knows why soda is so bad? (We talked about the dangers of high fructose corn syrup and artificial sweeteners and how they can cause weight gain, acne, heart problems, etc.  We also talked about phosphoric acid.)
I encouraged them to drink it only once a month or so, or on special occasions, but otherwise to replace with other things!  (I told them about our homemade kefir soda or more natural soda for rare occasions made with sugar instead of HFCS or fake sweeteners.  They asked my son about the homemade soda pop, "Is it good?"  Good thing he said, "Yeah", or he'd have gotten it when he got home!)
Because I don't have time to cover everything I'd like to today, the other thing I wanted to talk to you about is BREAKFAST.
Does anyone want to share what they had for breakfast?  Raise your hands if you had eggs… ("Good!")  Raise your hands if you had Pop tarts?  ("Ewww!")  The kids said, "But they're so good!"  I replied, "I know, I used to love them, too — but I want to show
you that Real Food is really good, even better actually than eating all those chemicals, especially once your taste buds recover.  Besides, you can make your OWN pop tarts that taste better and are better for you!!"
I need a volunteer to read the ingredient label on these Pop tarts… (Everyone got a good chuckle as the weird ingredients were read out loud; the teacher had to finish and even he couldn't pronounce some of that stuff.)
Remember, "If you can't pronounce it, don't eat it!"
Now tell me, how many of you drink milk?  How many drink low fat milk? (We talked about how badly we NEED the healthy fats that are in whole milk, and these aren't stored as fat in our body, they're burned right away for energy.  I mentioned soy milk and soy products being super FAKE and bad for us.)
Next, what do you spread on your toast in the morning?
I had another volunteer read the ingredient label on a package of margarine – with another long list of weird unpronounceable ingredients.
Next I had someone read the real butter ingredient label:  cream, salt.
If you like pancakes or waffles (not the boxed kind, right?!), what syrup do you use?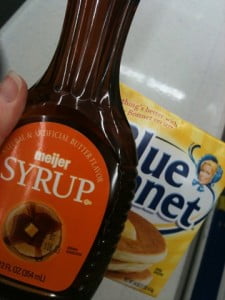 I read them the label on the icky syrup from the store, and then showed them how there isn't an ingredient label on the real maple syrup and tried to have them guess what was in that one?  By now they were catching on and knew that it was JUST maple syrup.
We talked about breakfast meats and how good they are for us if they're from a farm where the animals are out on pasture and treated humanely.  They thought the conditions in factory farms were terrible.
I planned to show the short MEATRIX film on Youtube, but the school computer wouldn't let it upload, so I asked the kids to remember to look at it later at home.
Then I wanted to show them how easy it is to make themselves a healthy breakfast in the mornings, so I had some helpers and we made French Toast Frittata!  Thankfully everyone loved it because making enough for that many kids was no easy task, good thing it's a simple recipe!  (I had enough for some kids to literally come back for 3rd and 4th helpings!)
Me and my big fat mouth
There were only a couple glitches that day, because I'm afraid I offended the teachers, both whom I really like a lot.  One teacher is addicted to Mountain Dew, and has to have one a day at lunch.  Although after I got on him a bit, with the kids egging me on and loving it, he did say he had white milk for lunch that day!  (Not chocolate because we'd talked about how that's not much better.  I wasn't going to even GO there about store-bought low-fat milk…)
Also, since I was trying to hurry to make the French Toast Frittata, I was side-arm-slopping globs of bacon grease into the electric pans and the other teacher said, "Vegetarians might not like this huh…?"  I said something like, "Yeah, but unfortunately they won't feel great for long without enough animal foods in their diet."  Then I saw her face and had an "oh NO" moment and asked, "You're not vegetarian are you?"  She nodded slowly and said, "For 30 years and still feeling good."  Then I back-scrambled and we had a chat about what animal products she does eat (eggs & cheese) and she mentioned that she'd have to look into the information I shared about soy not being good for you.  UGH.
Success!
Besides that, it all went great and my son said that since then a lot of the kids have been talking about making French Toast Frittata for their breakfasts.  He also said that later at lunch he saw a bunch of kids reading labels in the lunchroom.  YESSSS!
A couple posts on vegetarianism:
A couple more you might want to check out if you haven't already: