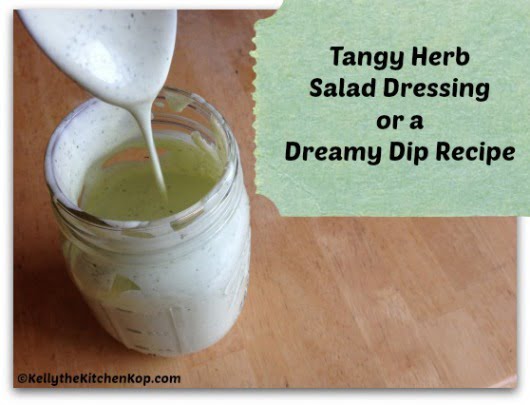 My friend Mary Jo is an amazing natural cook, unlike myself who is basically just a wannabe.  I have more food flops than average, that's for sure.  The other day at her house she had me try her homemade salad dressing, and youza, I knew I had to beg her for the recipe so I could share it with you.  🙂
Once I tried it myself, and we had a little leftover in the fridge, that's when I realized how perfect this would also be for dipping homemade chicken nuggets in (or shrimp) or some guilt-free homemade French fries!  We also had leftover turkey in the fridge and leftover stir-fried green beans, and it made a really tasty dip for those, too.  Basically you could dip anything into this stuff and go off to your happy place.
By the way, if you'd like more seasonal salad recipes, try Kristen's book, Simply Salads by Season.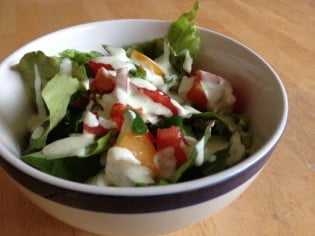 Tangy Herb Salad Dressing
Ingredients:
1/2 cup mayo (try my homemade mayonnaise recipe, OR if you know you won't make it yourself, you could get this kind – because believe me, finding mayo without nasty soybean or canola oil is NOT easy!  You may have to keep checking that link, though, a they have trouble keeping it in stock.)
Juice from one lemon or lime
1/2 cup sour cream (here is the kind I normally use)
1 handful of fresh herbs (or a few shakes of dried) – I used oregano, parsley, and basil from the pots on our deck
2 Tablespoons raw honey
3 Tablespoons Red wine vinegar
3 cloves fresh garlic
1/2 teaspoon sea salt
Few shakes of pepper, freshly ground is best
2 Tablespoons of olive oil
Instructions:
Whisk together the above ingredients.  None of it has to be exact – just throw in whatever you have and whatever you like.  Makes about 1 cup.