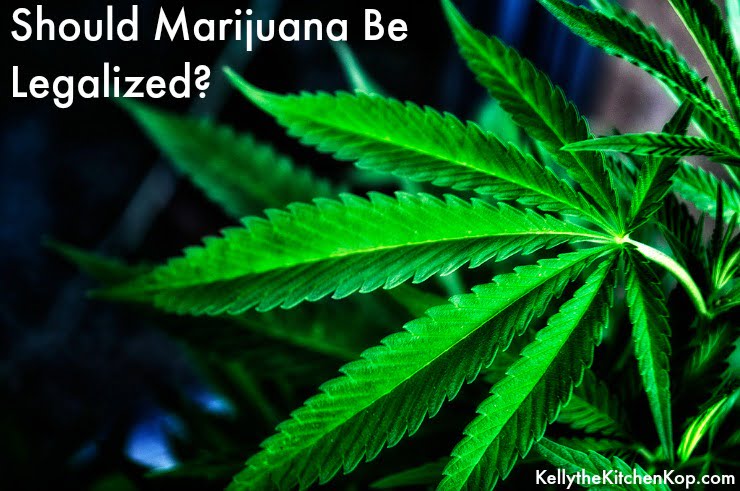 Next month here in Michigan we need to make a decision — should marijuana be legalized?  
Even after writing this post I'm not entirely sure yet which way I'm going to vote and I hope you'll add your comments one way or the other to help me decide!  When it comes to medical marijuana, I'm ALL for that, knowing how it has helped so many people who truly need it (read how this Mom was thankful for it when her daughter had cancer), but legalizing it for recreational use???
I'll tell you that I've never used it myself and don't see any reason to start unless I had a medical condition that could be helped by it.  My friends and I certainly weren't angels as teens, and we did drink alcohol when we were too young, but I never smoked dope.  Not only was I too afraid of getting caught anywhere near drugs (and I thought pot stunk!), but thankfully it was never even offered to me, so I easily steered clear.
Should marijuana be legalized?  Here are my thoughts so far and some opinions from three of my good friends.
One who is against legalization for recreational use and two who are for it…
1. My friend Kimberly wrote this blog post:  10 Reasons to Vote NO on Marijuana Legalization.
2. See my friend Bob's thoughts here:  Marijuana:  good or bad?
3. I texted another good friend who has worked in Colorado (waiting to hear for sure if I can share his name so for now he'll be anonymous) and here's what he said:
I am very libertarian so I support its legalization. I have seen the CO legalization firsthand on my regular travel there and now legalization for recreational use has come to CA as well. Personally, I'm not a personal user of marijuana though I have tried it. But I am becoming a big fan of CBD oil – the non psychoactive cannabinoids in the plant that are great for muscle pain or insomnia (I use it to sleep when I travel to other time zones).  AND hemp can be grown in a much more environmentally positive way than trees or other plant fibers like cotton. Here's my point of view:  wide-spread use is already happening. Do we really see an ROI for spending countless law enforcement hours and filling jails with potheads, even those who distribute?  Once those people get processed through the criminal system it breeds a broader degenerative system in my opinion. The data clearly shows the harm per capita for marijuana is lower than alcohol. I say we should trust adults to be adults and make their own decisions just like we do with alcohol, and with what they chose to eat or drink (like raw milk), etc. And then we maintain, maybe even increase, the safety nets in place for when people fall out of line with making good responsible choices and put other people at risk.
Please share your thoughts in the comments and help me decide.  Should marijuana be legalized?!
More you might like: