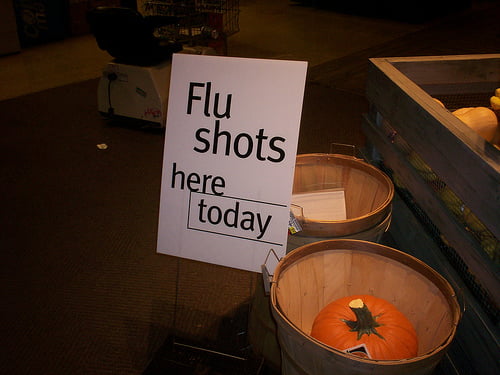 This flu outbreak is making me crazy. The government and drug companies must be LOVING all the media attention to get more people scared and led to believe that they must get the vaccine, even though it doesn't even WORK!
I'm not denying that there's some nasty stuff going around.
I know a LOT of people who have been sick with the same crud, and it really seems to hang around.  And it's not like I want myself or my loved ones to get sick, that's never fun.  But if we did, it would be good for our immune system to fight it off.
Yes, it can be risky for the old, young, or already ill, but as I mentioned, since the flu shot isn't even known to work, why subject your body to those toxins for only a 1 in 33 chance of preventing it?!
I've ranted plenty of times in the past few months about health care employers forcing employees to be vaccinated for the flu (see links below), but now there are school principles, employers, and government agencies emailing parents and staff telling them, "Don't forget to get the flu shot as the CDC advises!"  Give me a break!  How smart are the drug companies and our government agencies – how RICH are they as they capitalize on this latest outbreak?!
Why not instead build up your immune system?  Here's how we do that around here:  10 ways to build up your immune system.
Here's more:  Three Reasons NOT to Get the Flu Shot – with scientific references.  Read a quote:
"The flu vaccine is actually quite infamous in that it is not known to work. The rate of it actually preventing someone from getting the flu is 1-2.5%. The vast majority of what we call the flu is actually 'non-specific respiratory disease' – something like 90% of what we call the flu isn't flu at all."
Don't take my word for it!  
I'm not a doctor and there's too much I don't know, but I hope you'll go ahead and do your own research.
More links to help you:
GreaterGoodMovie.org
Previous posts on this topic: