Do you know anyone who has had a Pilonidal Abscess?
If so, below you'll find out what this actually IS along with a list of ways to HELP.
Today you'll hear from Julia (my friend/blog assistant's daughter) — I feel terrible for her and all she's been through!  She's sharing her story, hoping to help others who may have to live the same nightmare.  Also find out what she says provided the most relief!  Here's Julia…
Pilonidal Abscess.  I had never heard of this until I got one, and it was an experience I will never, ever forget.
For me, it all started slowly.  The first thing I noticed was that my tailbone was aching, but I brushed it off thinking it was bruised on a bumpy bus ride. However, within a few days I started breaking out into reccuring fevers accompanied by chills that would come at night and break by morning (I would later learn that fever and chills are extremely common with pilonidal cysts). It wasn't until a day after the fevers started that I felt a raised bump around my tailbone area. Weird. Maybe it was just my tailbone's way of protecting itself?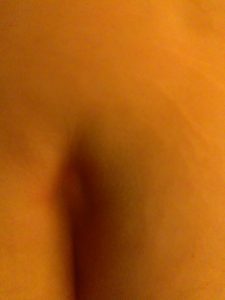 By the next day the bump had gotten bigger, so I knew something was going on beyond just a bruised tailbone. I had my mother look at it and also googled "raised bump around tailbone".  And there it was. "Pilonidal Cyst" and/or "Pilonidal Abscess" were the first things that popped up. The pictures looked exactly like what I had on my body.
(Yes, that is a picture of my behind.  As you can see, the abscess was still quite small at this stage, but getting inflamed enough to start peeking out between my buns.  Within 2 days the cyst was about golf ball sized.)  Immediately my Mom and I started doing research trying to figure out what to do next.
Like everything else on the internet, the information we found was all over the board…
See your doctor, treat it yourself at home, get it lanced at the ER, lance it at home, see a general practitioner, don't see a GP and only see a colorectal specialist.  We decided to go with the last option.  There was no point going to a GP if ultimately I would need surgery through a colorectal doctor.
Mom called the colorectal doctor the next morning (which was a Thursday) and was told we couldn't be seen until Monday morning.  Unfortunately, by Saturday the pain was excruciating.  This pilonidal abscess from hell was now the size of a golf ball and had begun to ooze.  Somebody on a pilonidal forum online compared the smell of the drainage to a barn yard, and they weren't kidding, it was awful.  By this point the pain was so bad I could no longer sit.  I needed help getting on and off the toilet, and trying to find a comfortable position in bed was nearly impossible.  Luckily Mom just had a recent surgery and gave me her leftover pain pills.  (Note from Kelly:  this is not recommended though!  You should always get your own prescription.)  A heating pad helped ease the pain, and also encouraged the cyst to open more and ooze out the infection.
Somehow I made it through the weekend, and Monday morning we went to the colorectal doctor.  
He told us it needed to be lanced, and once the infection was squeezed out, that I would feel 95% better.  He offered to lance it right there in his office, but I couldn't do it.  My entire back side was inflamed and just having someone touch me was excruciating, so the thought of him injecting local anesthesia into the abscess made me really scared, so he suggested we go to the ER, where they would give me something to relax.
On one hand, we were frustrated that we wasted all that time waiting to see the doctor only to be told to go to the ER, when we should have done that in the first place, but on the other hand, thank God for morphine!  Once I got to the ER they immediately hooked me up to IV antibiotics and pain killers.  In almost no time I was "drunk" enough to let them get started with the lancing.  Looking back on it now, I would have never made it through the lancing at the doctor's office.  It took two people to squeeze out the infection, and even though there was no actual pain once they gave me local anesthesia, I felt a lot of uncomfortable pressure as they dug around the cyst pocket.  My back literally had bruises on it from them pushing so hard.  But my doctor was right: once it was lanced, the pain subsided immediately.
Thirty minutes after leaving the ER, I was able to sit at a restaurant and have dinner.
Once all of the pus had been squeezed out, they left the incision open so it would continue to drain.  They packed it with Iodoform Packing Strips (which is basically long strips of gauze soaked in iodine) that must be removed and repacked every other day for a couple of weeks.  The first three times we went back to the ER so they could give me something to relax me enough to allow them to dig around back there, but by the fourth repacking we were able to just get the gauze changed at urgent care each time.
It's been over a month now, and I still have an open incision with some very slight drainage.  
The colorectal doctor doesn't seem to think I will need surgery at this point, but for now he's waiting for the pocket that held the infection to get smaller.  Most people heal within 4 to 12 weeks.  Because of the size of my cyst pocket, I may be in the 12 week area.
So what is a Pilonidal Abscess (or Pilonidal Cyst)?
A pilonidal abscess is a cyst or abcess that typically occurs in the cleft at the top of the buttocks (although in extremely rare cases can occur in the navel, armpit or genital region).  The cause is unknown, but it's believed that the inflammation starts as a result of hair, dirt or debris.  Men are typically most affected by a pilonidal abscess because of their hairy buns, although changing hormones can cause women to fall victim to them, as well.  The most common age range affected is 15-35.
They are most common in people who sit for long periods of time, like cab or truck drivers.
I read somewhere during my episode that getting a pilonidal abscess was common for soldiers during World War II because of bumpy jeep rides. Activities like sitting cause friction which can force the hair to grow inward, causing the body to launch an immune response to it.
To learn more about a pilonidal abscess, or to see pictures of what they look like infected (warning: it's gross!), this site has good, basic info without getting too science-y.
Pilonidal abscess options…
As I said, there is a plethora of info online.  The amount of people who choose to power through a pilonidal abscess flare up alone surprised me.  They are super painful, so watching people on Youtube pop their own blows me away.  I read so many stories about people who get pilonidal abscess infections once or twice a year and still choose to power through the pain at home.  No thanks.  If you choose to try this option, there are tons of websites that offer suggestions.
If you suspect you may have a pilonidal abscess, don't wait several days for an appointment to see your doctor.  
Go to the ER immediately. Especially if you know you are jumpy like me.  A pilonidal abscess can be lanced in a doctor's office or at an urgent care facility, but they will only be able to give you local anesthesia, and nothing for the pain and anxiety.
My suggestion is to research, research, research.  
One of the reasons we chose a colorectal specialist is because we read so many stories of people having surgery by a general surgeon that weren't successful, and to make matters worse, they were extremely painful to recover from.  With lots of reading, we found that most people had the best success with the Cleft Lift Procedure (read more about it here), as there were fewer recurrances than those who just had a general surgeon do the surgery.  But again, do your research.  Most of the nurses and physician assistants I saw during my drainage stage said they had never heard of a Cleft Lift and that any surgeon could fix a pilonidal pocket.  My research told me differently, and if I do have to have surgery, I'm glad I found a doctor who has been trained in the Cleft Lift Procedure.  Click here to find a physician trained in this procedure near you.
There are many ways that a pilonidal abscess is treated, and some leave people terribly uncomfortable, so this is no time to blindly trust one opinion.
Yes, doctors are often lifesavers, but since most of them have never suffered from a pilonidal abscess, make sure you read the opinions of not only physicians, but also listen to those who have lived through it by reading pilonidal abscess forums.  Again, this is no time to trust blindly.
Things that REALLY helped me:
Those suggestions are what really helped me through this, if you have more ideas, please share!
Have you, or any of your loved ones, experienced a pilonidal abscess?  
How did you take care of it?  Did you have surgery?  Or stick it out on your own at home?  Share your tips and experiences with us below, so together we can help others who have to live through this nightmare too!
About Julia:  I'm 22 and a recent college grad from UCSD.  I'm currently recovering from my pilonidal episode, and beyond that, thinking about going abroad to obtain my master's degree.  In my free time I enjoy looking for recipes to try, cooking, and watching scary movies.
Top image courtesy of wikiHow.com, from the article "How to Treat a Pilonidal Cyst", tweasers photo.