Doesn't this look goooooood?  Kent & I loved this tomato basil mozzarella salad!  It's adapted from a recipe that a friend gave me.  Yes, it's similar to my other Caprese Salad recipe, but the fried cheese on top gives this an extra delicious edge.  Try it and let me know what you think.  🙂
Pecan-Crusted Mozzarella Salad
Toss the following together:
Now line up three bowls:
One with 2 Tablespoons sprouted flour (or a little bit of the finely ground pecans if you're grain-free)
One with a pastured egg, beaten
One with the above mixture
Next, slice up pieces of fresh, soft mozzarella cheese, the kind you find near the deli at the store in a container with water in it or in a log.  (I like the log better because the water usually has preservatives in it.)
Dip each slice of cheese first into the flour, shake off, then dip it into the egg mixture, then into the pecan/cheese mixture.
Fry in lard, beef tallow, or ghee until golden brown on each side.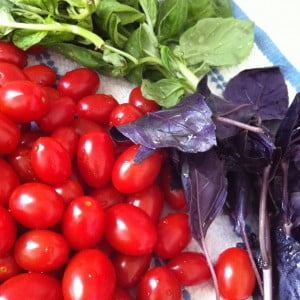 In the meantime, throw the rest of your salad together:
Organic greens if possible
Cherry tomatoes
Cucumbers
Fresh basil (I found green and purple!)
Balsamic vinegar (whatever your favorite brand is) and Olive oil to taste, I just pour in a little of each without measuring.
Serve the cheese on top of the salad and enjoy!
Note:  If you're serving more than a couple people, you can keep the cheese that you've already fried on a cookie sheet in the oven on very low heat so it stays warm until you're ready to serve.  Don't let it get too hot, though, or it will melt all over.  Then it will taste just as good, but won't look as nice.
^