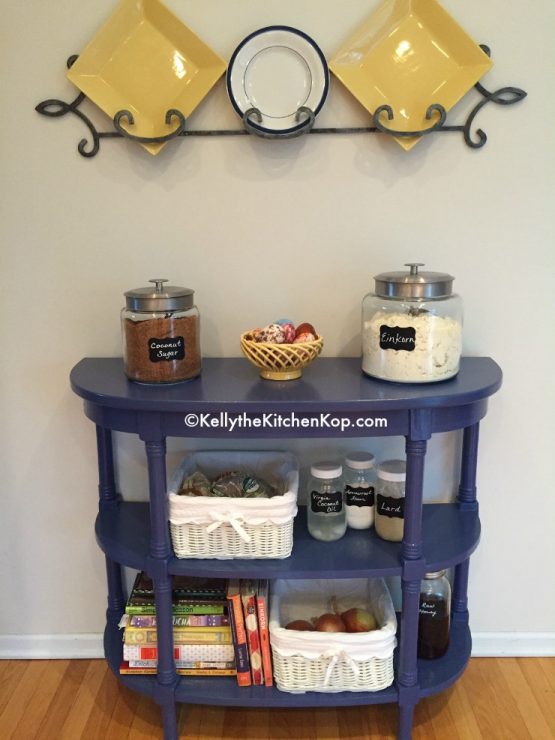 Pull up a chair and grab your coffee or tea, I'll tell you all about our new kitchen shelf and some reorganizing I've been doing around here… I hate cleaning, but love to organize!
Soon I'll do a whole post about how one thing led to another and now we're redoing our kitchen next month, which is what started me sorting and reorganizing almost every closet, storage area, and shelf in this house like a crazy woman.  (Update, here you go:  Our New Kitchen — Remodel Video from Start-to-Finish.  Also, check out how we survived while it was in-progress…)
I cleaned out a bunch of kitchen drawers and made them easier to find things using these mesh drawer organizers (pictured above).  I love how crumbs and stuff don't gather in the corners, they just fall below and you can easily pick the whole thing up and wipe out the drawer.  I also found this little organizer for taming the lid monster in our cabinets, because I got tired of stray lids to bowls or other storage containers all over the place.
Today I'll tell you about our new kitchen shelf though, and all the cool stuff I found to put on it.
So our new stove will have a warming drawer on the bottom where our stove now has a regular drawer, which meant that I needed to clear out what's there and find a new spot for our potholders and cast iron pans.  That meant cleaning out our pantry cabinet to make room.  Right about then I saw these neat storage jars with chalk-looking labels that I fell in love with.  Next I was on a hunt for a shelf I liked and found this one at Hobby Lobby:
Except I'm not a fan of the old, grungy, it's-been-in-the-back-of-a-barn-for-years look.  Yes, I know Joanna Gaines from Fixer Upper loves it and it's called distressed and she can pull it off well (so can Kent's Mom and my sisters), but it's not our favorite.  Besides, kids give everything that beat-up look naturally after a short time anyway, right?  SO my awesome brother-in-law painted it for me to match our blue fireplace wall, which runs on the opposite side of our kitchen and down through the living room, and I love how it turned out!  (See top photo.)
It was so much fun pulling stuff from our pantry and reorganizing everything!  And by the way, I'm still on the hunt for a middle plate I like better than the one you see here, anyone know of a good place to look for those?  I'm going to try Hobby Lobby today.
So here's what I put on our new kitchen shelf: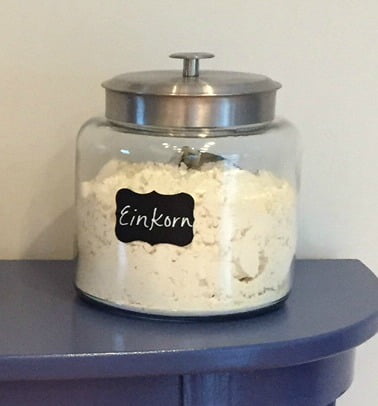 My favorite flour:  Einkorn.  Read more about einkorn wheat here and why I love it:  Is THIS the answer to the gluten sensitivity epidemic?
When I want a nicely-flavored unrefined sugar I love organic coconut sugar (also called palm sugar) because it doesn't have an overly strong flavor in recipes like Rapadura tends to.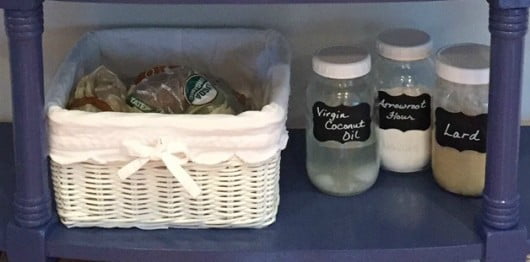 On the middle shelf are organic potatoes in the white storage basket, and in the ball jars:  my favorite coconut oil, some arrowroot flour (for thickening gluten-free gravy or we also use it in our homemade ice cream recipe), lard from the farm (or you can get lard here — great for real foodie frying!), and not pictured is my favorite olive oil that I have on the shelf now too.
And on the bottom shelf are the cookbooks I use most (see the list below), organic onions, organic garlic that you can't see in the white basket, and raw honey.  (Two new-not-pictured-since-recently-added cookbooks are here:  Napa Slaw Recipe from My Latest Favorite Cookbook and here:  Chicken Piccata: My Favorite Recipe (so far) from the Wellness Mama Cookbook.)
My most-used cookbooks you see in the picture:
So what are YOU organizing lately?