Good morning reader friends!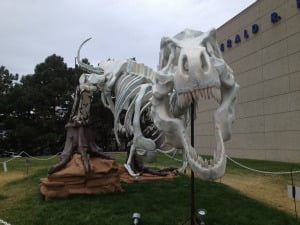 For all of my not local readers (most of you), you have to come to Grand Rapids, Michigan sometime to experience Art Prize.  Saturday my sister and I went downtown and saw some really cool stuff, as we always do, but the line to get in to the Art Museum where a few of the top ten pieces were was a couple of hours long, so I came home to check out the top winners online.  The cool thing about Art Prize is that even people who are not creative and generally don't appreciate art (that's me), still love visiting all the different exhibits.  There really is something for everyone to enjoy; even our kids can't wait to go every year.  Plus it's free!  It's really fun to have all of this bustling excitement happening each fall in our hometown, and it makes me feel hip to live here.  (I like to pretend sometimes.)
Local readers, if you went, share what your favorites were!
It was a sad day last week when I used up the end of our garden veggies, but the fresh salsa tasted great.  Now it's time to get some squash from the farmer's market and make these Halloween pancakes again.  Are beets a fall vegetable?  Because lately we love frying them in ghee and then when they're softened just enough, we add a splash of balsamic, YUM.  What other fall veggies and recipes do you love?
This post was interesting…and disgusting:  A McDonald's Hamburger Deconstructed.  "Despite what many Americans think, I don't see hamburgers as the typical  "junk food" villain. Under the right circumstances I am totally game for a real hamburger. And by "real" I mean that the beef is grass-fed, the cheese isn't processed, the bun is sourdough or sprouted, and the condiments are not full of nasty stuff."  I haven't even been slightly tempted to buy a fast food burger in years.  It took some time to get there, but mostly it was a matter of learning more about what's in them, because once you do, how could you crave one?  Especially since our own burgers and homemade fries taste sooooo good here at home.  Do you still feel tempted now and then?  (Mostly when you're in a hurry I'll bet, have you seen my list of fast food ideas at home?)
Did anyone else see this Mercola article recently and feel all happy inside like I did?  Why I'm Changing My Stance About This Wildly Popular Beverage.  It's possible that I'm grasping so I can drink my daily cup guilt-free, but either way, I'm not stopping anytime soon.  I'd love to hear your thoughts on this one…
Wait 'til I show you what we've been seeing around our backyard these days:  turkeys.  Check out the one on the right, he's up on our deck steps!  This, along with the cooler fall weather this week, has made me hungry for turkey dinner.  I thought about asking Kent to catch a few for our freezer, but he said wild turkeys tend to be really tough and don't taste that great.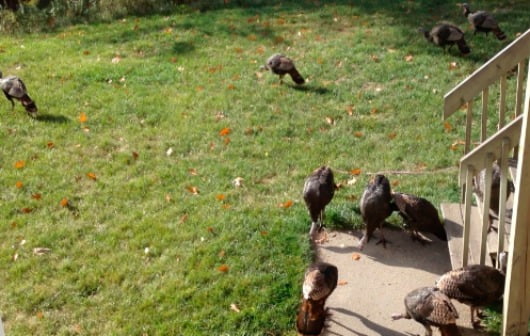 We love seeing wildlife like deer in our woods out back and turkeys in our back yard, because we actually live in a neighborhood – here's the view out front this week.  Our trees are still small on our street since we've only been here 13 years, but I love the colors.
Have a great week!