You'll love this Homemade Beer Bread with Crispy Roasted Garlic and Olive Oil for Dipping
Want to impress your guests one of these days or even your own family?  This recipe will do it!  I've always loved beer bread and of course wanted to find an easy version without any junky ingredients, so I came up with this one.  The garlic dipping sauce was a big hit with the kids because to them, any type of "dip" is its own food group anyway.  🙂
Homemade Beer Bread
Ingredients:
Mix together, then pour into buttered bread pan (find Stainless Steel bread pans here).  Bake 50-60 minutes at 350* or until top feels firm.  Brush 3 Tablespoons melted butter over the top when it comes out of the oven.
Crispy Roasted Garlic and Olive Oil for Dipping
2 Tablespoons ghee melted in a Cast Iron frying pan (Ghee is better to fry in than just butter because it can withstand a higher heat without burning.)

Add 3 heads of garlic, peeled and chopped (I used a mini chopper), cook over medium heat until golden brown – stay close by so they don't burn, it'll take 10 minutes or so.  They'll crisp up after the set a bit.
Add a couple splashes of good quality olive oil – this is very important!
A few dashes of sea salt
A small splash of your favorite good quality balsamic dressing
Serve with warm beer bread for dipping.  The aroma is dreamy, and I think you'll love it!!!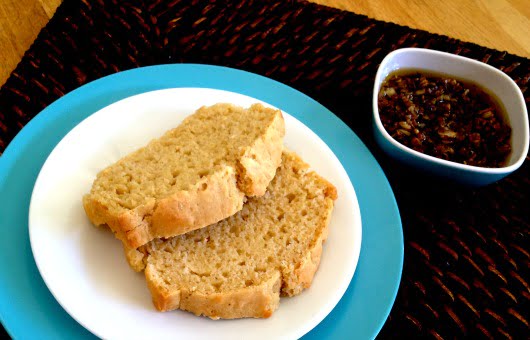 *