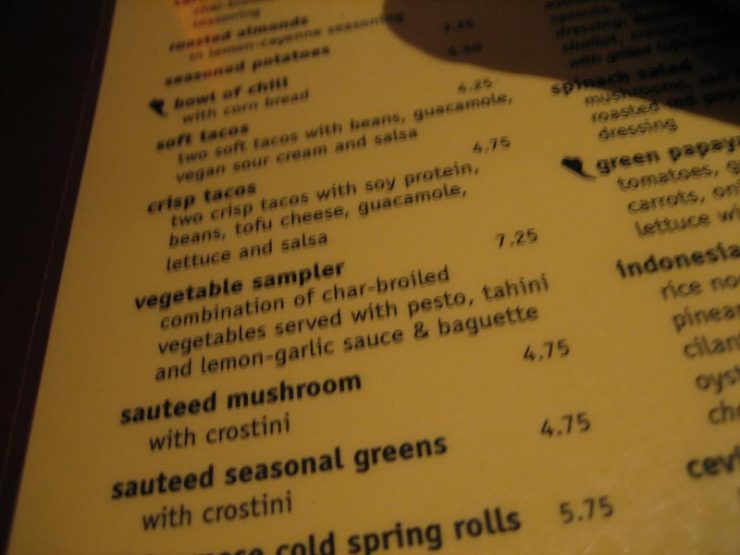 The following is an email I recently received from a reader friend, Shauna, about a natural foods store she shops at – take a look at their vegan holiday menu and see what you think…
(First, here are some healthy meatless meals to look over.)
I just HAD to forward this to you. Because I've been to this store's bread classes, I get all their email updates. They do cooking classes all the time – and they're vegan. This is the lineup for their Holiday Cooking Class. I thought you'd enjoy it in light of the post you recently did with the low-fat buffet vs. the WAP buffet. I read over this list and I thought, GROSS! But then my next thought was "Those poor people are missing out on some really wonderful foods this holiday season!" (I'm sorry – but "mock turkey dish" just sounds NASTY!) In my mid 20's, I went vegetarian for a year (it was the "fad thing to do," you know), although I wasn't vegan. It was an interesting experience. While I did get pretty rail-thin (I dropped to a size 5!), looking back – knowing what I know now – it was probably a very unhealthy year for me. I'm so glad I came to my senses when I found out I was pregnant and started eating meat again. Although, it wasn't until 10 years later that I discovered the WAPF. Whenever I go to this store and see those gals who are rail-thin working there, with sunken in cheeks, pale-gray skin, no shine in their eyes, etc….. I just ACHE for them. They think they are so healthy, yet they really don't even eat whole foods. They're loading up on all that processed soy because they don't have any protein in their diet. I've always wondered about their term "NATURAL FOODS" when half that store is seriously processed and full of MSG!!!!! But I digress……… Shauna
VEGAN Menu:
You're warmly invited to attend The Holiday Cooking Class!
…What's cookin' ?
Mock Turkey Dish
Vegan Mashed Potatoes w/gravy
Chris' Rice Pilaf
Stuffed Celery
Smokehouse "Cheese" Mold
"Caramel" Apple Dip
Mary's Pumpkin Muffins
5-cup Salad
Baked Sweet Potatoes
Classic Dinner Rolls
Very Berry Pie w/Pretzel Crust
Carob Stars
Soy Dream Vanilla Ice Cream
Switch Beverage
My comments (besides "ewwwww")…
I happened to have a really good friend who is vegetarian (not vegan), but I have to say that she's probably one of the most healthy vegetarians there can be. She really limits the processed soy, she watches their sugar consumption, she makes sure they all get plenty of animal foods and fats in their diets as possible so they get the nutrients needed (milk, eggs, butter, yogurt, etc.). They take cod liver oil, and she's very aware of nutrition in general. (Not many processed foods, whole grains, plenty of fruit and veggies, etc.) This is how cool she is – when we go over there for dinner (pizza or whatever), she jokes with Kent, saying she's making him some "Neatloaf". 🙂
But this is very different from vegans, who I believe have no animal foods at all, or some vegetarians, who are real heavy on the processed soy products. Neither of these are healthy diets, based on the reading I've done so far on the findings of Weston Price.
Comment below and share your thoughts!
More you might like: