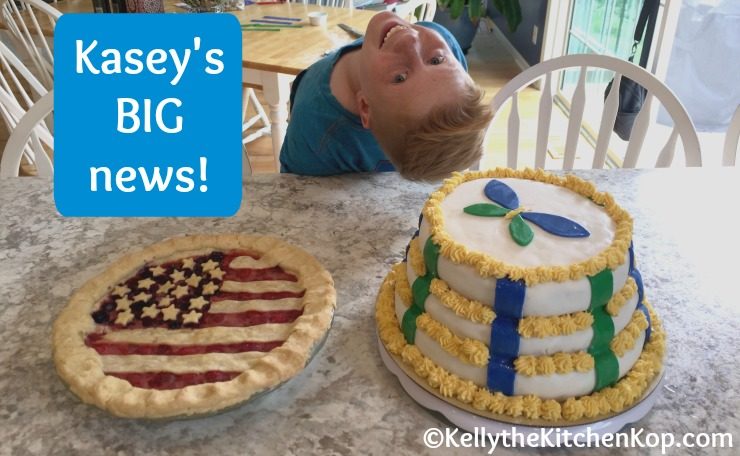 Short story:
KASEY IS GOING TO BE ON FOOD NETWORK'S KIDS BAKING CHAMPIONSHIP STARTING JANUARY 7TH at 9pm!!!
Longer story:      (and here's an update after the show aired:  the REST of the story.)
Oh my gosh you guys, I still can't even believe it.
It all started quite interestingly when my friend and blog assistant Susan posted this photo on my Instagram of Kasey's taco sauce recipe.  (Watch the video here.)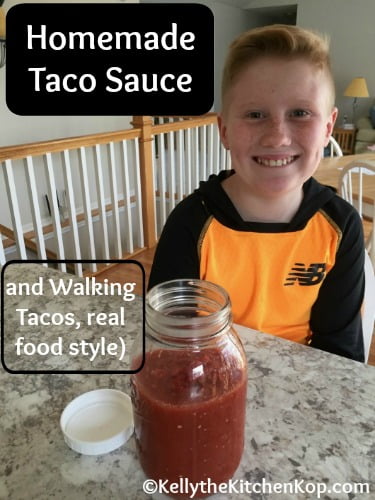 A casting person found that post and asked him to apply to be on the show.  He was excited and wanted to go for it, but all along we thought, "This will never go anywhere, but it's worth a shot anyway."  One thing led to another, and as things continued to move forward we started saying, "Wow, this might actually happen!!!"
It was a cra-CRAZY few days/weeks around here with Kasey on a baking frenzy!  (If you missed the back-story, go here:  Kasey on Food Network?  And here's the newest UPDATED info:  Kasey on Kids Baking Championship — the Rest of the Story!)
Here's what he made:  (He used Grandma's pie crust for this one.)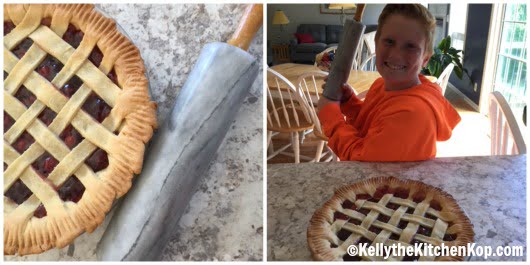 Here's a cake he baked: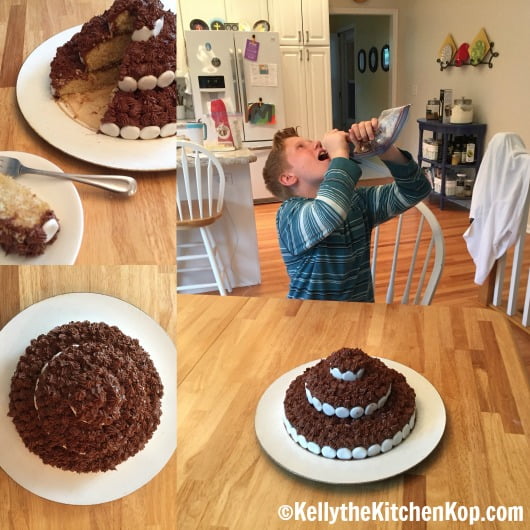 And here's the other cake he was pretty proud of: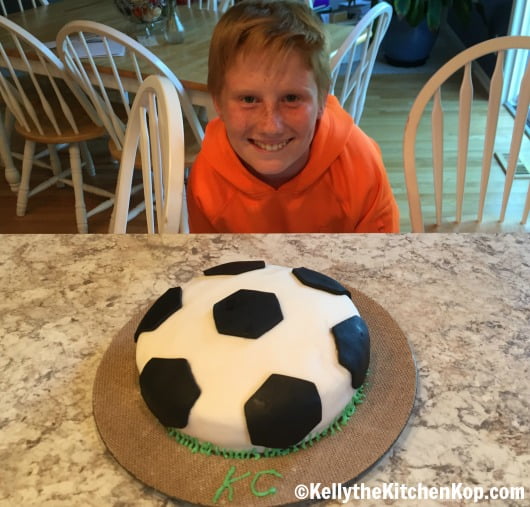 FYI: we are NOT eating those black parts since they are LOADED with food coloring.
Those are for looks only and they will be peeled off for the trash before we touch it with our fork!  Even the green grass bugs me, but it's just a tiny bit around the bottom so I'll let that one go, at least it's not red I guess.
Yes, he made everything himself!  I helped him find recipes, shopped for more ingredients, supervised, and did a LOT of clean up, though…  We were all ready for him to take a baking break for a bit and it was back to the keto diet for me!
But then it was time……
We could finally announce it — check out this photo, this must be for REAL — isn't God hilarious the stuff He pulls together???!!!
Yep, that's him in the front, red apron.  Kasey wholeheartedly agrees with me, the very BEST part of this whole experience was getting to know so many neat new people.  Such great kids, fun Moms, a few Dads, and one super sweet Grandma too.  We've made some lifelong friends, and there's no better blessing than that.  🙂
Watch a new video here with Kasey making sweet and savory crepes while on his hoverboard.  
***Please subscribe while you're there and give the video a thumbs up!
I'll be sharing more as time goes on.  Soooo…
I'm working on a video showing more of Kasey's baking, so subscribe to my YouTube channel and click the bell so you'll be notified when more videos go up.  🙂
Follow me here to get notified of new blog posts (you'll get a lot of free help for eating healthier when you sign up too) — IMPORTANT:  if you only follow me on social media, you miss a lot because FB & Instagram hide so much.  (Drives me CRAYYYYY!!!)
Follow Kasey on Instagram where he posts totally random stuff that a 13 year old boy likes to post, along with whatever he may currently be working on in the kitchen.
And more random stuff that gets posted on Instagram by the kids who are on the show.  Check out all of our new friends there — here's the picture of Kasey that just went up!     (Nobody knows how it happened, but that page with 4K followers has been deleted now…)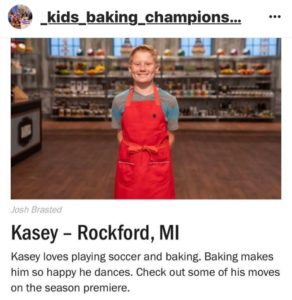 Will you SHARE this please?!
It's been so difficult keeping everything to ourselves, so now that we can finally talk about it, we're exited to get the word out!
More you may have missed: