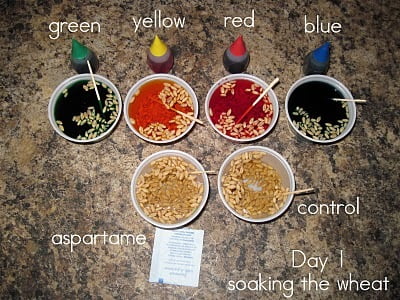 Last week in the first Real Food for Rookies class I was excited to share an interview with you that I did with Jane Hersey of the Feingold Association.  She explained how detrimental food additives (many made of petroleum!) are to our health, especially to our kids' growing bodies.  The following experiment was featured recently in their newsletter…
Got Petroleum?
Looking for a science fair project?  Want to find a way to "wow" your family, friends, relatives, or skeptical co-workers?
Feingold teenager, Alyssa Amott, came up with an experiment that can only be described as "brilliant."
Not only is this a rodent-free project, but it is simple to conduct, and yields fast, dramatic results.
Alyssa used hard red wheat "berries," which are kernels that have not yet been ground into flour.  She also used  liquid food coloring from the supermarket and a packet of "Equal" (aspartame).
First, she soaked the wheat berries in a combination of 2 ounces of water with 10 drops of the dye in 4 of the bowls; in one bowl, she dissolved a packet of Equal (aspartame) in the water.  The control wheat berries were soaked in plain water.
After four hours, the water was drained off, to be used for watering the plants, and supplemented with plain water.  The wheat berries were planted in regular soil.
The wheat berries given plain water grew lush and strong, while the chemically-treated plants were stunted and sickly; even the root systems were dramatically different.
This experiment is an eye-opener for all ages.  It could be located on the window sill in your kitchen, in your child's classroom, or in your office.
Anyone who believes that living things are not harmed by chemicals like this should start to question their comfortable beliefs after they see what happened to these wheat grass plants.
See all the pictures below: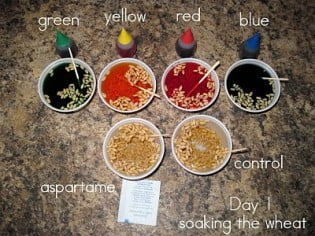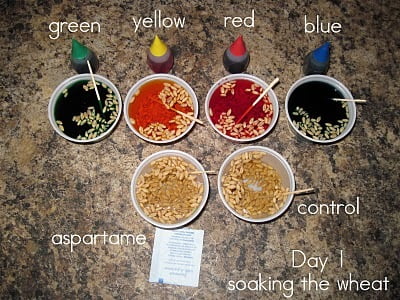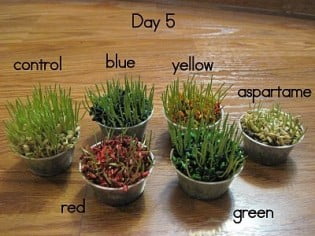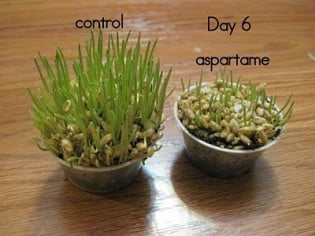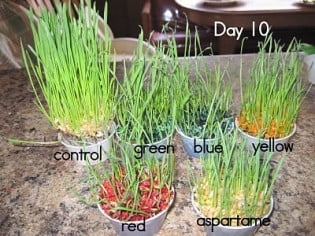 I'm curious: do YOU notice a difference in yourself or your kids when you do or don't avoid these additives?