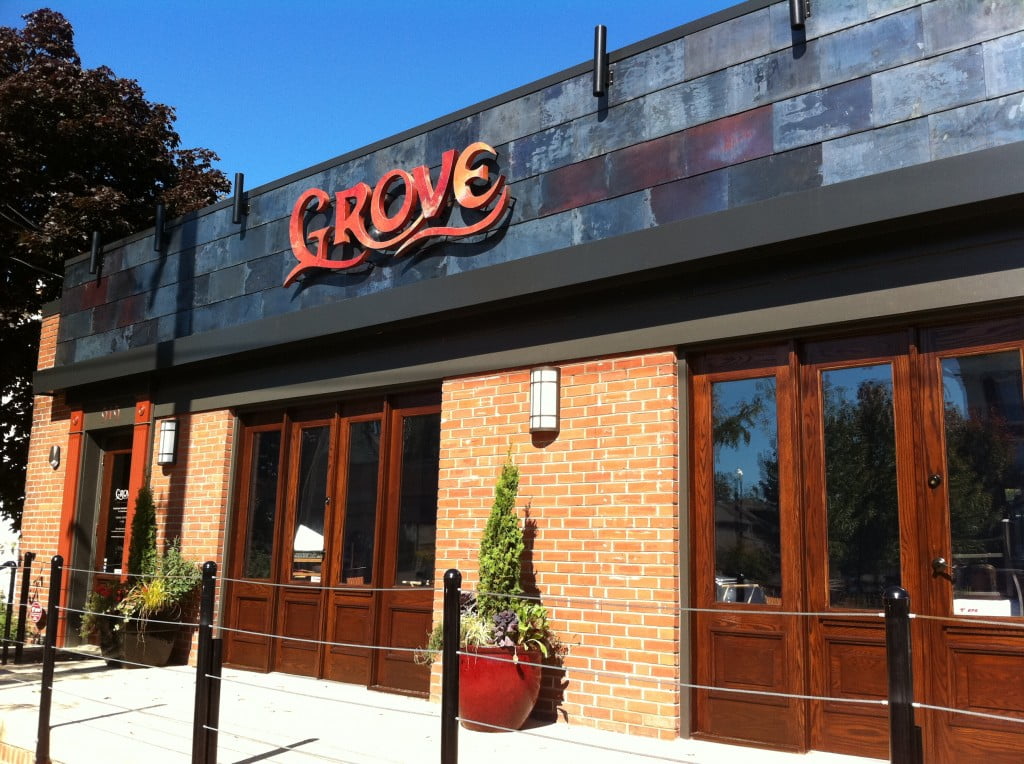 You Real Foodies will love this story! 
Especially you die-hard Weston A. Pricers who love to eat liver and other pieces and parts, and who like it when none of an animal goes to waste.  Yeah, well I'm not always a big girl about eating some of that stuff…until Chef Pat.  Remember when I told you a while back about Chef Pat from Bistro Bella Vita?  (Read about my chick night there and about when I first got to know Pat:  A dreamy dinner out with duck fat appetizers.)
It all started when Kent & I went to Bistro a couple weeks ago with Bob and Sonia.  I asked if they might have any duck fat for French fries and the guy in charge, Brad, said, "Not right now, but if you let me know when you'll be in again we can make it happen."  Isn't that cool?!  So I knew I was going to be at another one of their restaurants that next week and I shot him an email and asked if there was any chance…
That's where this email exchange begins that I'll share with you:
Brad: 
Kelly, do you know when you are going to Green Well on Saturday? Pat is going to prepare the duck fat fries at our new location across the street (Grove restaurant) and deliver them to you at Green Well.  He will be there all day prepping for a busy evening and would love to help you out. Please give us a heads up on when you would be coming and let us do the rest…"
Kelly:
Oh my gosh, no way!!! Thank you anyway, but you make so many amazing meals, I will find something on the menu that I will love as always!! Just thought if there was duck fat around I'd take advantage, but no way will I have you go to all that trouble.  Thanks anyway for being so sweet!  🙂
Brad had copied Chef Pat, who emailed me back:
Kelly, it really is not a problem.  It's also a great excuse for you to stop by and check out Grove.  Just let me know what time your planning on and it would my pleasure to bring some fries over to Green Well, or you can stop by Grove and have a quick snack before lunch… You just let me know what you want to do.  You would be impressed by the stock pile of natural fats I have amassed in just under two weeks.  Talk to you soon…. Pat
Kelly:
I feel like a spoiled princess though and I'm sure you have a thousand other things to do that day, especially with the Grove restaurant opening, how exciting!  (You must be relieved to finally have it open, I know you guys have been working on this for months and months.)  You're really speaking my language with all that 'natural fats' talk, but thank you anyway on the fries, I'm on the Essence email list now, so when I see something about duck fat come up there, I'll bug you about it again.  🙂
My sister and I will have my kids with us, but I'd love to just pop in and see Grove, though, if it's OK to bring the kids in for a few minutes, and I want to hear more about the fats of course!  We'll just say a quick hi and then we'll go eat an early lunch at the GW before we do Art Prize for the afternoon.  We'll probably be there around 11 or 12, so if you're not there yet we'll catch you next time.
Thanks again for being so sweet, Pat!
Pat:
I will be there, please stop in with the kids.  I WOULD LOVE TO SHOW YOU THE SPACE, I think you will like it.  See ya Saturday!
Is that cool or what?!  Wait 'til you hear this next part!
So we got to the new Grove Restaurant, around noon and the place doesn't even open until dinner.  It's gorgeous, classy and quaint inside with some neat decor, just like their other two restaurants.  Don't you love these lamps?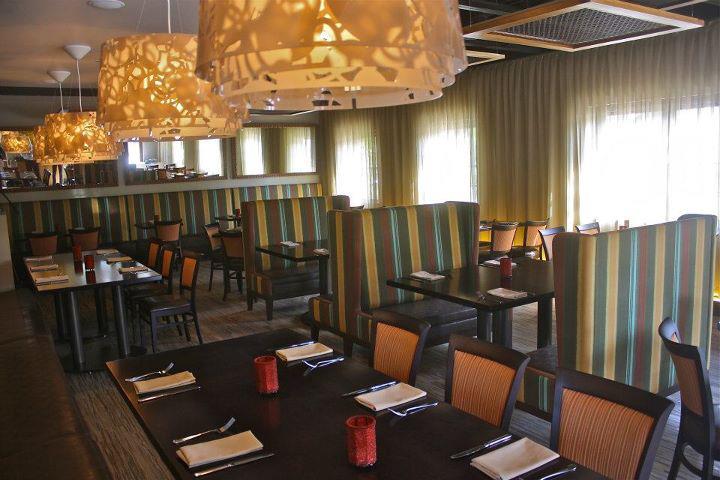 We were greeted by Rob, the Grove restaurant manager: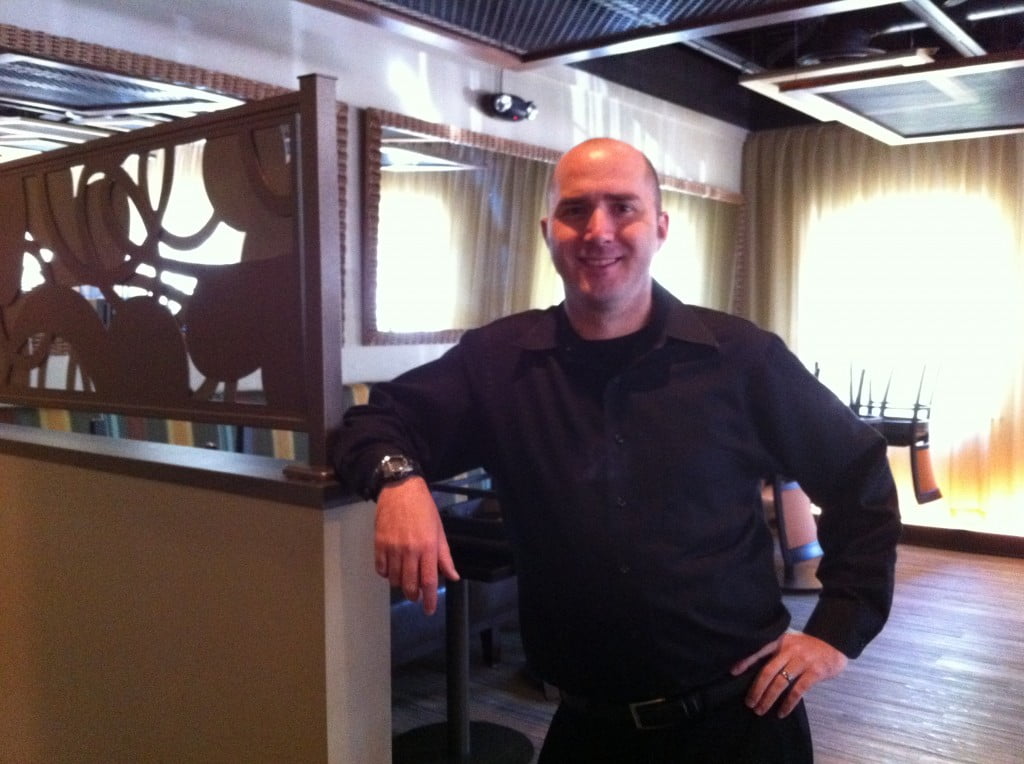 He said that Pat was almost done with our fries, and he had us take a seat in the bar to enjoy some house pickled veggies.  (These were super flavorful and even the kids loved them.)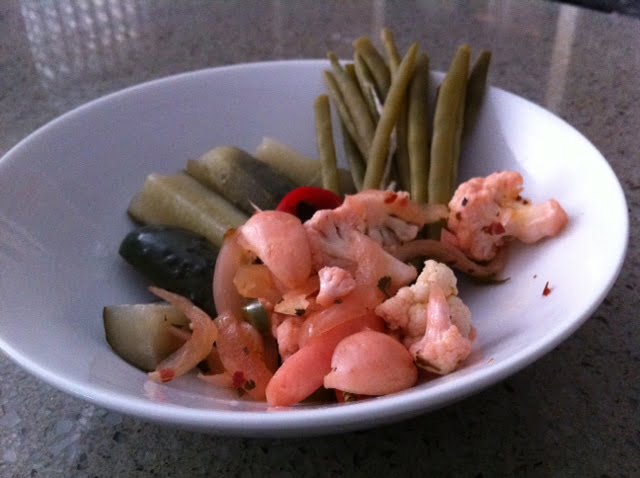 Then Pat appeared with the most tasty duck fat fries ever, and I didn't have to worry about the oil and what affect it might have on me, since duck fat is a traditional fat – it was dreamy!  He also served them with a couple yummy dipping sauces:  a homemade spicy ketchup and a homemade aioli (garlic mayo).  Doesn't this picture make you just want to plant your face into the bowl?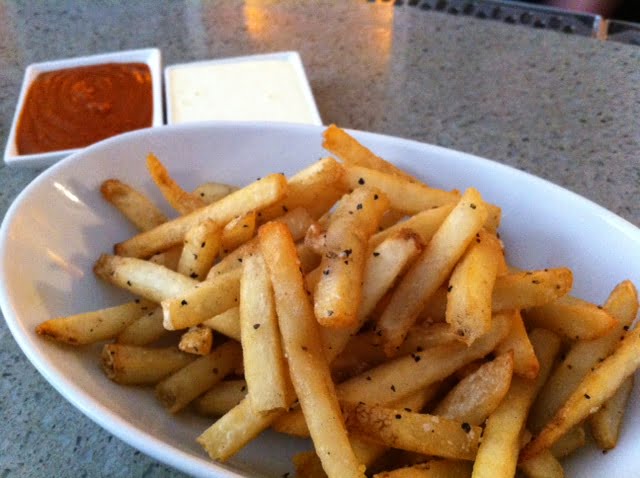 Just as we were wondering how we were going to still be hungry for our lunch across the street, Pat brought out pork belly confit with Michigan 3-bean salad & mole verde.  Our six year old said, "Wow, that's seriously the best pork I've ever had."  He really said that, and he was right!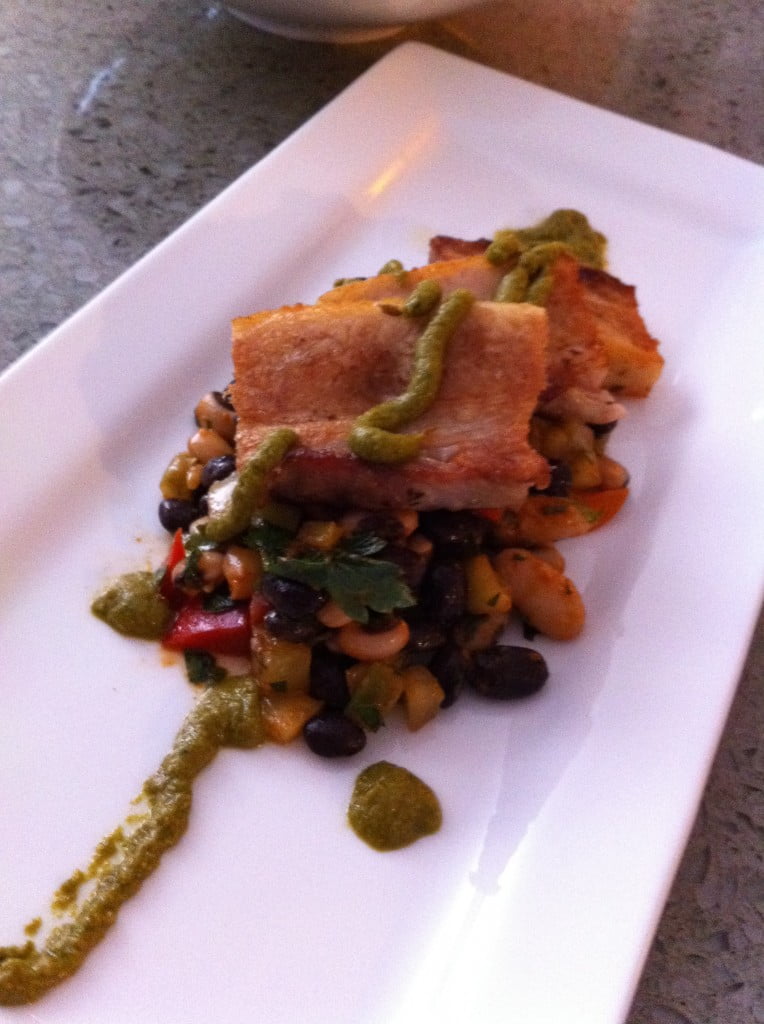 So then Pat wanted us to try some head cheese.  Head cheese isn't cheese like you normally know it, this is actually made from the flesh of the pig's head.  Here's where my sister stepped off the tasting train.  I'd had head cheese before though and thought it just tasted like sausage.  Pat's was even better – his tasted more like a delicious slow-cooked pork roast.  He said the guys in the back thought I'd also want to try the crispy pig ears.  Yep, you read that right.  I wasn't too hip on this, and my sister was out for sure, but before the kids knew what it was, they all tried one.  That left two for me…  They weren't bad, they just taste like a fried food, but the ear was a bit chewy.  Can you believe I was a big girl and did it?
So this is pork head cheese with crispy pig ears, house made mustard & pickled green tomatoes: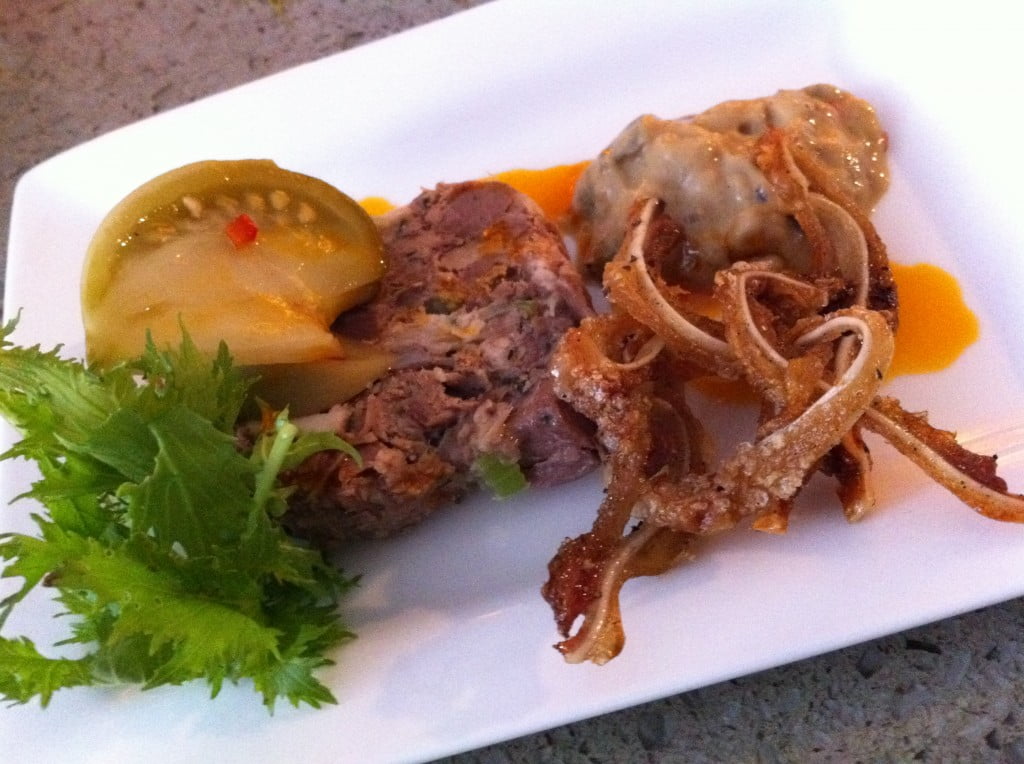 Here's Pat in the back by his big pots of fat.  They don't use fryers!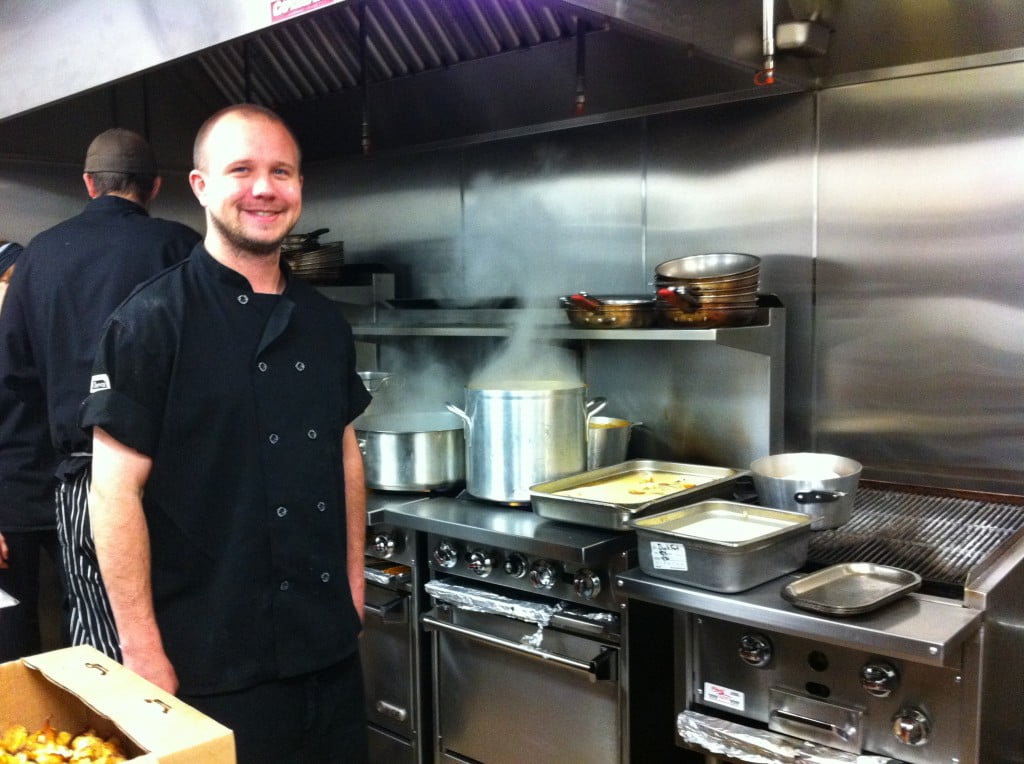 Can you believe how cool Pat and all of them at the Essence restaurants are?  (These amazing people also gave a generous donation to our local Weston A. Price chapter last spring, so they really are awesome.)
What's great about all this is that they are committed to sourcing their food sustainably, and at Grove especially, they want to specialize in not wasting any part of the animal.  (Look at this link I found:  An A to Z of offal – A guide to what is known in Italy as the 'fifth quarter'.)
So what do you think Real Foodies?  Have you ever eaten crispy pig ear or something equally as interesting?  How did you like it?