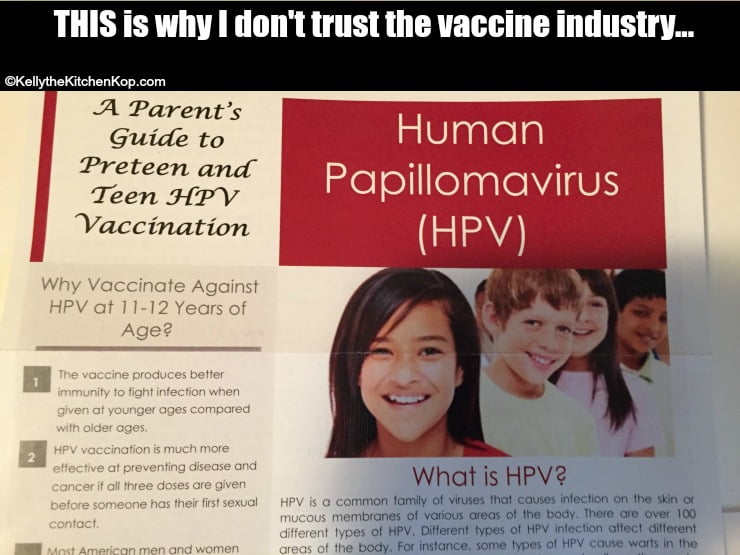 Do we know the REAL HPV vaccine cost?!
This just irritates me…
Recently we got notices in the mail for each of our kids with their birthdates and MCIR identification numbers (Michigan Care Improvement Registry) saying they're behind on the listed immunizations and then it says, "What you have to do…" (Call your doc for an appointment, blah blah blah.)
Along with this notice was a nice colorful brochure on the HPV shot…
They had all sorts of helpful information (not):
"Starting and completing the series of HPV vaccines can protect against cancer later."
"Routine vaccination with 3 doses of HPV vaccine is recommended for all 11 & 12 year old boys and girls."
"HPV is the main cause of almost all cervical cancers in women."
"Most American men and women who become sexually active at some time will contract at least one type of HPV in their lifetime."
"HPV vaccines have been tested in thousands of people around the world and have shown to have no serious side effects."
THIS is why I don't trust the vaccine industry
We can never be sure if we're getting the whole truth, because apparently they don't know about these facts: (Source)
"Gardasil was not studied in children with health problems or in combination with all other vaccines routinely given to American adolescents, such as Tdap and meningococcal vaccines."
"After Gardasil was licensed and three doses recommended for 11-12 year old girls and young women, there were thousands of reports of sudden collapse with unconsciousness within 24 hours seizures; muscle pain and weakness; disabling fatigue; Guillain Barre Syndrome (GBS); facial paralysis; brain inflammation; rheumatoid arthritis; lupus; blood clots; optic neuritis; multiple sclerosis; strokes; heart and other serious health problems, including death, following receipt of Gardasil vaccine."
"GlaxoSmithKline's Cervarix vaccine, which has been used in Europe since 2007 and was licensed in the U.S. in 2009, contains an AS04 adjuvant containing aluminum and MPL, which hyper-stimulates the immune system and has never been used in U.S. vaccines. Cervarix was studied for less than six years in fewer than 1200 healthy girls under age 15 and was not tested with a true placebo but was compared against Hepatitis A vaccine and other childhood vaccines that can cause adverse reactions."
"As of Dec. 13, 2013, there were a total of 29,918 vaccine reaction reports made to the federal Vaccine Adverse Events Reporting System (VAERS) associated with Gardasil vaccinations, including 140 deaths. There were a total of 2,652 vaccine adverse reaction reports made to VAERS associated with Cervarix vaccinations, including 13 deaths. (Merck's Gardasil vaccine, which was the first HPV vaccine licensed in the U.S., has the majority of the HPV vaccine market in the U.S.)."
Other countries are learning the truth — this documentary aired on TV in Ireland:
"Pressure is mounting on the Irish government to stop the administration of the HPV vaccine, Gardasil, in their schools or withdraw it altogether. A new documentary detailing the kinds of illnesses that healthy athletic girls developed after receiving the vaccine aired yesterday on Irish television. Unlike here in the U.S., pharmaceutical companies are not allowed to advertise their products on TV, so the media is free to air the truth without worrying about whether they will lose their source of funding. ShamROCK, who has covered the story from the beginning, wonders if these events may spell the end for Gardasil."
Read more here from the Thinking Mom's Revolution:  Is-this-the-end-of-gardasil?
Watch more in this HPV documentary about the *real* HPV vaccine cost:
My point in telling you all of this?
I'll urge you in the same way I always do:  think for yourself, research everything, do not blindly trust others with your kids' health!
Especially don't trust ME (there's way too much I don't know), but also don't trust the government, and don't blindly trust your doctor, as kind and wonderful as they may be.  Dig in to learn more, and if you need to find a search engine with trustworthy sites, click here to try this one that will only pull up hits from natural-minded bloggers.  Don't blindly trust what you read there either, but it at least gives you more trustworthy information that you won't find in the mainstream.
What about you?  Any advice to share with us?  Any vaccine-related stories to share?
Related posts you need to know about: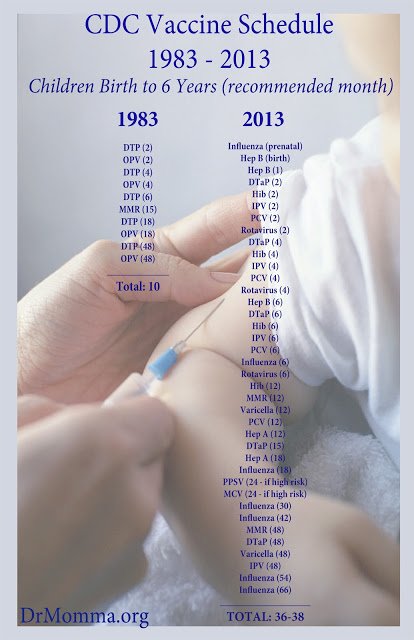 Will your daughter get this vaccine? "Twenty-nine deaths have been reported from the Gardasil vaccine. Twenty nine deaths. It almost makes me cry just to write it. Twenty nine young women's lives have been cut short, all because a drug manufacturer convinced them that a vaccine would "protect" them. And among the living, the carnage continues. A recent study by the National Vaccine Information Center compared Gardasil's side effects to another vaccine given to patients in the same age group. Gardasil led to three times (that's 300 percent) more emergency room visits, five times (500 percent) more fatalities, and 30 times (3000 percent) more side effects. And these are not minor side effects. We're talking strokes, heart episodes, lupus, paralysis."