Do you know how to use apple cider vinegar to remove warts? 
It really works and I have proof!
While I'm very open to all the amazing natural ways we can be healed from this or that ailment or disease, it always amazes me when something so simple comes through again. I told you in an earlier post about how I used ACV on my ringworm, today I'll tell you how I used it to get rid of a wart on the back of my ankle.  Ahhhh, the things I share with you, dear reader friends.  Kent can't believe how personal I get here sometimes, but hey, it might help one of you out there!
By the way, in case this remedy I'm going to tell you about doesn't work for you, there are MORE remedies to try below!
First, read about how my friend, Sue, used apple cider vinegar to get rid of Plantar warts:
My son developed two plantar warts on the bottom of his foot in late January.  Having battled these myself for years on my own feet, and even having mine frozen and lasered off (all before I was concerned about using acids and various chemicals on my body), I was not looking forward to the prospect of using harsh products on my son.  I researched home remedies for plantar warts and using raw, organic apple cider vinegar kept coming up.  I told my husband I would try it.  He was pretty skeptical, and as I dragged my feet (and kept forgetting at night to try it), my son said the warts were now hurting.  Finally, the end of February I started using it.  I took cotton balls and cut them into quarters.  I poured the vinegar into the cap and dipped two cotton pieces into the vinegar so they were pretty saturated.  Just before my son climbed into bed, I placed a saturated cotton piece on each wart and covered them with surgical-type tape.  In the morning my son took them off.  After about 10 days or so, we noticed that the warts turned white, so they were dying!  I carefully peeled off each one (they were like dry skin, almost callous-like).  I also carefully picked off any other black dots that may have been remaining underneath.  We kept up the saturated cotton pieces for another couple of days until there was nothing left underneath, and then kept going even another couple of days for good measure.  It has been a good month and we successfully got rid of his warts with only apple cider vinegar!!  I think the trick is to get at them as early as possible.  My husband admits he has to eat his words of skepticism now!"
(Here's where to get ACV or just grab some at your local grocery store!)
How to use apple cider vinegar to remove warts – it worked in less than two weeks for me too:
I've even got a gross picture to prove it.  Today I'll tell you exactly how I did it, and by the way, as an update, it's now been well over 5 years and it hasn't returned!
Maybe it's normal for it to go this fast, but I sure didn't expect it.  Here's what I did:  I started by soaking a wadded up hunk of kleenex (or cotton ball) in apple cider vinegar and holding it onto the wart on the back of my ankle with a bandaid.  (It stinks a little, so I'm glad it was all the way down at my foot.)  I did this before bed for 3 nights in a row.  In the mornings I took it off.  After those 3 nights, it had turned black.  But then I forgot about it for a couple of days, maybe this was good, to let it dry out.  Then I sterilized some scissors (with steaming hot water), let them cool, and clipped the black part off.  It was definitely smaller!  I washed good after messing with it, just in case it might spread.  Then I started the same procedure again, but it started to hurt this time, so I just let it heal up for a few days.  Then I did it all again, and this time after only two nights it turned black again.  A couple of days later I noticed that it was a little crusty (gross I know, sorry), so I picked the black part off.  This time the whole wart peeled off bringing some of it from below the skin level, so there was a little crater there, COOL!  I know, I'm weird that this stuff gets me all excited.  It's sick but kind of fun like a science experiment, ha!
Here's what it looked like, and it's especially lovely with the glue residue leftover from the bandaid: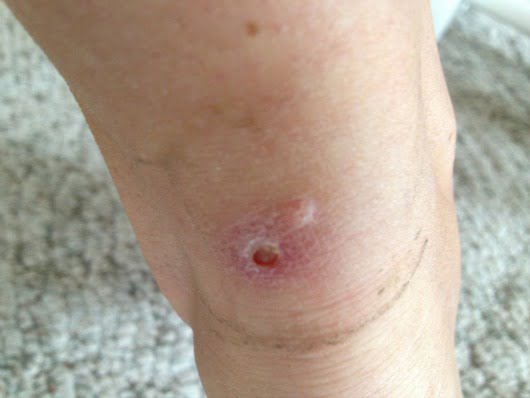 See how there's another little one next to it?  I'm going after that little sucker next.
This is so cheap and easy, ACV is some powerful stuff!  Also, get my free printable:  25 simple ways to boost your health with ACV by signing up for my newsletter!  (Get lots of other freebies there too.)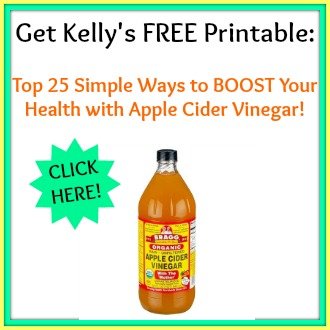 What if that doesn't work for you though?
It seems that all warts are a little bit different, and while ACV will often work, sometimes it just might not.  So here are other options you can try–these are especaily great for those who can't stand the smell of ACV.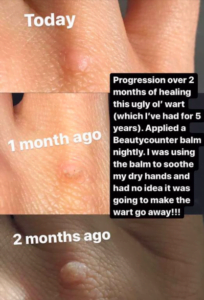 If you've also had good luck using apple cider vinegar to get rid of warts or another method, tell us about it and what you did differently!
More you might like: