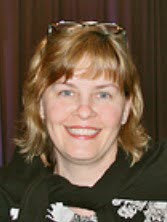 As you may know, Ann Marie & I met when we both began blogging about traditional nutrition within a few months of each other.  (She began fall of 2007, I began the same time, but had my first post go live on January 1st, 2008.)  I'm so thankful that we've become friends.  (See the links at the end of the interview for pictures!)  What's neat about our relationship is that we're very different in some ways, but very much alike in others, and especially so when it comes to our love of food and anything to do with nutrition. She has a fun sense of humor and a huge heart – she loves to help others every chance she gets. Ann Marie also happens to have an amazing business and "techy" mind, and she's been crazy busy working on Real Food Media projects, so I especially appreciate her taking the time to do this interview!  Thanks, Ann Marie!
1.  What is your #1 motivation for eating and feeding your family more nutritious meals?
My daughter. I read Dr. Weston Price's book, Nutrition & Physical Degeneration, when she was 5 months old. That book really opened my eyes to what is possible. I had no idea cavities are caused by nutritional deficiencies! I only wish I had found this book sooner in my life — maybe then I wouldn't have had to have 2 root canals.  I'm very grateful to Sally Fallon Morell and the Weston A. Price Foundation for getting the word out about Dr. Price and his work. I'm also grateful to my Great Uncle Roy for sending me the link to the WAPF website.
2.  What originally started you on your path to better nutrition?
When I was 26, I was diagnosed with rheumatoid arthritis. It started in my knees and it was spreading to my fingers and elbows. The pain was so bad it would literally wake me up at night. I also had chronic fatigue, terrible respiratory allergies, recurring sinus infections, open sores in my nose that wouldn't heal, and thrush on my tongue.
Everyone said I would end up in a wheelchair. My doctor had me on inhalers and painkillers. I knew there had to be a better way. I read everything I could get my hands on about alternative medicine and nutrition. I finally found a book called "The Yeast Syndrome" by Dr. William Crook and all the pieces came together for me. I radically changed my diet and within a few weeks, my symptoms were 90% gone.
It took longer for me to totally heal. If I went off my diet, I'd have flare-ups and my symptoms would return with a vengeance. I stayed off all sugar and wheat, took strong (therapeutic grade — not the stuff in the health food store) probiotics and other food-based supplements, and worked with a chiropractor-nutritionist. Within two years, I was completely healed and could eat whatever I wanted with no symptoms.
(Note from Kelly:  read about the GAPS Diet.  Ann Marie, GAPS has some similarities to what you learned from "The Yeast Syndrome", correct?)
3.  What is your biggest struggle in eating well?
Not enough room in my fridge and freezers!  I have an extra freezer in the garage that is always packed to the gills. I plan to buy a second freezer for the garage this month (and then I'm buying 1/2 a cow and a whole pig).
4.  What is your favorite recipe?
I don't have a favorite. I can tell you my top five recipes — at least right now:
(1) French fries cooked in beef tallow or duck fat (2) sprouted flour chocolate chip cookies(3) chicken nuggets breaded with sprouted flour or sourdough bread crumbs, cooked in expeller-pressed coconut oil or beef tallow (3) BBQ chicken salad with corn, black beans, tomato & avocado with buttermilk ranch dressing and onion rings fried in expeller-pressed coconut oil or beef tallow (4) pie crust made with leaf lard or bison tallow (5) nachos, served with sour cream and fresh guacamole.
Note: Some of these are not on my blog yet but they will be soon.
(Another note from Kelly:  are you crazy hungry now or WHAT?!  Youza she can really COOK.)
5.  How difficult was it for you (early on) to get over the modern-day "fat phobia" and go back to drinking whole milk or eating butter, coconut oil, etc. with confidence that it's better for you and without feeling guilty about "killing yourself"?
I had absolutely no trouble with this whatsoever. I've always eaten real butter and cream, full-fat ice cream. I was never the type to eat "low fat". I always ate my chicken with the skin on, and when I'd order a sandwich, if I could get it on a croissant, I would.
I switched to whole milk (from 2%) when I got pregnant — before I ever heard about the WAPF.  Instinctively, I knew the baby needed whole milk. When I found out about raw milk when my daughter was 5 months old, I transitioned our family to full-fat raw milk. I probably drank a half-gallon a day when I was nursing her.
6.  What is your best kitchen/nutrition tip?
Eat more butter and cream. There are lots of ways to get good, nourishing fats into your diet. Butter and cream happen to be two of my favorites. I cook with butter, eat butter on my bread and toast, use cream in my coffee, and make ice cream. I also love Hollandaise sauce, Alfredo sauce, sour cream, whipped cream, and blue cheese dressing (homemade, of course). Who knew chocolate cream or coconut cream pie (with whipped cream on top) could actually be good for you?
7. What did you have for dinner last night?
North Carolina pulled pork (Lexington-style) made in the crock-pot and served on sourdough rolls, along with a salad of watermelon, feta cheese and red onions on a bed of baby greens.
8.  Do you have a tip for how to fit exercise into a busy schedule? How do you do it?
I'm not very good at this but I try to hit the gym two or three times a week. They have a child-watch program so I go on the days I have my daughter at home with me.  I swim or lift weights or walk on the treadmill. We also got a Wii and I try to find time to use the WiiFit. Not so easy to do with a toddler! When the weather is nice, I like to go for walks — especially on the beach, which is not far from our house.
Check out Ann Marie/Cheeseslave's blog!