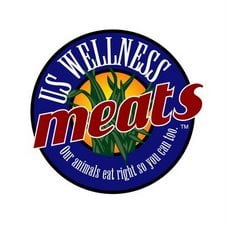 These are some of my US Wellness Meats Favorite Pastured Meats and More: 
Click here to buy any of the following…

Raw jalapeno cheese – This is my favorite cheese in the world to just slice off a hunk and eat it plain.  I love eating unprocessed/raw cheese knowing I'm getting all the nutrients that should be in cheese.
Headcheese – It sounds bad, but it just tastes like good sausage and it's great with cheese & crackers.  I love giving the kids this after school.  (Read why organ meats are so good for you!)
Small tallow pail – Oh, let me count the ways I love my tallow…French Fries, potato chips, fried fish, onion rings, homemade chicken nuggets.  And soon I'm trying homemade donuts!
Bologna – For years I couldn't eat bologna because everything in the store is just junk, but I SO missed it. I love that I can find it from a good source now and the kids love it in their lunches.  (Nitrate/nitrite and MSG free.)
Sugar free franks – When I hear "sugar-free" it sounds like there is an artificial sugar used, but nope, they are just plain sugar-free and delicious!  (These are Nitrite & nitrate free, MSG free and gluten free.)
Raw braunsweiger – Eat this with raw cheese and some sprouted whole grain crackers and you've got yourself THE most nutrient-dense snack ANYWHERE.
Beef Jerky – This and the next one are my kids' favorite "grab it out of the fridge and go" snacks.  I LOVE when I don't have to be involved with preparing or serving them a snack, yet it's so good for them!  (No nitrates. No flavor additives.)
Beef snack sticks – This is another easy snack for the kids to grab.  (Nitrate and MSG-free of course!)
Beef liver – In case you didn't see what I pulled off recently, you've got to go check out this post I wrote on getting beef liver by the family!