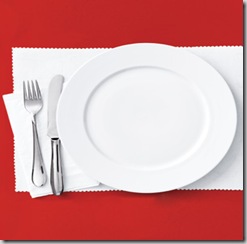 Today I'm answering another Random Reader Question about eating out at restaurants when trying to follow a more nutritious, traditional diet.  I'll share my own thoughts, but we'll have more fun if you all jump into the comments with your opinions on this topic, too!
From Leslie:  "OK Kelly, here are my questions…  We get invited to go out to dinner often.  How can we continue to eat the traditional way and still go out?  Are there "good" restaurants?  Are there things we should avoid on the menus?  Should I just pack raw milk and butter in my bag?  Thanks."
The "80/20 Rule"
As much as I keep hoping that someday it will be more like 90/10, we mostly go by the 80/20 rule around here.  The 80% is most of the time when we're at home, although we're not always good here; and the 20% is usually whenever we go to restaurants or friends' and family's homes to eat, but sometimes there are good choices to be found when out visiting, too.
When visiting friends and family
What's nice is that over the years, more and more of my friends and family have gotten on board with eating more traditional, nutritious foods, so it's gotten easier when we go to certain places.  For those that aren't on board, there are usually some good options available, and if the not-so-good options look good to me or the kids, I count it as part of that 20% and try to chill out.  (It's not always easy for me!  Have you read the post about how to handle it when visiting those who don't eat like you do?  Or this one for when you get home:  Counteracting the effects of junk food.)
When eating out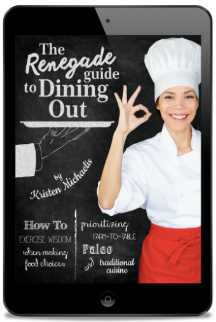 Many restaurants are starting to offer more quality food – here's a post with a list of good restaurants that might be near where you live, and be sure to comment there if you know of more!  Sadly, it's usually only the higher end restaurants that serve quality food, but there are some faster-food places on this list, too.
We don't eat out often, but when we do, I avoid fried food like the plague because the unhealthy vegetable oils that most restaurants use make me sick, literally.  If I give in to what might look good to me, I pay for it.  If the kids are with us, I always order them something to replace the poison sticks…I mean French fries, that usually come with their dinner.  And I always ask for real butter if I'm eating the bread.
We don't eat fast food these days, except for an occasional pizza ordered in (still not great though), or Subway, and we only eat certain things there.  (I check the online menus to see which breads have no trans fat or high fructose corn syrup, and we always ask for the shredded cheddar cheese, never the American slices of fake cheese.)
You may want to get this restuarant guide to eating out!
Bottom line:
We try not to get too wigged out about the occasional meal out.  While avoiding the really bad stuff and compromising on the not-so-bad stuff now and then, hopefully we are staying pretty close to our 80/20 percentages.  🙂
FIND HELPFUL POSTS ON FEEDING KIDS MORE NUTRITIOUS MEALS. (Healthy breakfasts, what to do with kids complaining about food, what Sally Fallon says about healthy kids, snack ideas, school lunch alternatives, etc.)