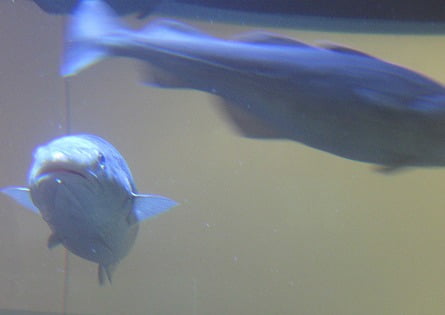 ***Please note that there have been some recent concerns about the below product. Please read more at this post, or click here to find out what were taking nowadays. Do some reading and research, and decide for yourself what is best for your family. Thank you.
Below you'll find what came to my in-box this week from the Weston A. Price Foundation, but first I'll give you my little opinion on the whole cod liver oil drama. (You wouldn't believe how many questions I've gotten about this!)
Dr. Mercola's recent statement about Cod Liver Oil threw me for a loop because:
1. I used to read him regularly and trusted most of what he said, although he was a bit of a hard seller for all of his products. Obviously, I also suggest my favorite products to you now and then that I might get an affiliate commission on, so I'm not saying that it's a bad thing to earn money from your site. But geesh, he really pushes his stuff, so much so that he lost some credibility with me. (I hope I don't come off like that sometimes when I go on and on about how much I love something!)
2. The thought that I could recommend something that could prove to be harmful makes me ill just to imagine it. This is why I so painstakingly research everything before I post about it and then still tell you to use what you read here only to motivate you to do more research on your own.
However, I wasn't unsettled for long before common sense kicked back in.
This traditional food has been a part of the diets of healthy people for a lot longer than any of us may even know. Not to mention the fact that a few things he said in his article didn't set right with me:
He wrote about the research showing how important the ratios of vitamin A & D are in CLO, and how "modern cod liver oil" doesn't have the correct ratios.  He's exactly right, "modern" CLO doesn't supply these vitamins in a healthy ratio, which is why we should only take the kinds that DO, like the fermented CLO.
He talks about what a highly processed food CLO is, and again, he's right, which is why we should only take the fermented CLO, because it's processed very little.
Next he says that after looking into it more, he thinks there is enough vitamin A in the American diet.  I'd like to know what planet he lives on. Is there really any vitamin that Americans get a sufficient amount of these days?
A member from this thread at the Native Nutrition Yahoo forum said it best:
"In my opinion Dr. Mercola has lost all credibility. He has changed his opinion 3-4 times in two years. Each time the opinion change had to do with directing traffic to his fish oil/krill oil. He almost points to the real problem (the industrialization of one of our sacred foods…just like milk) but then directs the conversation to say that 'all CLO is bad and buy my krill oil'. He twists his reasoning to fit his mode of sales. This is not proper nor ethical. Especially when so many people look up to him for advice. He even goes as far as to say that 'omega 3's' are essential 'nutrients', but it is not the fats that are the real nutrients! They are part of the puzzle. The fats bind hormones, nutrient, co-factor, vitamins, & quinones together for proper nourishing of our bodies. The fats are the carriers not the 'essential nutrients'!"
BOTTOM LINE: THE BRAND, THE SOURCE, OR THE QUALITY REALLY DOES COUNT!

As with most foods, to be sure you're getting the healthy version, YOU MUST CONSIDER THE SOURCE! Where did it come from? How was it made? What is in it? What is not in it? How was it grown or raised? These and many more questions are things you need to get into the habit of asking no matter what it is that you're putting into your mouth. You always want to choose whatever is most natural, the closest to how God created it.
The answers to these questions are not always easy to find (which is why we need to help each other!), but they can make all the difference between something that is LIFE-GIVING and hugely beneficial to our health or something that is no better than junk food or even HARMFUL to our health.
Cod liver oil is just one example. As mentioned in the quote above, milk is another example. Compare fresh, raw milk to ultra-pasteurized milk…one is full of life-giving nutrients, the other is so dead you may as well skip it, and it could even be harmful to your health, organic or not!
Be sure to look over this complete list of cod liver oil posts full of information to help you decide — and also there are posts on how to get it down!  Here's where you can get the fermented cod liver oil.
Please share your thoughts below!

Now take a look at the official response to the recent cod liver oil bashing from the Weston A. Price Foundation:
UPDATE FOR WAPF MEMBERS
January 2009
ONGOING COD LIVER OIL CONTROVERSY
Several weeks ago we sent out an update on vitamin A and cod liver oil to all our members, in response to a negative article about cod liver oil by John Cannell of the Vitamin D Council. This update is now posted on our website at https://www.westonaprice.org/basicnutrition/CLOUpdateDec2008.pdf. (Note from Kelly: that link isn't working, but this one is, and it discusses Mercola AND Cannell's claims.) The important take-home message is that there is nothing in the new study authored by Cannell and others to indicate any toxicity whatsoever from cod liver oil; however, the authors have put a politically correct spin on the findings in order to frighten people away from this life-giving superfood and vector them into taking isolated vitamin D instead.
Now Dr. Joe Mercola has come out with his own anti-cod liver oil statement, based on Cannell's study. What particularly concerns us is not the fact that Dr. Mercola has a different opinion on the subject, but that he has completely misrepresented the teachings of the Weston A. Price Foundation, stating that the Foundation believes "…there is sufficient vitamin A in the diet of most Americans, especially if they are taking a multivitamin."
The crux of our teachings at WAPF is that there is NOT sufficient vitamin A in the diet of most Americans, especially in comparison to the diets of healthy primitive peoples. Vitamin A was plentiful in the diets of primitive peoples because they ate the liver of sea and land animals, animal fats such as seal oil, candle fish oil and butter from grass-fed animals, and other rich sources such as fish eggs and fish heads. It is difficult to see how investigators can claim that vitamin A is toxic when traditional diets were so rich in this nutrient. As most modern people do not eat these foods, at least not in abundance, we recommend cod liver oil to supply vitamin A, as well as other fat-soluble nutrients.
Also, we have NEVER recommended multivitamins! We recommend nutrient-dense food (such as cod liver oil).
Not all cod liver oils are created equal. It is important that cod liver oil contain sufficient vitamin D to balance the vitamin A content. Please visit our cod liver page at https://www.ww.westonaprice.org/cod-liver-oil.html.
We are planning a long article on cod liver oil, including a point-by-point rebuttal of Mercola's statement, in the Spring 2009 issue of Wise Traditions.  (That's the one I linked to above where the other link wouldn't work.)