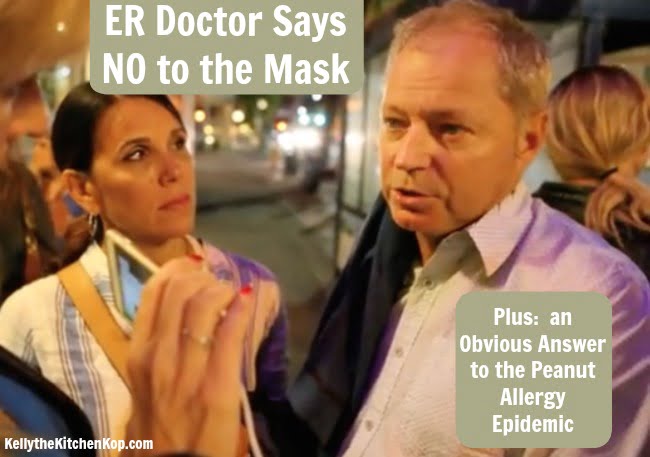 Wow, listen to this ER doc in the video below who won't give OR get vaccines and won't wear a mask like he's told either!  It's sad to hear him tell about so many of his colleagues who are in obvious denial about the risks of vaccinating.  Also, he explains the clear connection between the peanut allergy epidemic and vaccines, what a big clue to the increase in food allergies in recent years — did YOU know anyone with peanut allergies when you were a kid?  And now some kids can DIE if they accidentally ingest peanuts?!  Yes, it also has a lot to do with everyone's poor gut health.  Here's an article with more on the "perfect storm" that causes so many kids to have allergies nowadays.  This article had me on the edge of my seat and left me with chills down my spine. If you have severe allergies in your family or are concerned about this growing phenomenon, you'll want to read this…
An excerpt from the article on the peanut allergy epidemic:
In 1964, pharmaceutical giant Merck announced a new vaccine ingredient promising to extend immunity: Adjuvant 65-4, containing up to 65% peanut oil as well as aluminum stearate. An adjuvant (from the Latin "adjuvare," to enhance) is a vaccine additive that stimulates the immune system, upping the body's production of antibodies to a pathogen. Adjuvants reduce production costs as the vaccine maker needs less of the expensvie antigen; they also increase a vaccine's efficacy. The can also be dangerous; the more effective a vaccine, the greater the risk of allergies and other adverse effects.

The inventor of Adjuvant 65-4, Maurice Hilleman and his colleagues at Merck knew that allergic sensitization to the peanut oil in the adjuvant was a distinct possibility, but considered toxicity and allergenicity inevitable outcomes of vaccination. It was simply difficult to balance potency and safety.

The public clearly did not know what was being injected into their children, called by immunologist Charles Janeway,

"the immunologist's dirty little secret."

The peanut allergy epidemic in children was precipitated by vaccines. Lawsuits ensued, especially related to the DPT vaccine. By 1985, over 200 lawsuits were pending against four vaccine manufacturers. This litigious environment caused many pharmaceutical companies to abandon the lucrative vaccine market, causing a vaccine shortage. A solution: combination or conjugate vaccines.

Vaccines were combined for convenience.

With speed and efficiency the U.S. Pediatric vaccination schedule took off, helped by President Clinton's Childhood Immunization Initiative in the mid-nineties.

By 1998, childhood vaccination rates were at an all time high. So was the incidence of peanut allergy in children.

Between 1997 and 2002, the peanut-allergic pediatric population in the U.S. grew by and average of 58,000 children a year, and doubled between 2002 and 2008. By 2008, more than one million children under 18 and another two million adults were allergic to peanuts in the United States alone.

According to Heather Fraser, "vaccination was the elephant in the middle of the room. Researchers glanced at it, knew it was there, but were reluctant to get too close." The possibility that hundreds of thousands of children have been sensitized to peanuts by ingredients in one or more routine pediatric vaccinations is just too much to conceive. But it is too obvious to deny.

The real clue is the sudden rise in peanut allergy following the escalation of the pediatric vaccine schedule. 
If you or someone you know is pregnant…
Please take the time to research vaccines NOW, don't wait until your life is upside-down when your child has scary food allergies, behavior (or learning) problems that make your life so difficult, or worse, when they end up with autism or life-threatening health issues.
Once you do the research, you may decide to get some vaccines but not all, like we did.  (Although honestly, if we had to do it again, now that I know more, we wouldn't get any.)  If you do decide to get certain vaccines, you definitely need to make sure your baby's gut is super solid beforehand with probiotics, and if you're nursing make sure your diet is top-notch.  If you need help getting started with eating better, get my book or read more around my site.  More here:  what you MUST do before vaccinations!
It's all about the gut:
If you or someone you love gets sick a lot, has allergies, autism, Crohn's or other digestive issues, anxiety or depression, any auto-immune condition, or really ANY health issue, you MUST heal their gut, which is where most of the immune system lies.  Click here to see how one Mom helped her autistic son with one small change!  Read about how to heal the gut here:  GAPS Diet for Rookies.  An important piece to this is probiotics to build up healthy bacteria in the gut.  So important for pregnant moms, kids, really anyone, but especially if you're trying to heal a health condition — here are the only ones we take now because they make it past stomach acid into the gut were they can do their work.
Watch the video now with the ER doctor:
More posts and other articles you need to see:
Or if YOU have a natural health recovery story to share, please let me know!