When you have your child on a special diet for healing, often one of the biggest obstacles is their own beloved Grandma and Grandpa.  I know that we can all be guilty at times of wanting to 'make kids happy' with a special treat, but the problem is, it's no longer 'special' when they're getting it every day!  For the times when you need to be especially strict about what goes into your children's mouths, you may consider sending along the Feingold Association article below to your family members or close friends.
A quick side note…
As I was getting this post around, I found some remarkable similarities between Dr. Ben F. Feingold: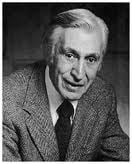 and Dr. Weston A. Price:
They were both from around the same era (Price was about 30 years older than Feingold…)
Both tirelessly studied the role nutrition plays in our health.
Both have strong intelligent women championing their cause:  Jane Hersey from the Feingold Association, and Sally Fallon Morell from the Weston A. Price Foundation.
Both have vibrant, thriving organizations providing great resources and information in their name to a world more and more desperate for healing (as our food supply becomes scarier by the day).
The following article, Dear Grandma and Grandpa, is reprinted here with permission from the Feingold Association.  (Be sure to see my little disclaimer at the end.)
Dear Grandma and Grandpa… Doting aunts and uncles, teachers, and friends…
There's a special child in your life who needs your loving support.
The purpose of this article is to tell you about a program that could make a difference in the life of that child, and to show you how you can be a part of its success.
Back in the 1960's, a remarkable doctor began to experiment with certain types of allergic reactions, and this eventually led to an understanding of how various chemicals can influence behavior, as well as one's ability to reason and learn.
After a long and distinguished career as both an allergist and pediatrician, Ben F. Feingold, M.D., had reached the age where most men ease into retirement. Instead, he accepted the challenge to create the department of allergy for the Kaiser Permanente Medical Center in San Francisco, and serve as its Chief.
One of his patients was an adult who did not respond to traditional therapy for hives. Suspecting that this woman may be sensitive to aspirin, Dr. Feingold researched the scientific journals and uncovered some surprising relationships.
He found that not only is aspirin a problem for some people, but other substances, commonly found in our food supply, have a chemical similarity to aspirin. This includes certain food additives as well as some fruits and a few vegetables and other foods. (The chemical name for aspirin is acetyl salicylic acid, and from this comes the term "salicylate" which we use to refer to these foods.)
Using the time-honored technique of an elimination diet, he asked patients to remove several additives and the salicylates and to observe if there was an improvement. The aspirin-sensitive patient was the first of many to follow Dr. Feingold's suggestions, and the results surprised and intrigued him.
Not only did some health problems diminish on this diet (asthma, hives, nasal congestion), but he kept hearing that patients became calmer and better able to concentrate when the additives and salicylates were removed.
Some of the children who were being treated primarily for allergies but who also had behavior or learning problems were suddenly functioning well, both at home and in school.
After helping hundreds of children and adults in his clinical practice, Dr. Feingold published the results of his work in professional journals, and in 1973 presented his findings to the American Medical Association. At the request of a major publisher, he wrote of his findings in the book, Why Your Child Is Hyperactive.
Today this effort is being carried out by a network of volunteers parents, teachers, doctors, nurses, counselors, dietitians who have seen the program work for themselves or their families, or for others they care about. Dr. Feingold's work has reached around the globe and helped children and adults throughout the world. People who follow the Feingold Program need to restrict their intake of the "natural salicylates" (apples, oranges, etc.) for a few weeks, and then may add them back one at a time. Only those that are not tolerated are removed (but they can be retested in the future). Beyond that, people on this program can eat virtually any kind of food; the change in their diet is that they eat the brands and flavors which, according to the manufacturer, are free of certain synthetic additives.
Synthetic dyes are the most infamous of the additives we remove. You may have bought a box of little bottles of red, yellow, green and blue "food colors." They are powerful substances which are synthesized from petroleum (crude oil) and are suspected of causing serious health problems, including cancer.
Most of the dyes originally used in foods have been banned, and those that remain have been found to trigger various behavior and learning problems in sensitive children. Some studies suggest that these chemicals can "short circuit" the electrical impulses in the brain, interfering with the ability to think and reason.
Like most additives, they were used in foods for decades before our government considered conducting any safety testing on them. But even today, there is no requirement that a food dye, or any other additive, be tested for its effect on behavior and learning.
The other problem additives are the artificial flavorings and three preservatives: BHA, BHT, TBHQ, which are also made from petroleum. We recommend our members avoid the use of synthetic sweeteners such as aspartame (NutraSweet, Equal).
Because we are all unique, a compound that appears to be tolerated by one person may be a real problem for the next. Other factors include the age and weight of an individual, as well as the amount of the chemical they consume.
Synthetic food colorings, originally made from coal tar oil, have been around for many years. You probably ate them as a child when you had an occasional lollipop, candy cane, or jelly beans.
But the key is "occasional."
Your day did not begin with red, white and blue toothpaste, followed by cereal filled with fluorescent marshmallow bits, imitation orange juice, topped off with a synthetically colored and flavored chewable vitamin. Wasn't your toothpaste white, your cereal beige, and if your mother made you take vitamins didn't they taste awful? When you got sick the medicine was probably dark and unpleasant tasting, a far cry from today's shocking pink, red, or purple artificially colored and flavored potions.
The problem seems to be that our food supply has changed drastically in the space of a few decades (even Jell-O was all natural when it was first introduced!) but little bodies haven't changed.
The child who consumes these additives may be getting an overload, taking in more toxic chemicals than his small body can handle.
Grown-ups can have a tough time coping with these powerful chemicals as well. Some of us are more sensitive than others, and we have different thresholds of what we can tolerate.
Dr. Feingold noted that, except for terminology, there is no difference between a chemical we call a food additive and one we call a drug.
If all this sounds like a farewell to candy, ice cream, soda, and miscellaneous junk food, that really isn't the case. The secret is in knowing which candy bar, which brand of ice cream, etc. is free of the harmful additives. Of course, we ask you to offer these foods after a child has eaten a good meal.
The Feingold member can provide you with the names of acceptable products available in your supermarket. Whether you're looking for a pancake mix, salad dressing, chocolate chips, or any other food, you should be able to find a suitable brand in our Foodlist. Chances are, you are already using many of these products.
You will probably be able to use your favorite recipes, but simply substitute one or two ingredients. For example, desserts would be made with pure vanilla, not imitation vanilla or "vanillin."
Feingold cooking is basic old fashioned real food, and you can find it whether you cook from scratch, prefer mixes, or use prepared products. You can even find real fast foods; the secret is in knowing what to look for and what to avoid. That's where we can help.
Now that you've read, Dear Grandpa and Grandma, here's my disclaimer:
Of course I need to clarify that I don't recommend buying mixes or prepared products often, but if you do so once in a while, choosing organic options is much better than grabbing any old box off the shelf!  (Read more here about why buying organic is important.)  What I love about the Feingold Association is that it's helpful for those who are just not going to switch completely to "cooking from scratch" or buying more organic–some won't even come close.  Everyone is different, so this program helps those who won't (or can't for whatever reason) go 'hog wild' like I did after finding the WAPF led to my food conversion.
More you might like: