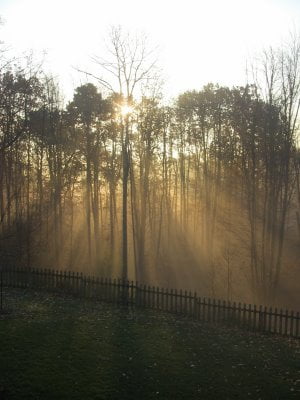 Kent and I own three acres and feel pretty blessed to have so much space right here in a suburb.  (Our lot is tiny at the curb, but goes waaaaay out back and widens.  Don't you love that picture above?)  We've always been grateful that we could send the kids out to play in the woods, throw rocks into our pond, and goof around on the sand dunes that are out there.  Some of our land is part of a city easement due to the power lines and the pond was put in for drain water retention.
Recently a guy from Consumers Power came to the door to let us know that they'd be doing some trimming out there to keep branches out of the power lines.  No problem, right?  I thanked him for letting us know and forgot about it.
Then two weeks later, someone else came to the door…
This time she said, "Hi, we do work for Consumers and just wanted to let you know that we're going to be spraying some herbicide on some of the trees out back."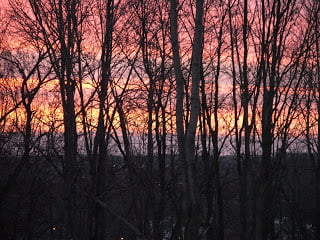 Me:  "Why can't you just trim them like the guy said who came out a couple of weeks ago?"
Her:  "Because this keeps it from growing back as fast and we don't have to come out here as often.  It's perfectly safe."
Me:  "No, it's actually a poison."
Her:  "It's safe for people and wildlife, you can still send your kids to play out there and stuff.  It was specifically formulated just to kill off the vegetation."
Me:  "I doubt that's even been studied enough."
Her:  "Yes, it's been studied and found to be safe by the DEQ (Michigan Department of Environmental Quality) or else they wouldn't let us spray it."
Me:  "But I don't trust that government agency any more than I trust the FDA when they say that all the crap they put in our food is safe."  (Only I didn't say crap and neither word makes me sound very intelligent, so I probably messed that up and lost all credibility, but I was pretty unhappy in that moment!)
Her:  "OK, well I'll have Consumers come out and talk to you then."
Me:  "OK, thank you!"
So today I called the number on the card she left just to be sure they will not be spraying out there.  Couldn't you just see them doing it and saying that it was a 'mix up'?  I'm still waiting for a call back on that.
As much as we try to avoid all the chemicals in our food, why would we want to allow them to spray a bunch of chemicals in the woods where our kids play?!
That's all, just a little Friday rant for you.  I'll let you know how it comes out.  (Update:  I never heard back…)
Anyone have anything similar happen?
Related posts, or not: