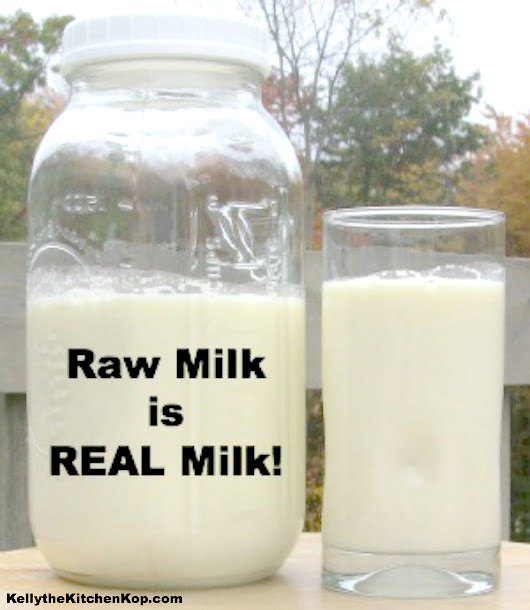 Today I'm sharing an awesome report with you that my friend, MacKenzie, did for a 10th grade project on fresh/raw milk. It's amazing that she knows more about this issue than most Americans probably ever will. Maybe there really is hope for better health in the next generation!
But first, in case you missed my fresh/raw milk series, here are those links:
Now read what MacKenzie wrote about fresh milk, and note – the pictures are from her, too.
Fresh: "having its original qualities unimpaired, not altered from processing." Raw: "not cooked, being in or nearly in the natural state, not processed" (Merriam). Fresh, or raw, milk is the healthiest milk for your body. Some would beg to disagree that fresh, raw milk is the worst because of all the pathogens that are not pasteurized from the milk. There are cases that support either side, but overall, the benefits of fresh milk outweigh those of pasteurized milk; this is why fresh milk should be legally allowed to be sold in all stores throughout the United States.
Fresh, raw milk is full of vitamins, enzymes, and other things beneficial to the human body that would otherwise be destroyed through the process of pasteurization and homogenization. All twenty of the standard amino acids needed for bodily functions are contained in raw milk, which saves the body the work of having to convert any of the amino acids into usable form (The Health). Immunoglobulin, a specific type of protein, protects the body from viruses, bacteria, and toxins. This protein can also help reduce the harshness of asthma symptoms (The Health). Fresh milk is also filled with sufficient amounts of carbohydrates and fats. Conjugated linoleic acid, or CLA, is abundant in fresh milk, which benefits such things as boosting muscle growth, strengthening the immune system, and lowering food allergy reactions. Research shows that raw milk contains from three to five times more the amount of CLA than in processed milk. (The Health)
With fresh milk containing such a variety of nutrients, the other families in my mom and
dad's Bible study group started to drink this milk about three years ago. They love the richness and creaminess of the fresh milk, and will never go back to any type of pasteurized and homogenized milk again. My family started thinking, "What chemicals and other harmful things are we putting in our bodies when drinking 'healthy' skim milk?" Just about four months ago, my family decided to get on board with fresh milk. Every Tuesday, my parents travel out to a farm in Walker where they gather three gallons of fresh milk from a stainless-steal vat. Although selling fresh milk is illegal, the way by which we obtain our milk is not illegal (Bren). We own a tenth of a Jersey cow, Mona, and therefore getting the milk from the farm is not illegal because we own part of Mona and her milk. Fresh milk has a quality taste to it: one that is whole, creamy, and full of nutrition.

The number one allergic food in the country is pasteurized cow's milk. This unhealthy milk also connects with illnesses such as diarrhea, arthritis, cancer, and autism. It is even said that for some people who are allergic to drinking pasteurized milk have no problem at all with drinking raw milk. Pasteurized milk can even prevent women from becoming pregnant for a long period of time. Although doctors encourage parents to give their young children lots of skim milk or two percent to strengthen their bones through calcium, this pasteurized milk has such a small amount of calcium in it that it is not worth drinking (Squires). Fresh milk contains a great amount of calcium in it, and is therefore much healthier for young children.
Fresh milk contains so many important enzymes, vitamins, proteins, and beneficial bacteria that it is unfortunate that the government does not allow raw milk to be sold in stores. Although raw milk could at times be a health risk, the healthy benefits of drinking fresh milk outweigh the risks by far. By drinking fresh milk, the high rates of cancer could decrease and people would have a better overall health. The sensation of drinking fresh milk and knowing that it is incredibly healthy is a truly udderly amazing feeling.
Sources:
Bren, Linda. "Got Milk? Make Sure It's Pasteurized." September 2004. U.S. Department of Health and Human Services. 17 February 2008. https://www.fda.gov/fdac/features/2004/504_milk.html.
Merriam-Webster's Collegiate Dictionary. Massachusetts: Merriam-Webster, Inc., 1993.
Squires, Sally. "Raw Milk: Udderly Foolish?" © 2007. The Washington Post. 15 February 2008. https://www.washingtonpost.com/wp-.
"The Health Benefits of Raw Milk." 7 February 2008. 13 February 2008. https://www.raw-milk-facts.com/raw_milk_health_benefits.html.