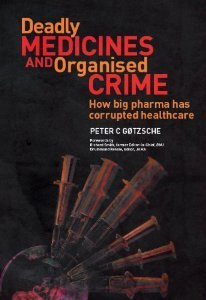 Is the Pharmaceutical Industry Like the Mafia?
Do you ever wonder how is it that so many organizations, both government and private, are being pressured into forcing employees to get the flu shot?  It's simple:  If they don't have a high compliance rate they lose funding.  Who put that system into place?  The government of course, and they're obviously in bed with the pharmaceutical industry.  It's hard to believe a system can be so corrupted isn't it?  In America!
There's a new book out called, Deadly Medicines and Organised Crime: How Big Pharma Has Corrupted Healthcare.
The author acknowledges that some drugs have brought great benefits:
My book is not about the well-known benefits of drugs such as our great successes with treating infections, heart diseases, some cancers, and hormone deficiencies like type 1 diabetes..."
But he also quotes a former vice-president of Pfizer:
It is scary how many similarities there are between this industry and the mob. The mob makes obscene amounts of money, as does this industry. The side effects of organized crime are killings and deaths, and the side effects are the same in this industry. The mob bribes politicians and others, and so does the drug industry…"  (Source)
Read more from Alliance for Natural Health:
Crony Capitalism is at work again:
The government has formed strong partnerships with the pharmaceutical industry. For example, the federal government has just invested $400 million of your money toward the development and manufacture of vaccines and "medical countermeasures" to be used in health emergencies and preparedness protection. Vaccine giants Novartis, GlaxoSmithKline, and Lonza are among those on the receiving end.
Sometimes, as in the case of Gardasil, the government itself is involved in the vaccine's development and grants a license to a vaccine maker for profit. The government is also subsidizing the development of adjuvants—that is, vaccine agents designed to increase the immune response—which are often very dangerous substances.
The government then reviews the product for safety and efficacy and—no big shocker here—approves it.
It then subsidizes the vaccine's manufacture—$2.8 billion of taxpayer money in 2005 was spent subsidizing the rapid development of cell-based technology for making the flu vaccine.
Having demonstrated a complete lack of objectivity, the same government issues guidelines to the states about mandating flu shots for all school children and healthcare workers.
It then shields the vaccine manufacturer from any liability for adverse reactions to the flu shot, dismisses reports of adverse events, refuses to investigate them or even study whether the vaccine is actually conferring any immunity, which in many instances is highly doubtful.
What is especially troubling about this recital of blatant conflicts of interest and flagrant disregard for public safety is that none of the participants seem to feel the slightest shame over it. Instead they haughtily dismiss their critics as cranks or flat-earthers and go right on practicing crony medicine.  
Sometimes it seems that we're all doomed and it's easy to feel like giving up, but us real foodies have the best advantage.  Our minds are clear because our bodies are nourished, and together we must keep educating others on our common sense principles.  We must continue to get the word out to STOP AND THINK before blindly following anyone, and maybe then we can make a dent in this mess.  If you agree, please share this post.
Did you catch my previous posts on mandatory flu shots?