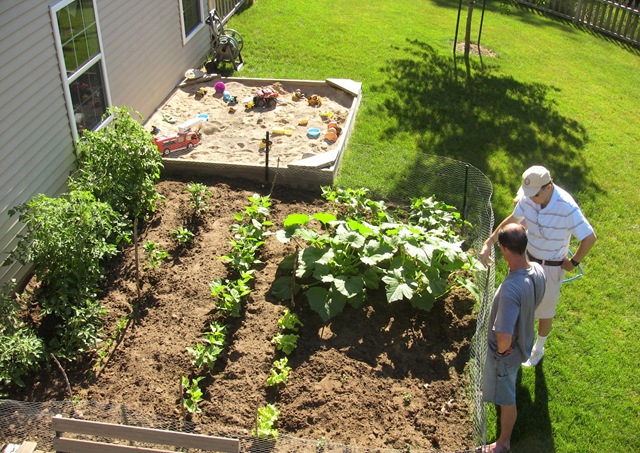 If you suffer with the problem of low desire in your marriage, either in yourself or your spouse, you may have figured out what has helped you.  If so, I hope you'll share it with us in the comments, because I'm sure there are many solutions or ideas to try that I've missed.  (Don't miss part 1, the intro to this series on intimacy with a bit about what Kent & I struggle with, and part 2, the pain of low libido, which includes a very sad letter from someone who has suffered with this issue for years.  There are some heart-wrenching comments below, too…)
I'll share ten solutions for low libido here, and we'll start in the garden!
We all know how beneficial fruits & vegetables are for us (when served with plenty of healthy fats of course), but here's something you might not know:  certain herbs, fruits, and vegetables can also be used as a natural aphrodisiac to increase libido. You can even grow many of the following in your own yard!  You can find organic seeds here.  And here are a few interesting links and information I found on this topic:

"Holy Basil (or Tulsi) is a cherished herb of India that promotes stamina and energy. It is also known to promote clarity of thought and calmness. Stressful situations will still happen but you will find yourself not reacting to the stressor." (Source)

Garlic:  "Rich in antioxidants that protect against cell damage, garlic is said to stir sexual desire and increase blood flow, says Greaves. Just be sure to eat as much as your bed partner, as the effects of garlic can linger on your breath for hours." (Source)
Read about more Herb Sex Boosters.
Decrease soy consumption & don't try to lower your cholesterol! Today I asked Dr. Kaayla Daniel, the 'Naughty Nutritionist'™ about the topic of soy and decreased libido and she was sweet enough to send back this reply:  "Soy contains phytoestrogens that interfere with testosterone production and utilization in the body.   That affects men, obviously, but women as well.   The plant estrogens can also affect thyroid function and low thyroid is one of the primary reasons for low libido in women.  'Health conscious' people who choose to eat soy are also likely to be people on low-fat, low cholesterol diets too and that too will tank the libido.   Cholesterol, after all, is the mother of all hormones."
Eat more oysters: "Oysters are dripping with dopamine, a compound that stirs feelings of sexual desire, and pleasure. These mollusks are also bursting with zinc, a mineral that fosters the production of testosterone, necessary for arousal and pleasure in men and women." (Source)
"Cut out sugar. There are many reasons not to eat sugar. It disturbs your sleep, leaches minerals out of your bones, ages you rapidly, depletes your adrenals and thyroid and disrupts hormonal balance. Sugar puts you at risk for degenerative diseases. Sugar consumption is also a major factor in adrenal fatigue." (Source)
Take your cod liver oil! Another comment from the Passion in your Marriage post:  "My libido was GONE after my son was born for about 3 years. I started raw milk, grass fed beef, pastured eggs, progesterone, etc… The major libido breakthrough came when I started taking the cod liver oil and butter oil."

I found this that explains one reason why the CLO may be so helpful, possibly due to its vitamin D content:  "Researchers at the University of Toronto have found that vitamin D appears to work in the brain like many antidepressant medications do: by raising levels of serotonin, a neurotransmitter that induces feelings of calm and banishes bad moods."  (Source)
And here's info on why the vitamin A content in CLO could be helpful:  "Abundant animal research indicates the importance of vitamin A to the production of testosterone.  Experiments with rats show that greater concentrations of vitamin A in the testes increase basal testosterone secretion  Vitamin A also decreases estrogen production in the male testes. Rats that are deficient in vitamin A experience decreased testosterone until the accessory sex organs atrophy, indicating that vitamin A not only aids in, but is essential to, testosterone production."  (Source)
I've recently learned about how homeopathy can help!  Search online for "Joette libido" for more info.  Then when you find which remedies you'd like to try, I suggest these because you get more for the money AND they come in glass bottles.
Talk to your doctor if you absolutely must. Try everything else first, but continuing to suffer isn't an option.  Just keep this in mind:  "It may be tempting to try drugs like Viagra, Levitra and Cialis. And women might try non-prescription supplements that call themselves "female Viagra." But these drugs and others like them just treat the symptoms instead of addressing the root cause of the problem.  Ultimately, if you experience low libido, your body might be out of balance. Take a holistic approach to improve your mental and physical health and your sexual performance and stamina should reflect the happier new you." (Source)
Why are so many reluctant to talk to a counselor?  Yes, there are some counselors that aren't great, but there are a lot of good ones out there, too.  Many times these problems are related to one or the other spouse being abused as a child.  Sadly, this is common, but a counselor would be equipped to help you put those demons or any others to rest once and for all.
I've saved the most important suggestion for last.  Don't forget to pray to the Ultimate Healer – ask for God's guidance first and foremost.  He wants your marriage to thrive even more than you do.  And whatever you do, don't believe these marriage lies.
<– Back to page 2:  The pain of low libido:  A look at the suffering that low libido/lack of desire in either spouse can bring to a marriage, and some resources to help.