Our kids love this stuff french toast recipe now and then for a special breakfast.  It's delicious, it feels a little fancy, and it's pretty simple to make.  And as with all real food recipes, it only takes a few nourishing ingredients (to replace the rotten ingredients you used in the past, if you're anything like I was) and you've got a meal loaded with nutrients, too!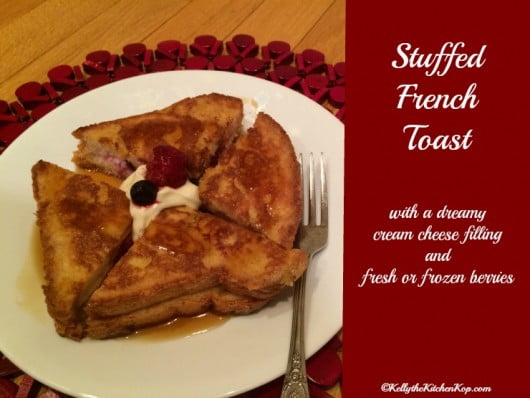 Print
Stuffed French Toast Recipe
Eat as a dessert or as a breakfast meal with a savory side of pasture-raised bacon or sausage.
Ingredients
Amounts are very flexible, I'll include the amounts here for one serving and you can multiply it from there.  If you're making a lot, you won't need to multiply the eggs and cream as much as the other stuff, just eyeball it.  If you end up with extra filling, just use it as a yummy fruit dip.
Filling ingredients:
Instructions
Mix the egg, cream, vanilla, cinnamon, and sea salt with a fork.
Next mix up your cream cheese filling, then get your berries around.  For fresh, give them a rinse; for frozen, thaw and drain.
Now you're ready to put it all together.
Heat up your pan — I use my FAVORITE pan, which I use almost daily around here lately, along with my new pressure cooker!
Melt a tablespoon of butter in the pan, dip one piece of bread at a time into the egg mixture, and fry on one side 'til golden on low-medium heat.
Flip one side over, use a spoon to spread some filling over the top. Place your berries on top of the filling.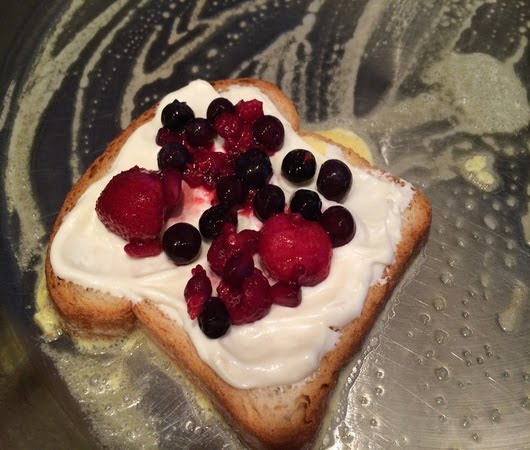 Then put the already cooked side of the other piece of bread face-down on the berries.  When the bottom is cooked, flip it again to cook the other side of the second piece of bread.
Cut into diagonal quarters and serve with a little extra filling and berries.  Optional:  If you really want to impress company (or your kids), you can add a dollop of real whipped cream.
Did you make a real food recipe?
I want to see it! Tag @KitchenKop on Instagram and hashtag it #KitchenKopRecipes OR share anything you know I'll love by tagging @KitchenKop and hashtag #KitchenKop -- see you over there!
If you try this stuffed french toast recipe, be sure to let me know what you think!
More posts you may like: