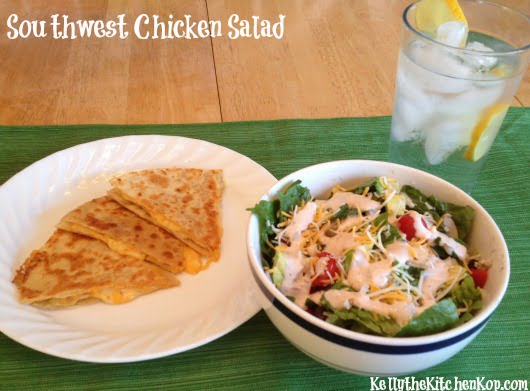 This Southwest Chicken Salad can be used as a side dish or definitely as a main dish, too, for a light but filling meal…
My sister Gail brought it to a family get together recently and my kids loved it so much that it has become one of our family favorites.  (Have you seen our family favorite meals list?)  She made up this recipe herself based on a salad she had at a restaurant and then I added a few things here and there, because I can never leave a recipe alone, ya know.
Southwest Chicken Salad with Barbecue Ranch Dressing
Salad Ingredients:
Just guess on the amounts for, because it all depends on how many you're serving.
2-3 bunches of organic romaine lettuce – lettuce is one of the "dirty dozen", so I always buy that organic.
1-2 organic peppers – various colors are pretty and my favorite are the sweet reds! (Ditto on buying these organic.)
1 cup cherry tomatoes, halved – these are right in the middle of the list, so I still buy them organic, especially because our local grocery has some that are SO delicious.
1 can organic black beans, drained
1 cup sweet corn (I use frozen, put them under hot water, and drain well)
1 cup shredded cheese – raw cheese from pastured cows is best, of course, but I don't always have that on hand
1-2 chopped avocados (these are on the clean fifteen list, so I do not buy them organic)
1/2 onion, chopped small
2-3 cups cooked, chopped chicken – you can pick the extra meat off your baked chicken from the day before (have you seen Anne's 5 minute baked chicken?!), cook and cut up some boneless skinless breasts, or get some chicken lunchmeat at a local deli if you can find one with a not-too-terrible ingredient label.  (You'll have to ask them to show you the package.  I found one without "fillers", but it still had some questionable ingredients, so it's something I'd buy only rarely.)
Instructions:
Toss everything together but the avocados.  I serve that separately because a couple of the kids don't like it, PLUS if you have any left you can squeeze lemon juice on top to keep it from turning brown, then cover it and stick it in the fridge so you can eat the rest later.
You can crunch up some organic corn chips for the top if you'd like, but we just served it with cheese quesadillas.  (Only Kent and the kids had those, though, I didn't want to waste the stomach space, I had two helpings of this awesome salad instead.)
Barbecue Ranch salad dressing:
Just play around with these amounts until you like the taste.  By the way, we never buy the nasty ranch dressing from the store anymore because all of it, even the organic ones, are made with soybean oil!  Plus other ingredients you don't want.  Ranch is so stinkin' easy to make homemade anyway…
Ingredients:
2 cups sour cream

1/4 – 1/2 teaspoon garlic and/or onion powder
1/4 – 1/2 teaspoon sea salt
1/4 teaspoon fresh cracked pepper (or just regular pepper)
1/2 teaspoon dried oregano and/or parsley
1/4 – 1/2 cup of your favorite barbecue sauce (or try my barbecue recipe)
Add a pinch of cayenne pepper if you want it to have a little bite!
Whisk everything together well and drizzle on top of the salads as you serve them.  (I don't like to toss the dressing all together because then leftovers get soggy in the frig.)
Enjoy!

Meal Planning Help!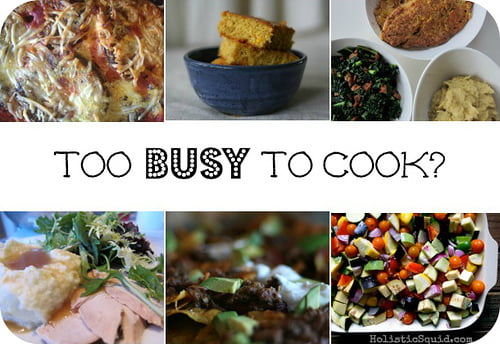 Sick of planning meals and answering the question, "What am I going to feed these people?" No matter what kind of eater you are (traditional, GF, paleo, vegetarian)… Check out these affordable interactive easy-to-use meal plans where the work is done for you.  NOW recipes also available from Nom Nom Paleo, The Paleo Mom, and Wellness Mama all in one spot!  You can read over my review here.